One of the two teams who will be competing for the 2018 Olympic bronze medal was anticipated to do this well. It is no real shocker that they have made it this far. For their opponent, it is a genuine – almost staggering – surprise that they will not be contending for the gold.
Falling at the hands of the underdog Germans, Team Canada will now need to compose themselves and regain focus if they are to come home with a medal. Prior to the Winter Games commencing, many felt that Canada could still win gold even without current NHLers. They certainly have plenty of NHL experience with the likes of Derek Roy, Wojtek Wolski, René Bourque, Gilbert Brulé and Chris Kelly. Unfortunately for Canada, undisciplined play in the semis against Germany cost them the chance at gold. They receive 35 minutes in penalties as opposed to Germany's 16, the bulk of which came from an illegal check to the head and neck by Brulé  onto David Wolf. Brulé was ejected from the game and received 25 minutes in total because of the unnecessary play.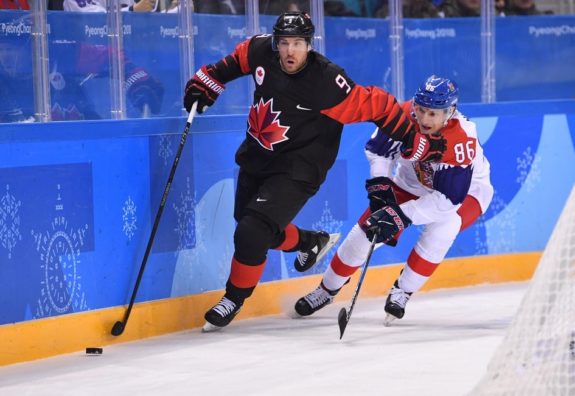 Vying for the bronze against Canada will be the Czech Republic. This is about where we expected them to be prior to the '18 PyeongChang Games getting underway. Like Canada, they have their fair share of former NHL players, but just not as numerous. Separately though, the Czechs have had some truly stellar goaltending in net from Pavel Francouz. He has been their go-to netminder for all five of their games so far, and obviously will be once more when they attempt to take bronze. The Czechs' scoring has been achieved more by committee, as only one of their games saw them generate more than three goals and no player on their team is at a point per game or better.
What makes the meeting between these two teams somewhat more colorful is that they both came out of Group A and both earned a bye in the opening round of the playoffs due to their prelim performances. The Czech Republic finished at the top of the grouping with eight points, while Canada was just slightly behind with seven. During their one meeting in the preliminary round a shootout was needed to decide the outcome. The Czechs won by a score of 3-2, as Jan Kovar got the game-winner against Ben Scrivens.
As we get ready for them to meet once more, THW compares the two teams and their respective armaments.
The Passer and the Scorer
Derek Roy has been doing in PyeongChang what he has done for 15 years of professional hockey – making plays and garnering assists. This is a player who recorded 40 or more assists on four different occasions in the NHL. At these Olympics Roy is an averaging an assist per game with five of them through each of the five games Canada has played. That ties him for third place among all players at these Games. Throw a goal in there as well, and Roy's six points in five games are second on the Canadian team.
Roy is a pure setup artist, but he is also pretty darn good on the draw too. Averaging a face-off winning percentage of 67.61%, he has the second best number of any player at this tournament. The only player better than Roy in the circle is teammate Eric O'Dell who has won a whopping 75% of his draws. Point being that Roy is very good at getting the puck, but even better at dishing it off.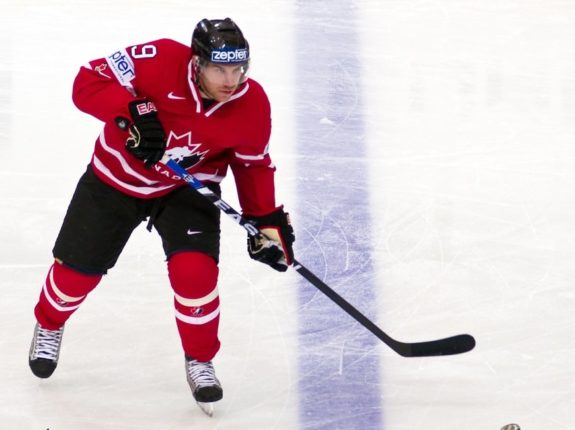 The Czechs may not have a player within the top 10 scorers in PyeongChang, but they do have at least one who is putting the puck into the back of the net. Former Florida Panthers forward Michal Repik is presently in a seven-way tie for third place in goal scoring. He has three goals in five games, which is the most of any Czech player. Adding an assist into the mix, he is also tied for the team lead in points with four.
But what is most important about Repik's production is how he has scored his goals. He is the only player at these Olympics who has scored a power play goal, a shorthanded one and a game-winner. The shorthanded tally and the game-winner were actually one and the same, as Repik put away South Korea 2-1 in the Czech's first game of the tournament. Now, he has not scored a goal since potting two of them against Switzerland in the preliminary round. Repik is about due for another one, and the Czechs will need him to come through here in the clutch.
One Wall Versus Two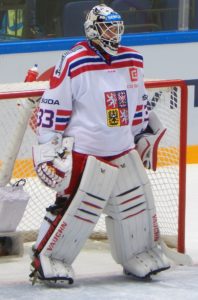 Pavel Francouz may come away with Best Goaltender honors of the PyeongChang Games. One of the reasons why the Czech Republic has gotten away with not generating a plethora of offense is because of the performance of their goaltender. No netminder has played more minutes (313:11 of them) at this Winter Olympics than Francouz.
The 27-year-old backstopped wins over South Korea, Canada, Switzerland, and the United States. Francouz's only loss came against the Olympic Athletes from Russia, and thus far the opposing goaltender for their squad has been the only one to outduel him. Of the goaltenders in PyeongChang to have played five games, the best save percentage has been had by Russia's Vasili Koshechkin with a .951 SV%. Francouz is not far behind in second place with a .934%. There is no reason to think that the Czech goalie will not continue his steadfast play.
Canada has split its goaltending duties almost equally between Kevin Poulin and Ben Scrivens. Both goalies have played in three games and have relatively low goals-against averages of 1.56 and 1.61 respectively. The only sizable difference has come in terms of save percentage. Scrivens has posted a solid .929 SV% while Poulin is at .918. Believe it or not, that makes a difference.
In fact, where save percentage and stopping ability made the biggest difference was Canada's loss to Germany. Although the score (4-3) was close, the goaltending certainly was not. Poulin only made 11 saves on 15 shots for an abysmal .733 SV%. While not all of that is Poulin's fault, Canada needs to return to Scrivens in the bronze medal game.
The Best of the Rest
To be a bit tongue-in-cheek, bronze is a precious medal in more ways than one. At least in the gold medal game, the losing team comes away with a silver. There you have a tangible reminder of a team's efforts not matter the outcome. But in the battle for the bronze, only one team comes away with their shoulders draped in honor – the other squad goes home empty-handed.
Looking at the rest of the rosters, both teams have accompanying performers that have helped them get to this slightly more modest pinnacle. :
Canada:
Canada's leading scorer is a defenseman. Maxim Noreau has scored two goals as a blueliner and both of them have been game-winners. Additionally he has put forth five assists in five games. The right-handed shooter is a sleek skating defender and this has been what helps him to generate most of his offense. Saying that, Noreau has been very sound defensively in PyeongChang too. His plus-four also leads Canada in the plus/minus category.
As was expected, defenseman Chris Lee has been just as reliable and almost as productive from the point as Noreau has been. The two-time winner of the KHL's Gagarin Cup championship has five assists in five games as well. Both he and Noreau picked up a pair each in the loss to Germany. Lee led all Canadian skaters in ice time for their games against the Czechs, Finland and Germany, and was second in minutes against the Swiss and the South Koreans. He has continued to be the productive workhorse that Canada has needed him to be.
René Bourque is Canada's leading goal scorer with three tallies. Not really surprising given the fact that he had three NHL seasons of 20 or more goals. Bourque also leads the team in shots with 18 of them in five games. Two of his three goals have been on the power play. With the suspicion that Gilbert Brulé is going to be done for the tournament after his hit on Wolf, Canada will need Bourque's firepower more than ever. It would be nice if Mason Raymond picked up another goal instead of just the one that he has.
Czech Republic:
Former Calgary Flames forward Roman Cervenka leads the Czechs in shots on goal with 21 of them in five games. That is also the most for any player in PyeongChang. Unfortunately, that multitude of shots has only amounted into one goal thus far for him. Cervenka needs to just keep shooting – nothing wrong with that mindset. The hope would be that with all of these shots, eventually another one will end up in the back of the twine.
Forward Michal Birner is the Czech Republic's leading passer. His three assists are tops among all Czech players. More importantly, he has also made the passes count. Birner picked up the primary assist on Repik's game-winner against the Koreans. He also set up the game-tying goal by Michal Jordan against Canada to eventually force OT and the shootout which the Czechs would win.
Michal Birner represented the Czech @narodnitym at the #IIHFWorlds and the World Cup of Hockey. But not at the Olympics. That's about to change in #PyeongChang2018. https://t.co/wo6b0YZqS7 @olympijskytym

Photo: Andre Ringuette / HHOF-IIHF Images pic.twitter.com/lEGk5GlhIR

— IIHF (@IIHFHockey) February 2, 2018
Czech captain Martin Erat has had a rather quiet Winter Olympics. Perhaps it is age catching up with him, but the 36-year-old winger has just an assist in five games and is also tied for a team worst minus-two. Erat's ice time has been decent though, as he has hovered between 16 and just over 18 minutes of playing time each game. Playing in his fourth Olympics, it would be nice to send off the elder statesman on his team with a second bronze medal.
It's the Final Countdown
In some ways the bronze medal game is played more like a traditional championship than what the gold medal game is. When fighting for the bronze, only one team walks away with a trophy or keepsake. There is no consolation prize, as there is at the end of the gold medal match.
What will be most interesting is to see how Canada responds in this game. Do they come in completely shell-shocked from the loss to the Germans and allow the same thing to happen against the Czechs? Or do they come off the bench in total ill-humor and make the game a living nightmare for their opponents? It is all about their approach. Like it or not, when focused, Canada can most definitely out-skate, out-skill and out-finesse the Czechs. It is just a matter of whether that Team Canada shows up.
🗣| Gólem a nahrávkou se pod dnešní výhru podepsal Michal Řepík. Podle něj není na škodu, že byl zápas s Koreou bojovný a náročný 💪#czechteam #PyeongChang2018 #icehockey
📸: Pavel Lebeda / @olympijskytym pic.twitter.com/4IifXvtew1

— Hokejový nároďák (@narodnitym) February 15, 2018
Also, if Brulé is done then who steps up? It will be quite the task to replace his team-leading shooting percentage of 22.2% and his work on the power play. The only Canadian forwards to not play all five games have been Brandon Kozun, Andrew Ebbett, and Quinton Howden. None of the three are really go-to guys, and certainly not in terms of offense.
Furthermore, if Francouz continues to play as solidly as he has in net, then the Czechs will take this one home. Canada is the team in the precarious situation. Francouz, Repik and Cervenka are the ones who have given the Czechs sound positioning. It is do or die for Canada.
General Manager of the Buffalo Beauts (NWHL). Hockey history writer "The Hockey Writers". Credentialed media for the NHL Combine and 2018 IIHF World Junior Championships in Buffalo, NY, USA. Born and raised in Buffalo, NY. Lifelong hockey fan for over 40 years. Proponent of the women's game.