Another year, another trade deadline in the NHL. The 2018 trade deadline is Monday, Feb. 26 at 3 pm EST. Will you be one of the many fans who wake up early to wait for the television coverage to begin? Will you be hoping your team makes a big splash at the deadline? Whether your team trades to improve their team now or later, most fans are eager to learn about the latest deals to go down. It will be hard to resist following the coverage.
The web is awash with rumors, hot takes, and predictions. Indeed some trades have already occurred. For a full list of trades that occur prior to deadline passing, this is a nice resource.
Related – 2018 NHL Trade Deadline: Deal Tracker
To help everyone get ready for Monday, (aka hockey geek prom), I thought I'd offer some background on the trade deadline, some rules of the road, and some suggestions.
What: Background and Key Concepts
As the name suggests, the deadline is the last time teams can complete trades and have any traded player available for the playoffs this year. In short: To be eligible for the 2018 playoffs, a player must be under contract to the NHL team he will be playing for by this year's deadline. The top prize this year is Rick Nash.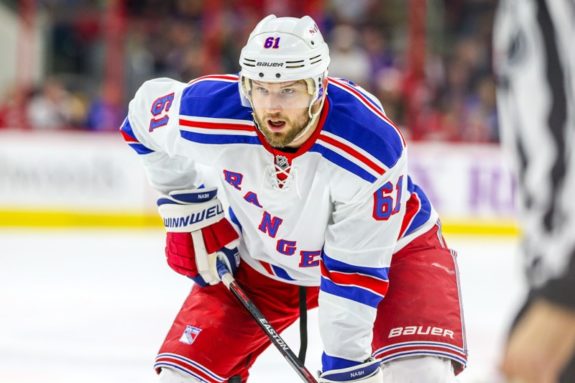 Teams who are bound (or hope they are bound) for the playoffs will look to strengthen their roster. Rebuilding teams will try to rid themselves of veteran players or problematic contracts in exchange for promising prospects, Draft Picks, or both. You'll often hear the terms "buyers" and "sellers." Buyers are usually the teams at the top of the standings with a real shot at winning the Cup. Sellers are teams at the bottom of the league with no chance of making the playoffs this year.
Related: NHL Trade Deadline Preview: Who's On The Block?
When: The 2018 Trade Deadline
The official deadline is Monday, Feb. 26 at 3 pm EST. Trades may be announced later than the deadline. Deals have to be approved and registered with the league, which involves both GMs calling in to confirm. This is known informally as the Eric Lindros rule. Don't forget that the league can reject trades.
Who: UFAs or Players with Expiring Contracts
Any player can be traded subject to the terms of their contract. At this time of year, however, players who are pending Unrestricted Free Agents (UFAs) or players with contracts that end in the summer of the same year are most likely to get moved. The idea here is that moving them now will secure a return for players that "selling" teams may lose for nothing if the player doesn't re-sign. A good example here is Evander Kane.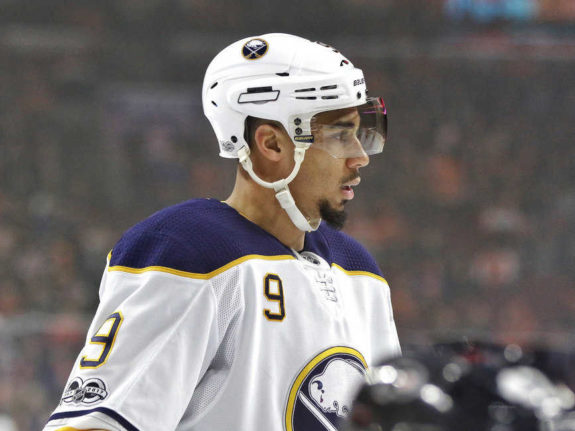 This is not to say other trades can't occur. While bigger and more complex trades generally occur over the summer either before or after the entry draft, anything is possible. It is worth mentioning that there a host of complex rules that come into play around this time of year. These involve rosters, call-ups, and waivers.
Why: Does the NHL Need This?
Short answer: Not really. At this point, the NHL trade deadline is essentially a media event. Canadian networks like Rogers Sportsnet and TSN broadcast from 8:00 am until 5:00 pm covering every move, or lack thereof. Mostly, it is just a panel of hockey insiders trying desperately to fill time. Sure, its fun to watch them walk a fine line between predicting, hedging, and engaging in instant pundit analysis. It doesn't always work, though. The truth is out there.
A deadline is of course necessary. Allowing teams to trade whenever they wanted would undermine certainty and potentially damage parity in the league. Some structure is needed. However, any hockey fan knows that trade negotiations start long before the deadline, and continue long after. In the cap era, teams are constantly trying to assess their team and make moves designed to strengthen the likelihood of a deep run in the playoffs.
Eric Duhatschek associates the deadline with Groundhog Day. He suggests it tends to "produce the same numbing, repetitive storyline" since most general managers have figured out it's smart to avoid the last-minute shopping rush. Practically, this means most of the deals that really matter get done ahead of the cutoff. The day itself often generates more heat than light. Yet, it is an "annual rite of approaching spring." Few fans can resist checking in to see what is happening and what it all might mean.
How: Staying On Top of the Day
There are lots of tips to stay on top of the coverage. The first is to stay glued to whatever screen is most accessible. Either the Rogers Sportsnet and TSN broadcasts will be breaking the trades and offering some discussion of their potential impact. For those on the move, staying connected only social media is a good move. Some absolute must-followers include Bob McKenzie, Darren Dreger, Elliotte Friedman, Nick Kypreos and Pierre LeBrun.
Whoa, here we go: https://t.co/JxX3PnIkFz

— Bob McKenzie (@TSNBobMcKenzie) February 23, 2018
Following trusting sources is the best way to avoid the inevitable retweeting a fake account, and breathlessly announcing a fake trade. It is a strange and juvenile phenomenon. It happens every year. For those of you wondering about a specific player or team, you can go to the Twitter profile of the person you want to receive alerts from and select the little gear icon next to the "Following" button. If you turn on mobile notifications, you can get trade updates all day long. Twitter will have your phone number, of course, but hey at least you'll be the first at the office to know when something goes down. Weigh and balance these alternatives accordingly, folks.
Final Thoughts:
Despite the caveats as listed above, most fans want to know what rumors were true and what insider was way off. One thing we do know is that once a major trade occurs, the floodgates will open. Will Kane get moved? Pacioretty? Where is Nash going? The bigger question may be who goes first. Keep an eye on the return one player retrieves and what similar players have cost at previous trade deadlines. This can go a long way to help you understand and predict future moves.
Most of us want to know who the next trade will be who can offer immediate impact on a playoff-bound team. For example, as Duhatschek points out:
Hands up everyone who predicted that Marian Gaborik going from Columbus to Los Angeles would be the key move of the 2014 trade deadline. And yet Gaborik, who cost the Kings Matt Frattin plus draft choices that turned into Dominic Turgeon and Travis Dermott, scored 14 goals in 26 playoff games to help the Kings win their second Stanley Cup in three years.
No one. That's why the trade deadline is guaranteed ratings-getter even though the chances of big news breaking on Monday is pretty small.
Oh, trade deadline, why can't I quit you?