The Vancouver Canucks have had a healthy amount of dynamic duos in their history — pairs like Alex Mogilny & Pavel Bure, Geoff Courtnall & Cliff Ronning, Markus Naslund & Todd Bertuzzi and Daniel & Henrik Sedin. The list goes on. Now, with the Sedins starting to make their way out of the equation, the Canucks are in need of a new duo.
Throughout the lineup, the potential for new electric pairings is abundant, ranging from first-line scorers to fourth-line bangers. Let's take a look at what the future has to offer for the boys in blue and green.
Boeser and Horvat
Let's start with the big guns, shall we? Brock Boeser and Bo Horvat compose two-thirds of the Canucks top line already and have portrayed a solid amount of chemistry and offensive output. Unfortunately, Horvat missed quite a bit of hockey this season with an injury, so the duo's points aren't necessarily reflective of their true potential.
Boeser is a Calder Trophy candidate with 27 goals and 23 apples in his 56 games this season and is undoubtedly going to be a regular 40-goal scorer — he was also the only Canucks player to suit up in the 2018 NHL All Star game, where he won the Accuracy Shooting event and even got named tournament MVP. He followed in Horvat's footsteps, who was the only Canuck to skate in the competition last season.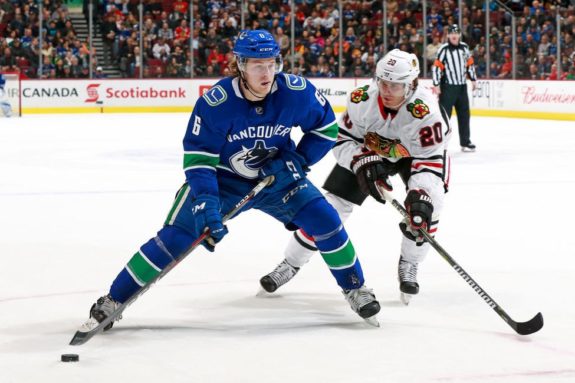 Boeser and Horvat play different styles of hockey, but they compliment each other perfectly. Horvat is a two-way, elite center who can be a game-changer in all three zones with his strength, skill and skating prowess while Boeser is a pure sniper who's hockey sense in the offensive zone is rivaled by few.
Horvat carries the puck into the offensive zone with authority and Boeser floats into open ice, ready to capitalize on a pass or a turn-over as we've seen time and time again — they remind me a lot of Jonathan Toews and Patrick Kane of the Chicago Blackhawks, at least a few seasons ago. I can't wait to see the heights they'll be growing to within the next handful of seasons.
Pettersson and Dahlen
As I've touched on in a previous article, Jim Benning's work to acquire both Jonathan Dahlen and Elias Pettersson last year was brilliant, despite being criticized for passing up on Cody Glass and Casey Mittelstadt at the 2017 NHL Entry Draft. Few people saw Benning's hidden intentions and diabolical plan — Dahlen and Pettersson are best friends, former roommates and former linemates and arguably the best dynamic duo that the Allsvenskan in Sweden has ever seen.
In the 2016-17 season, playing for Timra IK, Dahlen led the team in scoring with 25 goals and 19 helpers in 45 games and, this season, he's on pace to surpass those totals. Pettersson was slightly behind in statistics that season, but this season in the Swedish Hockey League, he's third in league scoring with 45 points — the leader has 50 points, but has also played eight more games — if Pettersson didn't compete in the 2018 World Junior Championship, he'd be leading the league. Did I mention that he's only 19? The only player to ever dominate the SHL at this age is none other than Peter Forsberg.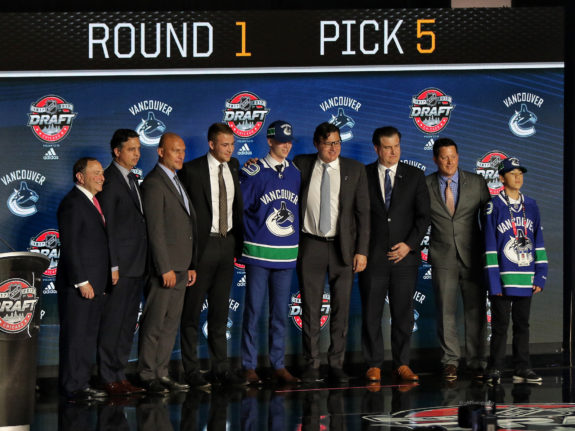 Similarly to Boeser and Horvat, Dahlen and Pettersson have varying styles of play, which gives them that dynamic factor. Dahlen is comparable to Justin Williams of the Carolina Hurricanes with his offensive skill paired with an edge in his game, while Pettersson is like Boeser in the sense that he's as offensively gifted as they come — his hands are reminiscent of Pavel Datsyuk, his shot is reminiscent of the aforementioned Naslund and his overall hockey sense reminds me of the great Vincent Lecavalier.
Hopefully this formerly dynamic duo's chemistry can translate to the NHL.
Gaudette and Gadjovich
Adam Gaudette and Jonah Gadjovich are two Canucks prospects whose hype has been snowballing at exponential rates. Gaudette is currently shredding the NCAA with the Northeastern Huskies and having a breakout season, leading the league in scoring and helping his pack to a Beanpot Tournament victory, their first championship in 30 years — Gaudette potted three in the finals for a  5-2 victory and was named tournament MVP.
Gadjovich exploded onto the scene last season with the Owen Sound Attack of the OHL, when he notched 46 goals and 74 points in 60 games — his stellar play earned him a spot on Canada's Gold Medal roster for the 2018 WJC. He had an impressive tournament and showcased a style of play that will earn him a spot with the Canucks — strong, simple, physical two-way play.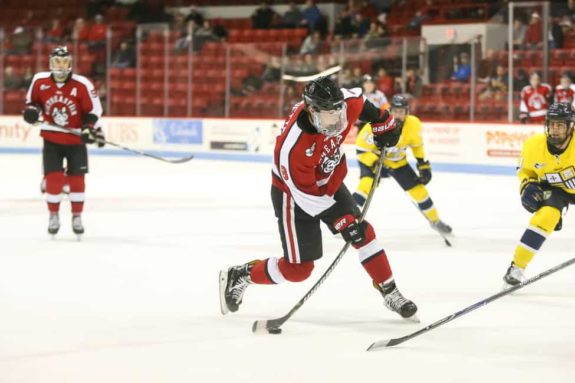 As a duo, these two could compose a deadly and elite third line for the Canucks — they both thoroughly understand the importance of defensive play, play physical hockey and can mark up the score sheet. Gaudette is going to be like former Canuck, Ryan Kesler while Gadjovich is like a bigger, stronger and tougher former Canuck, Alex Burrows.
Playing their best hockey, they'd be able to shut down opposing threats, antagonize unfortunate victims, cycle teams into submission and score big goals in tough contests in Western Conference match-ups. They're also both established penalty-killers and will likely see some action together on the PK.
Virtanen and Archibald
A theme that unfortunately carries over season-to-season for the Canucks is a lack of physicality and toughness and as a Western Conference club, that's a big no-no and a recipe for finding the L-column more often than not. Enter Jake Virtanen and Darren Archibald.
Both players are currently on the outside looking in of the Canucks roster. Virtanen was the Canucks sixth overall pick back in 2014 and is now on his third NHL season, but he's been unable to find his footing and properly fill a role for the team, equating to disappointing outputs. Archibald has been in the Canucks' system since 2013-14 but is only now getting a true shot at the NHL.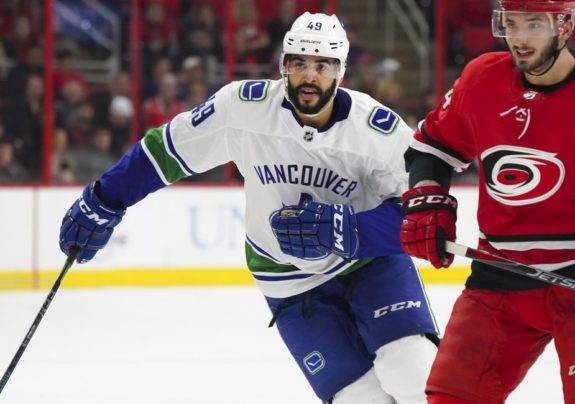 Unlike Virtanen, Archibald already knows his role and is ready to play it up to the best of his abilities — fourth-line banger. Virtanen is an incredibly fast, big and skilled player with a lot of potential but the fact that he's not getting established in the top-six and with all the talent climbing the ranks in the system, I think he'd be at his best in a bottom-six capacity. In order to be a successful and relevant grinder in today's NHL, you need to be able to tally points to a certain degree.
Virtanen and Archibald both possess the abilities to contribute offensively and if they develop a certain amount of chemistry through strong fore-checking and cycle play, they will find the score sheet. It's silly to think that they'd be able to chalk up a lot of offensive numbers, but 10-15 goals each per season is very doable. However, their top priority will need to be physical play — a fast, big and cohesive fourth line is one of the hardest things to play against in hockey and although fourth lines contribute mostly in ways that don't make the highlight reel, they are some of the most valued members of winning hockey teams.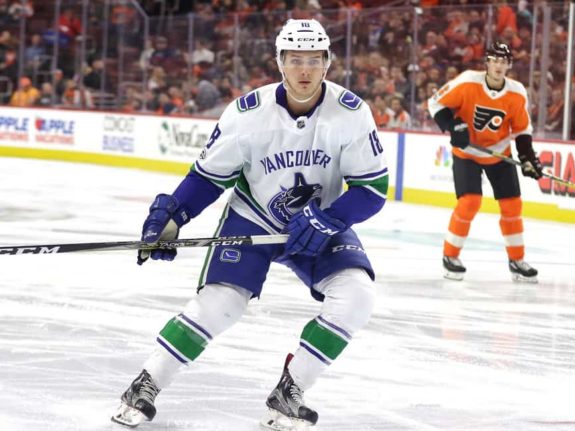 On top of that, adding skill to a fourth line gives coaches a lot more freedom when it comes to line-matching — having trust in your bottom-six takes a lot of stress off the top two lines, reduces fatigue and prevents injuries in the long run. The thought of these two banging bodies and causing headaches for opponents is very exciting.
Special Teams Duo
The Canucks' power play has certainly improved this season, with the addition of Boeser on his off-wing, ready to unleash bombs, but there's still something missing. How about another sniper on the other side? Pettersson on his off-wing, complimenting Boeser is a very, very scary thought for opposing squads.
Elias Pettersson's one-timer goal on the power play for the Vaxjo Lakers in #ChampionsHockeyLeague action this morning. #Canucks pic.twitter.com/iS25U93Hya

— Daniel Wagner (@passittobulis) September 2, 2017
Look at the best power plays in the NHL, the Pittsburgh Penguins and the Tampa Bay Lightning's units to be specific — the Penguins use Evgeni Malkin and Phil Kessel on their off wings, while the Lightning use Steven Stamkos and Nikita Kucherov in the same fashion. In the league of today, goalies are quite evolved and you need to get them moving laterally in order to beat them, more often than not.
Having a star player on each half-wall creates two dangerous options that penalty-killers and goaltenders need to be wary of — the Canucks have the eighth-best power play percentage in the NHL with 21.1% and they're only utilizing one half-wall with Boeser. The addition of someone as skilled as Pettersson could take the Canucks' unit to the next level and even propel them to the top of the league.
Boeser has 10 of the Canucks' 41 power play markers this season or 24.4% of them — just imagine for a second, another weapon of his caliber on the other side of the ice. I already feel bad for future victims of this dynamic duo.
Let me know below which duo you're most excited about, or if I missed a duo that you think should have made the list, feel free to comment!
Matt is a longtime fan, player and student of the game of hockey. Broadcast and Online Journalism student at the British Columbia Institute of Technology.