The Vancouver Canucks have been a pleasant surprise to start the 2017-18 season, as they got off to a roaring start out of the gates. Strong defensive play has earned the Canucks a good number of their points so far this year, but their inability to capitalize on the man advantage has been incredibly detrimental.
When it comes to statistics, the Canucks have the fourth-worst power play percentage in the NHL with a dismal 14.1% conversion rate. It's not for lack of trying – in the month of November alone (six games), they've already had 21 attempts and scored only twice. Power play markers in any of those games could have potentially been a difference-maker.
The way I see it, there are three solutions to the Canucks' issues that, if utilized, could take the Canucks to the next level this season.
Boeser Bombs
Brock Boeser, as I'm sure most can agree, is the best shooter at the Canucks' disposal — a pure sniper that's leading his team in points as a rookie. The fact that Travis Green is not utilizing this weapon to its highest capabilities is simply perplexing and borderline frustrating.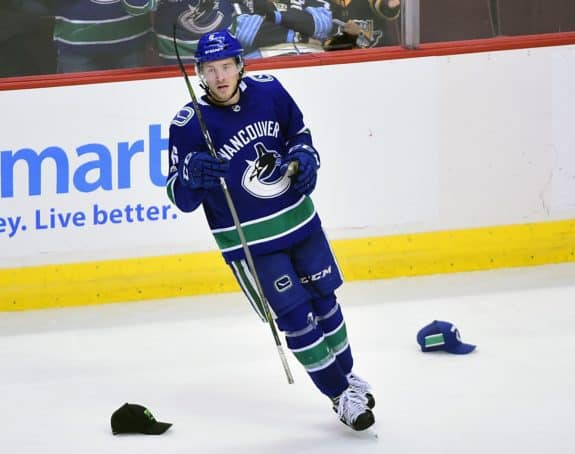 As I've touched on in a previous article, goalies today are highly skilled, huge and very agile — in order to beat them, you have to get them moving laterally or restrict their vision. This is why just about every successful power play in the NHL puts their top shooters in the 'one-t spot' — this refers to a position where a player can hit one-timers on his off-wing. Think Alex Ovechkin or Steven Stamkos and how they set up around the faceoff dot or top of the circle.
Green needs to slide Boeser into the 'one-t spot'. He's got a cannon and I guarantee he'd light the lamp a dozen-or-more times on the man-advantage from that spot.
"But Matt, he's leading the team in power-play points, so why fix what ain't broke?" Well, five of those points are assists, which is all well and good, but you want your snipers to snipe and Boeser isn't being granted all the sniping opportunities he can.
Unleashing Boeser's bombs from his off-wing is the biggest solution to the Canucks' power play woes.
Put Gagner in His Office
Last season, Sam Gagner raised eyebrows with his terrific work on the power play for the Columbus Blue Jackets, chalking up 18 of his career-high 50 points on the man-advantage.
On the power play, Gagner was placed in between the faceoff dots and he would just slide up and down in the slot. This is a very viable tactic that, if used properly, can be very deadly.
"The guy in the middle has become pretty important. He's asked to make plays, support the outside and finish chances," Gagner told Jason Botchford of the Vancouver Sun back when he was signed in July.
A talented player in that position, like Gagner, gives defencemen at the point a stick to shoot deflections off of, provides a screen for goalies and opens up a one-timer opportunity in the slot from a pass out of the corners.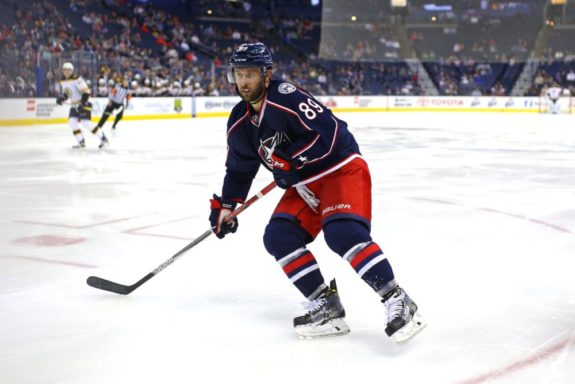 Players that are great at this are actually Daniel and Henrik Sedin and I think Gagner and the twins could be a very dangerous unit if used properly, especially with a guy in between the dots.
Gagner mastered this spot last season and Green has yet to put Gagner back in his office. Granted, both of Gagner's goals this season have been on the power play but that number could easily be inflated with the right call from Green. Much like Boeser, it's not that Gagner isn't being productive, he's just not being as productive as he could be.
Green Getting Comfortable
The last fix, that goes hand-in-hand with the others, is simply Green getting comfortable with his guys and finding chemistry among them. I can sit here and make backseat coaching calls all day but Green has really earned my respect by clearly stating that he respects everyone's opinions, but he's not going to let the fans or media coach his team — in Vancouver's market, this is easier said than done.
Chemistry is a term Green has used frequently and it's something that has definitely started to blossom throughout the lineup. However, power play chemistry is its own beast and a lot more difficult to tame and Green understands this completely.
Travis Green tweaked the #Canucks PP at practice yesterday. Does @DTSN1040 think it will help? Jake & @DavePratt1040 ask him now!https://t.co/3FaMtWohvp pic.twitter.com/sGDH3f7QSE

— TSN Radio Vancouver (@TSN1040) November 14, 2017
"It's easy to talk about, but you need to see it. You have to have chemistry between players. It's important we just don't say, 'Hey, these guys play with these guys,' because it sounds good or it looks good," Green told the Vancouver Sun.
If I was a betting man, I'd predict Green tries out both of these tactics in the near future and I also predict a drastic improvement in the Canucks' power play. However, he has a healthy crop of talented players to toss into the power-play blender and he might have few more concoctions he'd like to try out.
Matt is a longtime fan, player and student of the game of hockey. Broadcast and Online Journalism student at the British Columbia Institute of Technology.