There's more to goaltending than stopping the puck. Like any other player on the ice, NHL goalies read the play in order to contribute to puck movement and defensive zone breakouts. Pioneering netminders like Jacques Plante added puck movement to the goaltending repertoire, while later goalies like Ron Hextall ventured out of the crease to set up a play. Over the decades, goaltending styles have evolved, finding not only new ways to stop the puck, but to provide momentum in the opposite direction by becoming puck-moving goalies.
Puck-Moving Goalies Goal Scoring
Though Billy Smith received credit for a goal in 1979 when an opposing player scored an own goal off his clearing attempt, Ron Hextall was the first NHL goaltender to score off a shot on an empty net. Martin Brodeur, however, currently holds the record for the most goals scored by a goaltender with two regular season goals in 1997 and 2013, and one playoff goal in 2000.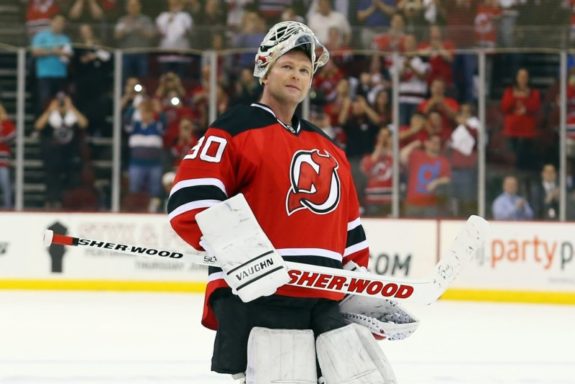 In recent history, Mike Smith also scored a goal on an empty net in October 2013, taking a risk that paid off just before the buzzer.
Puck-Moving Goalies Leaving the Crease
Patrick Roy's "deke" on Wayne Gretzky is the most humorous and famous example of a goaltender leaving the crease to play the puck, but it's not the only one. Like Roy, Mike Smith also received a delay of game penalty for crossing the red line to play the puck in November 2013.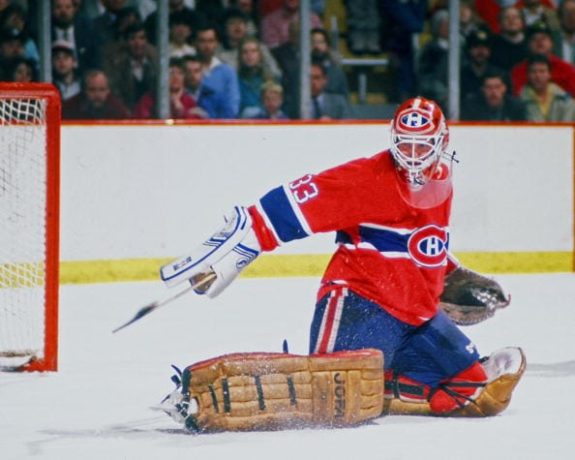 Whereas Jacques Plante was one of the first NHL goalies to play the puck in an era when stand up goaltending was the norm, Ron Hextall was one of the first goalies to come out of his crease to do so. This mobility is part of how he became the first goaltender to score a goal, as he played the puck like a third defenseman.
In The Hockey News' list of the best puck-handling goalies, Marty Turco is third, right behind Brodeur and Hextall. Sometimes Turco's adventurous style worked well for him, but if he misplayed the puck, he put his team at greater risk than if a defenseman had made the same mistake.
Puck-Moving Goalies Checking
Turco's hit on Teemu Selanne references the rare, and usually unwise, act of goaltender checking. When a goalie leaves the crease to play the puck, he's left open for contact with opposing skaters. Some goalies take this opportunity to lay on the hits in or outside of the crease.
In the 2011 Stanley Cup Final, Tim Thomas hit Henrik Sedin as he carried the puck near the Boston crease. Thomas' action didn't result in a penalty, but if Sedin perpetrated the same hit on Thomas within the crease, the action would result in a goaltender interference call.
In another example, Red Wings goalie, Dominik Hasek, stormed out to center ice to put the brakes on Marian Gaborik's breakaway. In the process, he upends Gaborik while attempting a sliding poke check. This type of check is a dangerous play and resulted in a penalty on the goaltender.
The Two-Line Pass and Puck-Moving Goalie Assists
In addition to clearing the puck from the slot, or initiating a breakout pass, some of the best goaltender plays occur when they split the opposition's defense to get the puck to a breaking player. This interaction between Kari Lehtonen and Tyler Seguin is a recent example of a beautifully executed goaltender assist.
The era of the high-scoring goalie has passed, though netminders like rookie phenom, Tom Barrasso, and Grant Fuhr set high records in their day. Barrasso currently holds the record for the most points scored by a goaltender across his regular season career with 48. Fuhr, however, holds the highest record of all goaltenders with 60 points across his career including playoff assists. The most points a goaltender scored in a game is still held by Jeff Reese who scored three assists for the Flames on February 3, 1993.
Martin Brodeur retired just shy of matching Barrasso's assist record, with 47 points across his 1266-game, regular season career. However, he finished ahead of Fuhr, Roy, Belfour, Hextall, Joseph, and other great puck-handling goalies of his era. The next highest scoring, active goalie in pursuit of these top spots is Kari Lehtonen with 23 points in 491 games.
Reflecting on Puck-Moving Goalies
While offensive-minded, puck-handling prowess doesn't make a better goalie, its prominence was an interesting trend in goaltending history. Like any trend in the NHL, the novelty fades as general managers seek changing traits in their star netminders. Looking back on the ways goaltending evolved between Jacques Plante and Martin Brodeur's playing days, NHL goaltending still holds many surprises yet unseen.
This article was originally published in February, 2015.
Tabatha is passionate about hockey history, and the Dallas Stars' ever-improving farm system. Growing the game in North Texas is her goal.
Discuss hot topics in hockey with her on Twitter via @tabatha_mp.