Regardless of the Buffalo Sabres 3-2 overtime win against the Detroit Red Wings last night, their long history of losing has made playing in Buffalo impossible. There's not a whole lot of players who would set foot in that city and no one can blame them — for years they've been among the league's worst teams. Although many efforts have been made to revitalize the club for a very long time, this year marks the start of yet another rebuild.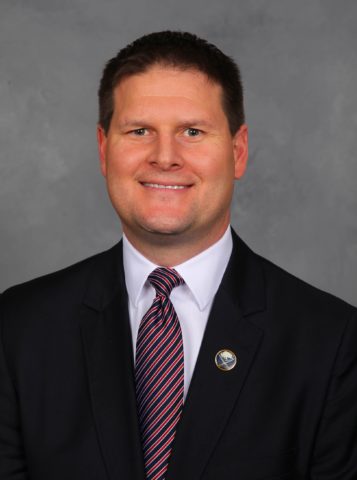 But no quick rebuild ever works unless your name is Mike Babcock.
The Sabres' newest general manager Jason Botterill, newest head coach Phil Housley, and brand new scouting department have a ton of work to do. By the end of next season, 19 of their 25-man roster will have become restricted or unrestricted free agents and one of the biggest and most important things Botterill will be tasked with this year and next is finding 19 players to put on his roster — whether that means re-signing a few, drafting as many as he can or trading for even more. Yes, its surprising that nothing has happened since their arrival, but who can blame them? They don't have much to work with.
Not only will the new management staff need an eye for talent – something the organization has historically failed at, they'll also need to negotiate trades with at least some success and that's going to be challenging due to the team's lack of scoring. Unless they can make some trades happen, their rebuild will be a slow one.
Sabres' Rebuild vs. Leafs' Rebuild
Before Botterill came to the Sabres, he held the position of Assistant General Manager with the Pittsburgh Penguins for eight years and before that he was the Director of Hockey Operations for two. He's won the Stanley Cup there three times and so he knows first hand what it takes to accomplish a rebuild and sustain a roster. Being present for the Phil Kessel trade from the Toronto Maple Leafs was huge for him because he witnessed what it took to make that trade happen and because of that trade, the Leafs' rebuild astronomically improved.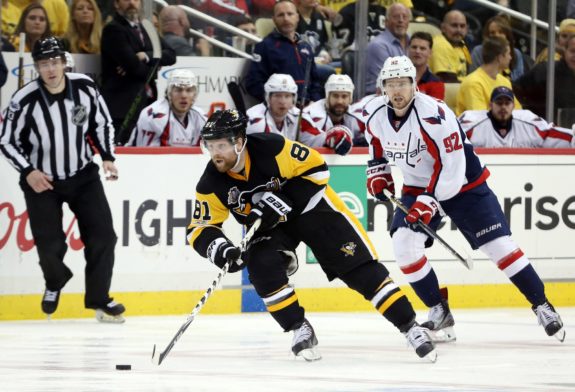 The Leafs got Kasperi Kapanen (a first-round pick from the 2014 Draft), Nick Spaling and a conditional 2016 first-round pick, among others for Kessel. Eight months later, they traded Spaling to the San Jose Sharks (among others) in exchange for a 2017 second-round pick (and others). Four months after that, the Leafs then traded their 2016 first-round pick and 2017 second-round pick to the Anaheim Ducks in exchange for Frederik Anderson, who's been one of the league's top goalies all season long. The Leafs were able to do this because they had an elite goal-scorer as an asset and traded that asset for depth and net-minding prowess.
This is not the same situation in Buffalo and of course, Botterill's trade talks are still fruitless because of that.
Trade Deadline Challenges
The 2018 NHL Trade Deadline is only three days away and so far the Sabres have made zero trades since the beginning of December. Botterill has witnessed general managers in Pittsburgh make the kinds of deals that are needed to win Cups and so he knows what's fair and what isn't.
There's also been talk about Evander Kane getting traded away before the trade deadline but Botterill wants a first-round pick, a prospect, a conditional pick and a roster player in return. That might be fair if you consider who Kane might get traded to. If he gets dealt to a team fighting for a Wild Card spot – as in, if he's traded to a half decent team or even a good team, his individual point production will probably increase. Kane is only 26-years-old and he still has the time and skill to shine – just not in Buffalo.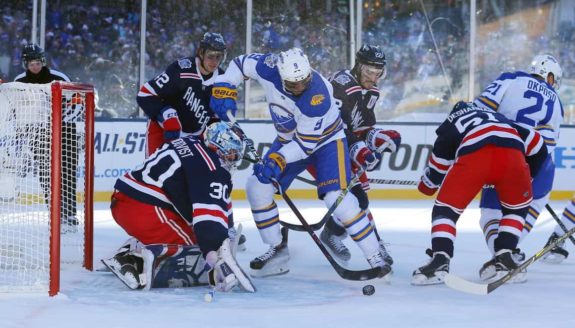 Prospects with Potential
It seems that Botterill may be having a hard time being taken seriously with his offers but besides the rising challenges he's facing with the trade deadline, things will start to look better for the Sabres in due time. There's a number of prospects coming through the pipeline with a great deal of potential. Next year we could see the likes of right-winger Alexander Nylander, younger brother of William Nylander who currently plays for the Leafs. Alex Nylander was drafted eighth overall in the 2016 Draft and is in his second season with the Sabres' AHL affiliate team, the Rochester Americans.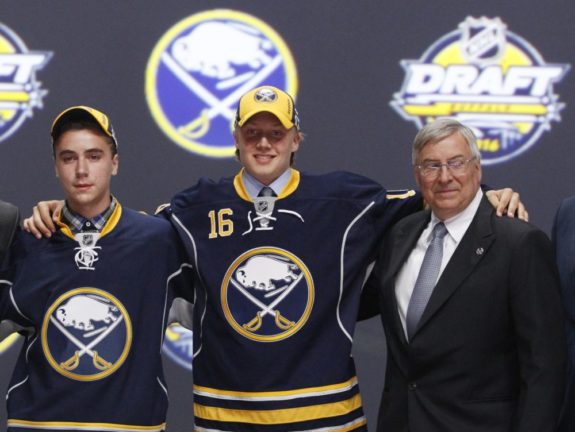 Then there's Rasmus Asplund, a 20-year-old centreman drafted in the second round at no. 33 in the 2016 Draft. He's been playing in the Swedish Hockey League (SHL) for the last four seasons and actually thought he would develop more in Sweden than he would with the Amerks and that's why he's still in Europe. From this same draft class, there's also Cliff Pu, a right-winger/centreman drafted in the third round at no. 69 who was traded to the OHL's Kingston Frontenacs this year (from the London Knights). He looked really good at their annual Prospects Challenge before the season started and he's scoring an assist per game played right now.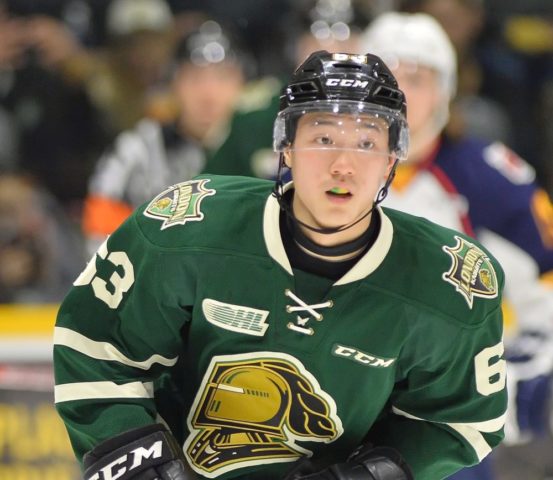 There's also Casey Fitzgerald, a defenseman drafted in the third round of the 2016 Draft. He comes from a strong hockey family and currently serves as team captain of the NCAA's Boston College Eagles. Although he's just a third-round pick, the NCAA has been producing some pretty high point-producing players drafted from later rounds, especially when it comes to defensemen. Look at Will Butcher, Brandon Montour, Brett Pesce and Shayne Gostisbehere for instance, they're all drafted after the first round, are from the NCAA and have been putting up pretty high numbers.
Finally, the Sabres also have centreman Casey Mittelstadt in the pipeline. He was drafted at no. 8 in the 2017 Draft and plays for the University of Minnesota Golden Gophers. He has 24 points in 30 games there and also represented Team USA at the World Junior Championships this year, scoring four goals and seven assists in seven games.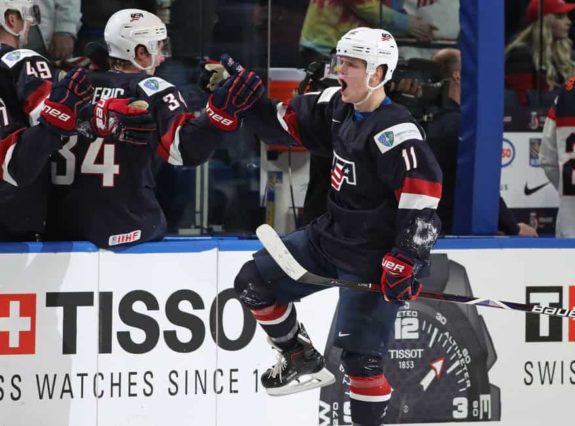 Rebuilding Through the Draft: Only Realistic Option
If the Sabres use some of these players to fill in spots on the roster over the next couple of years, they're still in need of at least a couple left wingers and a few defensemen. Securing these positions will be imperative to the success of the Sabres future and the upcoming draft in June won't fill these needs in time. Unless Botterill can get a first-round pick for Kane, it's unlikely he'll get more than one first-round pick in the 2018 Draft. And if he can't get his hands on left-winger Brady Tkachuk at that draft, he'll likely grab a defenseman considering how rare the good ones are to come by these days.
Although the Sabres' previous management group helped them get to this position of needing almost a brand new roster, they didn't set them up with any high-value assets or additional draft picks to rebuild with. Regardless of who the Sabres draft this June and who they bring up from the minors next year or the year after, Botterill must make some trades by the deadline in order to sustain his roster. But with limited high-value assets, the Sabres are going to need to focus on developing who they already have and making the most of what they got. So will he make any trades by the deadline? He's not going to get what he wants so the question really is, will he settle with what he can get?
I'm a Hockey Journalist based out of Barrie, Ontario, a Contributing Writer for The Hockey Writers covering OHL, and NHL prospects with an insatiable thirst for all things LA Kings, and PR gal for Abel Sports Management.