The 2023 NHL Entry Draft is full of dynamic right-wingers that will be game-changers at the NHL level. There is little doubt that they will be able to surpass the six selected in the first round last year, with a chance of coming close within the first 15 picks alone. Whether they are first-round selections or beyond, there is plenty of talent available in this year's right-wing class.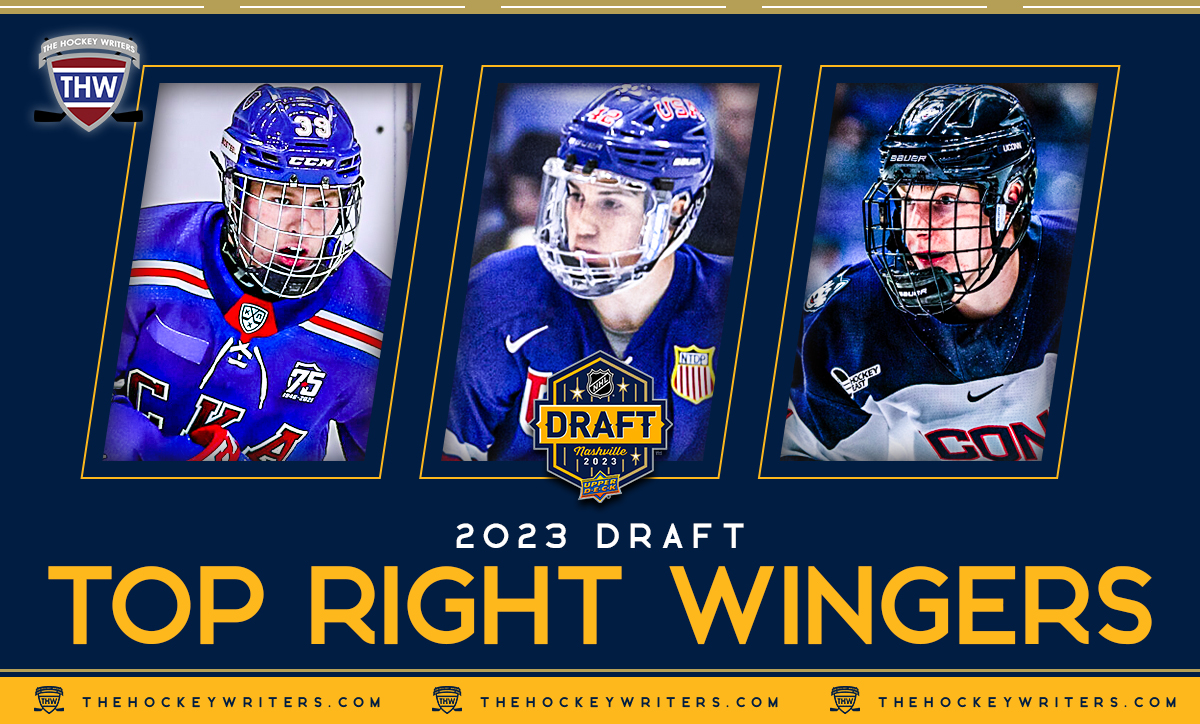 Heading into the draft, there are often debates on what positions players will play in the NHL draft. To qualify for this list, players must be designated as a right-winger, according to NHL Central Scouting. Without further ado, here are the top 10 right-wingers heading into the 2023 NHL Draft.
10. Alexander Rykov, Chelmet Chelyabinsk, VHL
NHL Central Scouting (EU Skaters): 23rd
THW Draft Profile
A team is going to hit a home run when they select Russian winger Alexander Rykov. Listed at 6-foot, 176 pounds, he spent the year in Russia's second division, gaining more ice time and responsibility as the season went on. He also received multiple call-ups to the Kontinental Hockey League (KHL), showing that, despite only being 17, he could be trusted to play against some of the best Russia has to offer.
Related: THW's 2023 NHL Draft Guide
---
Latest News & Highlights
---
A hard-working, two-way winger, his draft ranking slipped as he only played in one game after Jan. 16, 2023. Whether that was due to injury or something else, it is hard to project where his development is at this point. Despite the uncertainty, he is worth the gamble and should be selected in this year's draft.
9. Coulson Pitre, Flint Firebirds, OHL
NHL Central Scouting (NA Skaters): 37th
THW Draft Profile
One of the hardest-working players on this list, Coulson Pitre is willing to do whatever it takes to win. He can play a physical game, fights for space in front of the net and, most important, capitalizes on his opportunities. If teams are looking for a potential bottom-six winger that is annoying to play against, he may just be their guy.
While there are areas of Pitre's game that need to be improved, like his skating, he is a player coaches love to have on their team. He has what seems like a never-ending motor and is willing to fight for every loose puck available. If he can round out his game, he is going to be a menace at the NHL level.
8. Lenni Hämeenaho, Ässät, Liiga
NHL Central Scouting (EU Skaters): 8th
THW Draft Profile
When breaking down Lenni Hämeenaho's play, the attribute that sticks out the most is his hockey IQ. Whether it is his ability to create turnovers or parking himself in perfect position in front of the net, he knows where he needs to be on the ice in order to have the greatest impact on the play. What is even more impressive is that he was able to show he can be productive against older competition, as he was one of three U20 players and the only undrafted prospect to play at least 50 games in Liiga this season.
For Hämeenaho, the next step in his development will be improving his skating. If he can improve that part of his game, there is no question he will be an effective winger at the NHL level. There is a lot to like about his game, which is why he is one of the top right-wingers available in this year's draft.
7. Kasper Halttunen, HIFK, Liiga
NHL Central Scouting (EU Skaters): 11th
THW Draft Profile
Listed at 6-foot-3, 207 pounds, it is hard to miss Kasper Halttunen on the ice. The Finnish winger is known for delivering big hits and big goals, as he enters the draft having scored in all five games at the U18s. A player who isn't afraid to shoot the puck whenever he has the chance, in his final game at the U18s, he finished with a goal and 15 shots on net in a 3-2 loss to Slovakia.
When it comes to Halttunen, one thing to monitor will be whether or not he starts using his teammates more often. Even the best goal scorers at the NHL level understand the importance of being able to play with their linemates rather than do everything themselves. If he can develop that side of his game, he could be a matchup nightmare in the NHL.
6. Kohen Ziemmer, Prince George Cougars, WHL
NHL Central Scouting (NA Skaters): 25th
THW Draft Profile
If teams are looking for a winger that can skate well, deliver massive hits and score beautiful goals, then Kohen Ziemmer is their man. The Prince George Cougars winger has NHL power forward written all over him as he dominated in the Western Hockey League (WHL), posting 41 goals and 48 assists in 68 games. A prospect who loves to get under his opponent's skin, he is going to be a fan favourite at the NHL level.
Related: 2023 NHL Draft: Top 10 Defencemen
Heading into the 2023-24 season, there will be a lot of emphasis on whether or not Ziemmer can improve his skating. He needs to add some explosiveness to his strides, which will help make him an effective forechecker at the next level. If he can continue to develop and add more elements to his game, he could be in the NHL sooner rather than later.
5. Ethan Gauthier, Sherbrooke Phoenix, QMJHL
NHL Central Scouting (NA Skaters): 16th
THW Draft Profile
A hard-working, two-way winger, Ethan Gauthier is a jack of all trades. He can play a physical game, has enough skill to pull off highlight-reel plays and plays off his linemates extremely well. It is hard to find holes in his game as he is developing into one of the most valuable wingers in the Quebec Major Junior Hockey League (QMJHL).
At this point in his development, the focus will be on enhancing his skills rather than developing them. He will also be given a larger role after being dealt to the Drummondville Voltigeurs during the QMJHL draft, so there will be some added pressure on the young winger. A prospect who plays a simple yet effective game, he projects to be a middle-six forward at the NHL level.
4. Gabriel Perreault, U.S. National U18 Team, USNTDP
NHL Central Scouting (NA Skaters): 10th
THW Draft Profile
A dynamic offensive winger, Gabriel Perreault enters the draft after a historic season that saw him dominate for club and country. He recorded a single-season record of 132 points with the US National Team Development Program (USNTDP) before leading the U18s with 13 assists while finishing second in points with 18 as he helped Team USA capture the gold medal. Producing one of the greatest draft-eligible seasons by an American ever, he is ready to hear his name called during the first round at the 2023 NHL Draft.
What makes Perreault so dangerous is that he can burn defenders in different ways. He can deliver accurate passes to teammates or fire a perfect shot past the goaltending. Once his skating improves, there is little doubt that he can be an impact player at the NHL level.
3. Matthew Wood, University of Connecticut, NCAA
NHL Central Scouting (NA Skaters): 4th
THW Draft Profile
It is not very often a draft-eligible player leads their National Collegiate Athletics Association (NCAA) team in scoring, but that is exactly what Matthew Wood did at the University of Connecticut this past season. He finished the season with 34 points in 35 games, helping to establish himself as one of the top players available in this year's draft. Add in his dominating performance at the U18s, where he finished with seven goals and 13 points; it is no wonder he has continued to climb up draft boards all year.
At 6-foot-4, 197 pounds, Wood has continually shown just how dangerous he is with the puck. Whether it is with his shot or through his playmaking, he consistently is creating chances for himself and his teammates in the offensive zone. Once his NCAA career is over, he should be able to jump into a team's top six and start contributing at even strength and on the power play.
2. Ryan Leonard, U.S. National U18 Team, USNTDP
NHL Central Scouting (NA Skaters): 5th
THW Draft Profile
One of the most versatile prospects available in this draft, Ryan Leonard has all the makings of the next great power forward in the NHL. He is a player that gives 110 percent on every shift and loves to deliver bone-rattling hits whenever possible. On top of physical play, he is also a fantastic skater and is one of the best when it comes to scoring goals in this draft class.
Related: 2023 NHL Draft: Horn's Two Round Mock Draft
Leonard is the type of winger that every team is looking to add to their organization. There isn't really an area of his game that is problematic, and he is only going to get better moving forward. A potential top-10 pick, he is going to be a pain to play against in the NHL for a long time.
1. Matvei Michkov, SKA St. Petersburg, KHL
NHL Central Scouting (EU Skaters): 2nd
THW Draft Profile
To little surprise, Matvei Michkov comes in at No. 1 on our list. A potential franchise-altering prospect, he is arguably the best Russian prospect since Alexander Ovechkin, and for good reason. Whether it is his shot, hand-eye coordination or skating, he is an elite talent that doesn't come around too often.
The biggest concern around Michkov is the Russian factor. Due to his contract in the KHL, he won't be available until after the 2025-26 season, which makes selecting him a massive risk for teams. While he is arguably the second-best prospect behind Connor Bedard, he could slide out of the top five come draft day.
Plenty Of Talent Available
The 2023 right-winger class has a little bit of everything. There are elite playmakers, dangerous scorers, strong two-way wingers and power forwards that will lay out anyone on the ice. Make sure to stay tuned to The Hockey Writers for all your pre- and post-draft day coverage as the next group of future stars get drafted into the NHL.
---
---