The Ontario Hockey League remains one of the top leagues at producing top talent that are eligible for the NHL Draft. Last years' class produced some quality talent with names like; Shane Wright, Pavel Mintyukov, Owen Beck and Luca Del Bel Belluz. All of which had a significant impact on their respective teams in 2022-23.
This year the talent level is just as strong as you have a lot of quality forwards that can be difference makers as top-six forwards even as a strong puck moving defenders. The IQ and skillset with this class is definitely to keep an eye on as all these players have a lot of potential and upside as NHL prospects.
Related: 2023 NHL Draft Guide
On one quick note, the rankings that is used for this list is solely based on NHL Central Scouting's final rankings. Without further ado, here are the top 10 OHL prospects.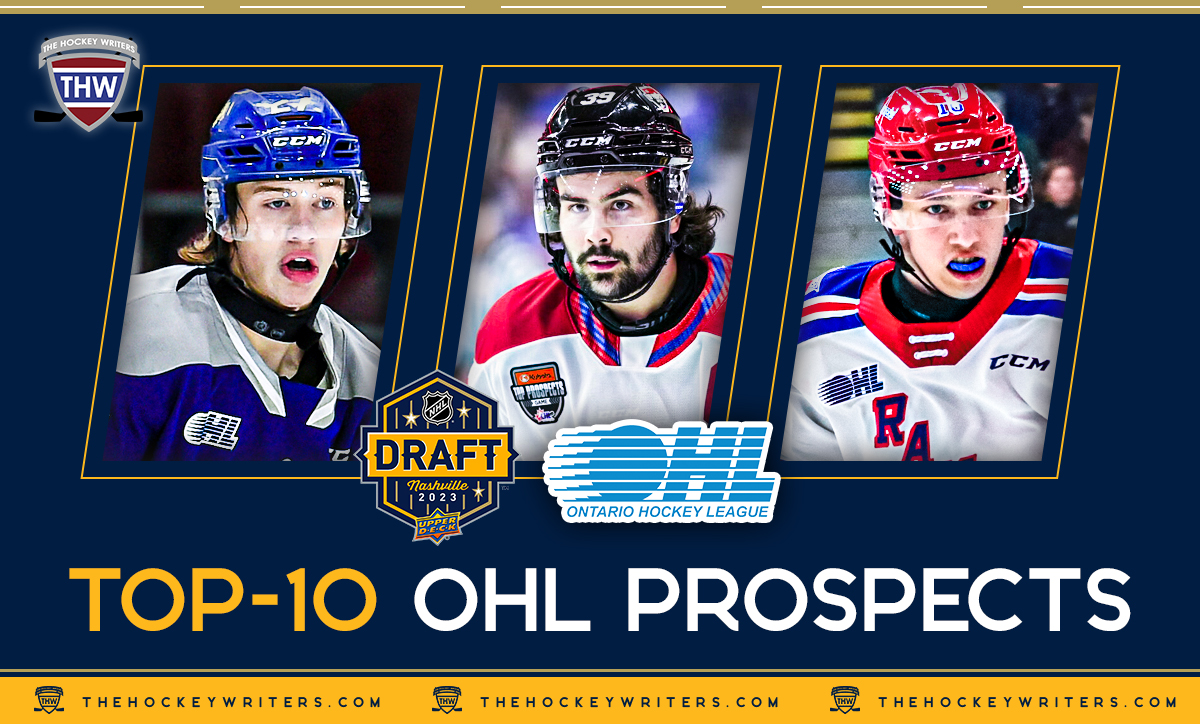 10. Quinton Burns, D, Kingston Frontenacs
Central Scouting Rank: 34th (among NA skaters) 
Probably one of the more underrated defensemen in this draft class–notably as a potential mid-round pick, Burns is a very steady defensive-minded defender but is a very strong transitional player with great mobility. He finished the 2022-23 season with 27 assists and 29 points.
Burns' main attribute is his defensive IQ, as he's always putting himself in position to break plays and be engaging on the puck carrier in order to force a turnover. He has a long reach to disrupt plays, get into passing lanes and makes himself available to exit the zone and breakout cleanly. He's smart positionally and can anticipate plays very well. He can be physical along the boards and uses his size to gain the advantage to win a battle for the loose puck.
---
---
Burns is a very smooth skater with good speed and edges. While he's a strong breakout passer, his skating allows him to be a factor in transition to carry the play going forward. He can hold the line with timely reads and pinches while also walking the line to get into position to distribute the puck. He needs to work on his shooting, but the smarts are evident in all three zones.
9. Beau Akey, D, Barrie Colts
Central Scouting Rank: 33rd (among NA skaters) 
Among the offensive defensemen in this draft, Akey is definitely a name that should garner some attention with his puck moving abilities. He's been a consistent factor for the Colts on the blueline, finishing with 47 points this season.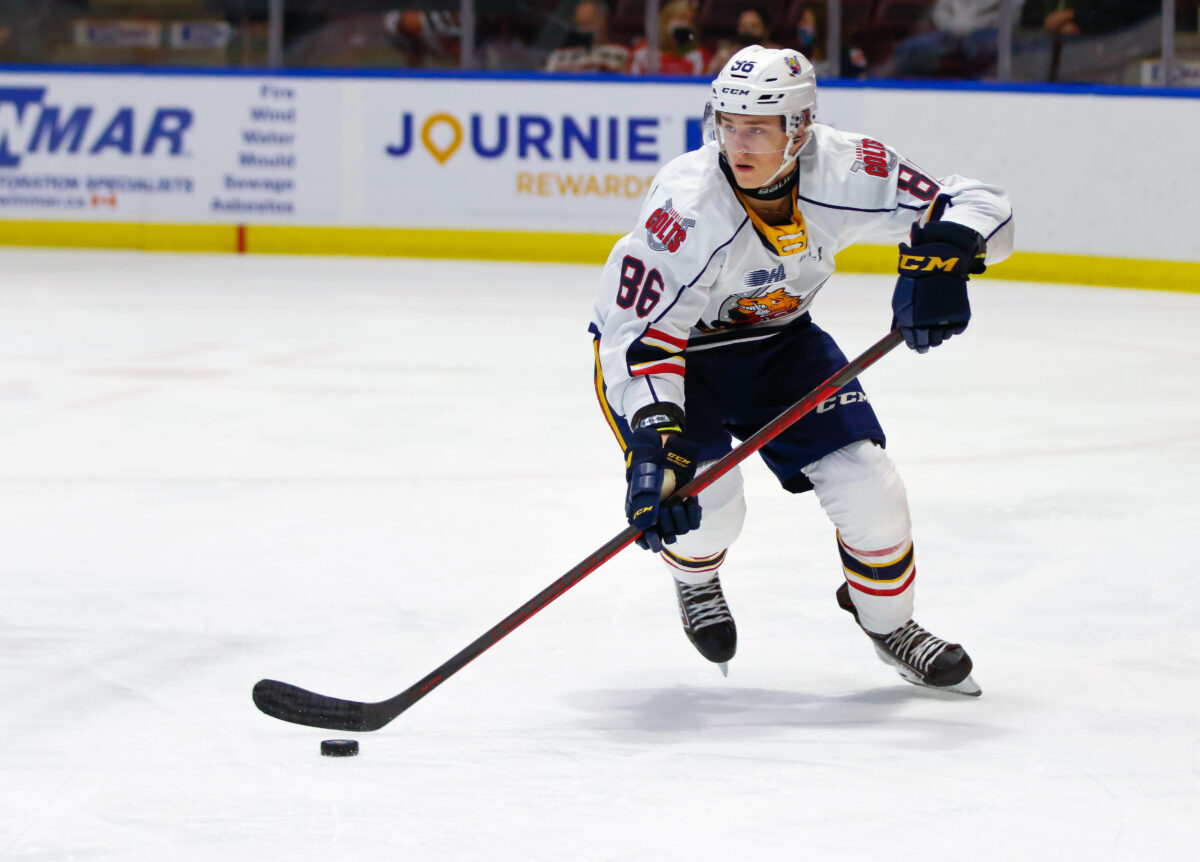 Akey is a strong and fluid skater with great speed and edges. He's very agile and swift when breaking out of his own zone and through the neutral zone. He has a great awareness in the offensive zone, showing great smarts and reads with and without the puck. He displays great patience with the puck and doesn't rush plays, always taking that extra second to scan the ice for the right play instead of a high-risk one. He's a crisp passer and does a great job drawing in players in order to open things up and make a timely play. 
Defensively, he does a good job to close gaps and take away passing lanes, but needs some fine tuning. The confidence he has with his offensive skillset is consistent and could be an effective modern puck-moving defenseman.
8. Tristan Bertucci, D, Flint Firebirds
Central Scouting Rank: 32nd (among NA skaters)
Finishing with 50 points in his sophomore season in the OHL, Bertucci is a very smart and confident defender who can impact the game in all areas of the ice. This ultimately makes him a future two-way defenseman.
Offensively, he's confident with the puck, displaying great movement and decision making to open the game up and connect with his teammates. He has deceptive speed to lead an attack. He can dictate the pace of play very easily, slowing things down and picking things up in an instant. He has great hockey sense and awareness as he's always one step ahead of the competition. He can solve problems in tough situations and is always making the right play.
Defensively, he's great at closing gaps and keeping attackers to the outside. He provides great coverage in front of the net, constantly battling for position and blocking players out in front of the net. He's always battling for loose pucks and showing the competitive side to regain possession. He doesn't panic under pressure and is confident in making strong clearing attempts.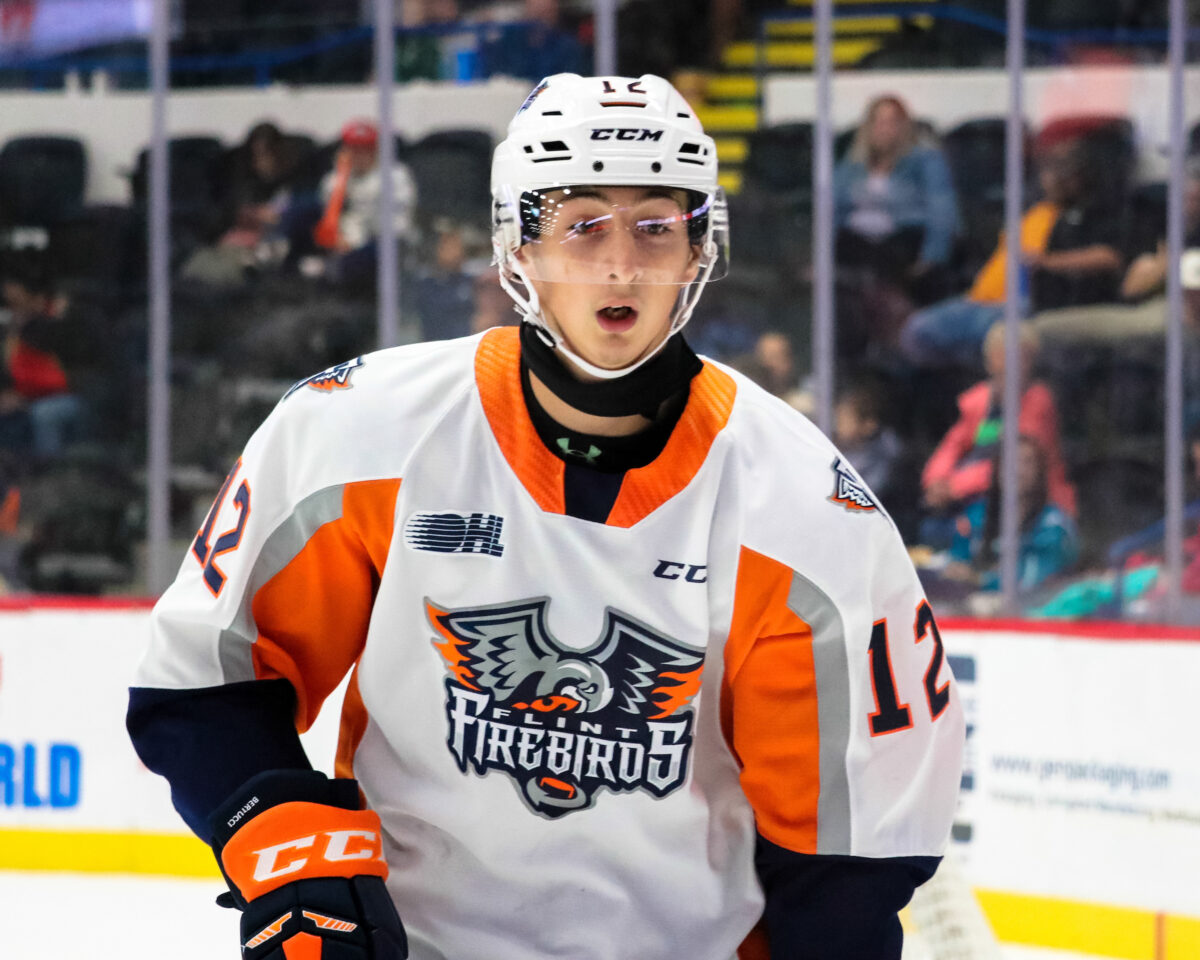 He's a name that's flying under the radar as he has tremendous upside.
7. Andrew Gibson, D, Soo Greyhounds
Central Scouting Rank: 31st (among NA skaters) 
While Gibson still needs time to develop, there's a lot of potential there for him to be a steady puck moving defender. He finished the season with 21 points in 45 games, but missed some time due to injury. 
Gibson is a strong playmaker when finding the cross seams in the offensive zone and can be a factor in transition. He has great mobility and footspeed to carry the play and lead an attack. He can quickly and effectively get pucks on net for second or third opportunities. He's active on the cycle and does a great job to keep plays alive in the offensive zone. He's also physical and knows when to step in and make a hit on the play. He doesn't need to be creative as he's effective and doing the little things to succeed. 
While he excels offensively, he can look to work on his defensive game. He needs to improve his situational awareness, decision making and not rush plays, but the tools are there.
6. Carson Rehkopf, LW, Kitchener Rangers 
Central Scouting Rank: 29th (among NA skaters) 
Probably one of my favourite players in the draft, Rehkopf possesses a lot of potential to succeed at the next level. While the Rangers had an up and down season, he finished his second season in the OHL with 30 goals and was second in team scoring with 59 points.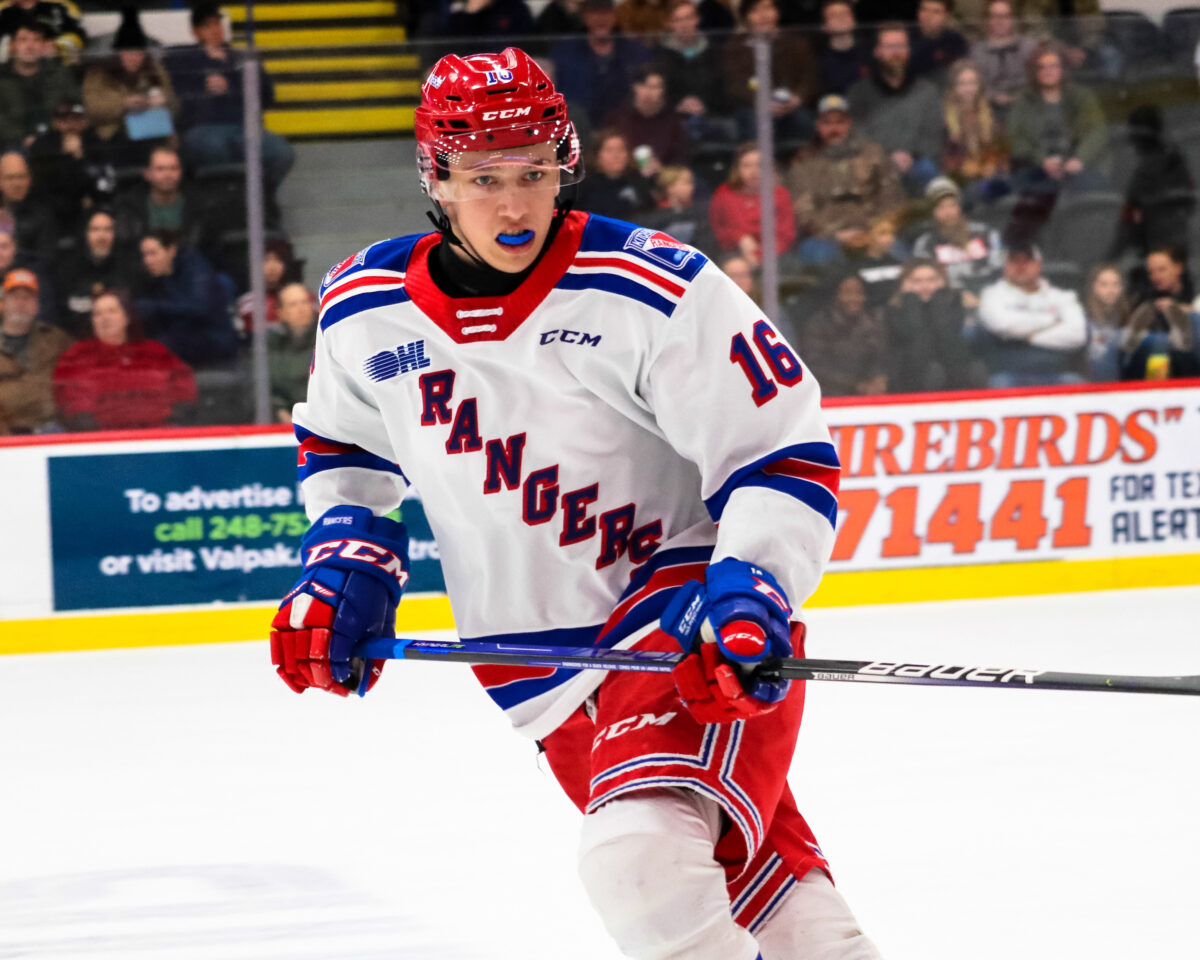 Rehkopf displays a strong compete level, work ethic and a very lethal shot and can play a responsible two-way game. His shot is what stands out as he has great power, a smooth follow through and great accuracy. His wrist shot is his bread and butter as he has can quickly get the puck off in an instant. He possesses strong hands and can make slick moves at a quick pace with his reach and control. He isn't afraid of playing the body, using his size to his advantage to protect the puck well and drive hard to the danger areas on the ice. 
The blend of power, offense and ability to protect the puck that Rehkopf possesses fits the description of what teams look for in a high energy, scoring winger. 
5. Nick Lardis, LW, Hamilton Bulldogs
Central Scouting Rank: 27th (among NA skaters) 
After struggling to start the season with the Peterborough Petes, Lardis was traded to the Hamilton Bulldogs and that's where things started to take a turn for the better. He started to gain more opportunities and important minutes that led him to becoming a point per game player with 25 goals. (from, 'Hamilton Bulldogs' red-hot winger Nick Lardis is making his point(s)', The Hamilton Spector – 02/13/23) 
Related: NHL Draft Rankings – Horn's Top 100 for May
Larids is a very elusive and deceptive goal scorer. He has great power in his shot and the ability to consistently elevate the puck and pick corners. He has the awareness to constantly fade into the background and create space for himself. He reads the play very well and continues to maintain that separation to receive a pass and release his shot. He has great patience and control with the puck and is always driving to the middle of the ice.
---
Latest News & Highlights
---
Lardis possesses a versatile offensive skillset, but he could look to improve his defensive game and add more strength to be more engaging in battles in the tough areas on the ice. He improved his draft stock and it's clear to see why.
4. Oliver Bonk, D, London Knights
Central Scouting Rank: 20th (among NA skaters) 
After spending most of the 2021-22 season in the Greater Ontario Junior Hockey League with the St. Thomas Stars, Bonk's play went above and beyond in his rookie campaign in the OHL. The son of former NHLer Radek Bonk finished the regular season with 40 points in 67 games and the production continued into the playoffs with 11 points.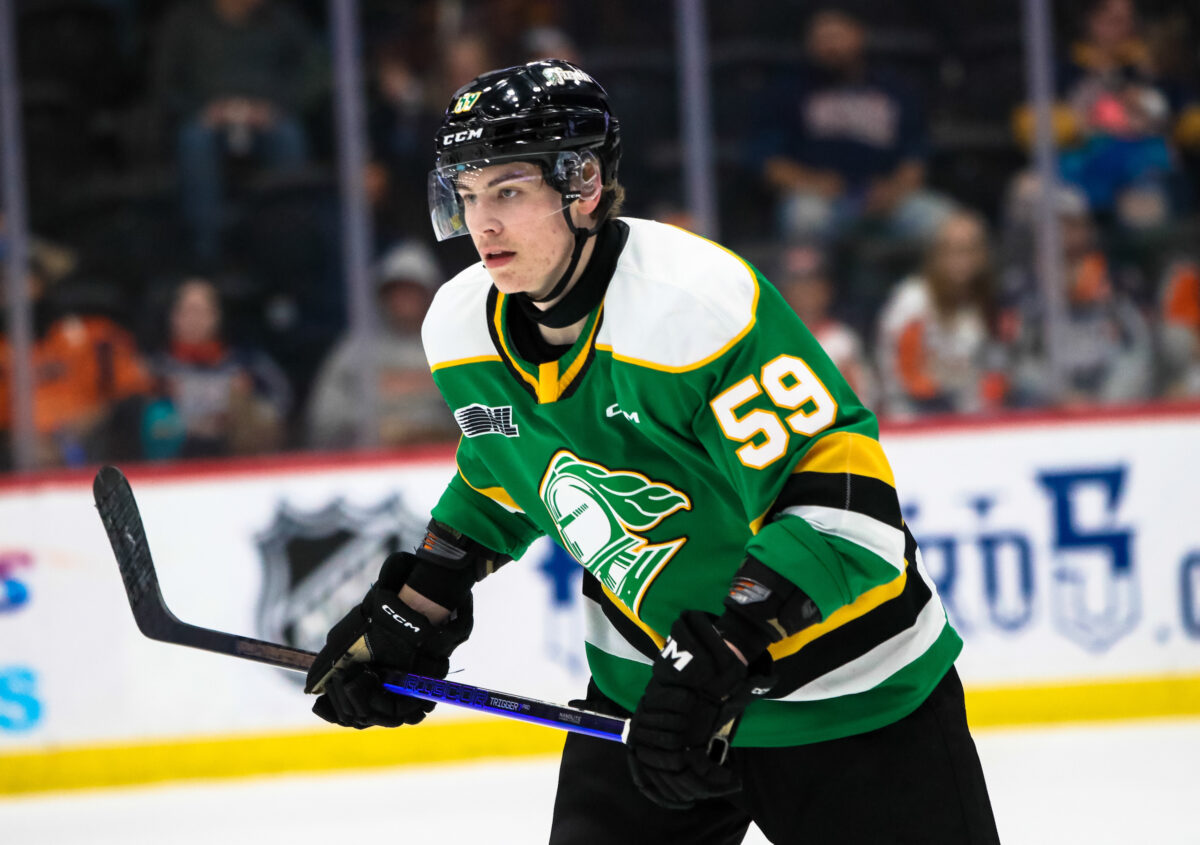 When comparing to other defenders in this draft, Bonk doesn't have the flashy skill or creativity that'll get you out of your seat. However, he's smart, calculated and very composed in any situation that he's in. He's always making the safe play, but it's the right one. He's very calm when in control of the puck and his head is always up assessing his options. He's strong carrying the play in transition and gap control to defend against the rush and keep the opposition to the outside. 
He's definitely the perfect blend of offense and defense when it comes his game. He's very sound overall and excels on both sides of the puck.
3. Quentin Musty, LW, Sudbury Wolves
Central Scouting Rank: 14th (among NA skaters) 
If there's one word that best describes Musty's game, power. Everything he does on the ice involves a great amount of power and high-end skill to go with it.
Finishing second overall on the Wolves in team scoring with 78 points and first in assists with 52, Musty possesses some of the best hands in this year's draft class. He can make slick dekes in tight spaces, has excellent control of the puck and has the knack to constantly drive hard to the net, utilizing his size to his advantage. He has a lightning quick wrist shot and a hard and mighty slap shot when he uses it. That combination of high-end skill and power forward-like game is a great asset.
His decision making with the puck has gotten better, but there have been times where he does too much with it or makes a play that results in a turnover. Nevertheless, the upside and skill remains. 
2. Calum Ritchie, C, Oshawa Generals
Central Scouting Rank: 13th (among NA skaters) 
Ritchie didn't have the best first half of his draft year as his production and overall play wasn't consistent from game to game. However, that all changed in the second half of the season as the consistency started to show.  
Ritchie managed to finish the OHL season at a point per game and was very productive (nine points) for Team Canada at the World U18 Championship, winning a bronze medal. He managed to find his footing and display the qualities that makes him a reliable two-way, playmaking centre. He has great hands and puck control, making moves in tight spaces, and has strong edges to weave his way through those tight spaces. He excels at coming out of the corners with possession and driving hard to the middle of the ice. He's extremely great at protecting the puck and using his size to his advantage while also displaying great smarts to find open outlets and lanes to distribute the puck. 
Related: 2023 NHL Draft: Baracchini's Mock Draft
He's great on the defensive side of things to quickly cut down lanes and uses an active stick to break up plays. If he can increase his offensive production, his value will sky rocket as a player who can be a factor in all three zones.
1. Colby Barlow, LW, Owen Sound Attack
Central Scouting Rank: 12th (among NA skaters) 
Over the last two seasons in the OHL, Barlow has been a dominant goal scoring threat every time he has been on the ice. It's clear to see why he's the player in this draft class from that league. He set an Attack rookie scoring record at 16 years old with 30 goals in 2021-22 and surpassed that this season with 46 goals– fifth overall in the OHL.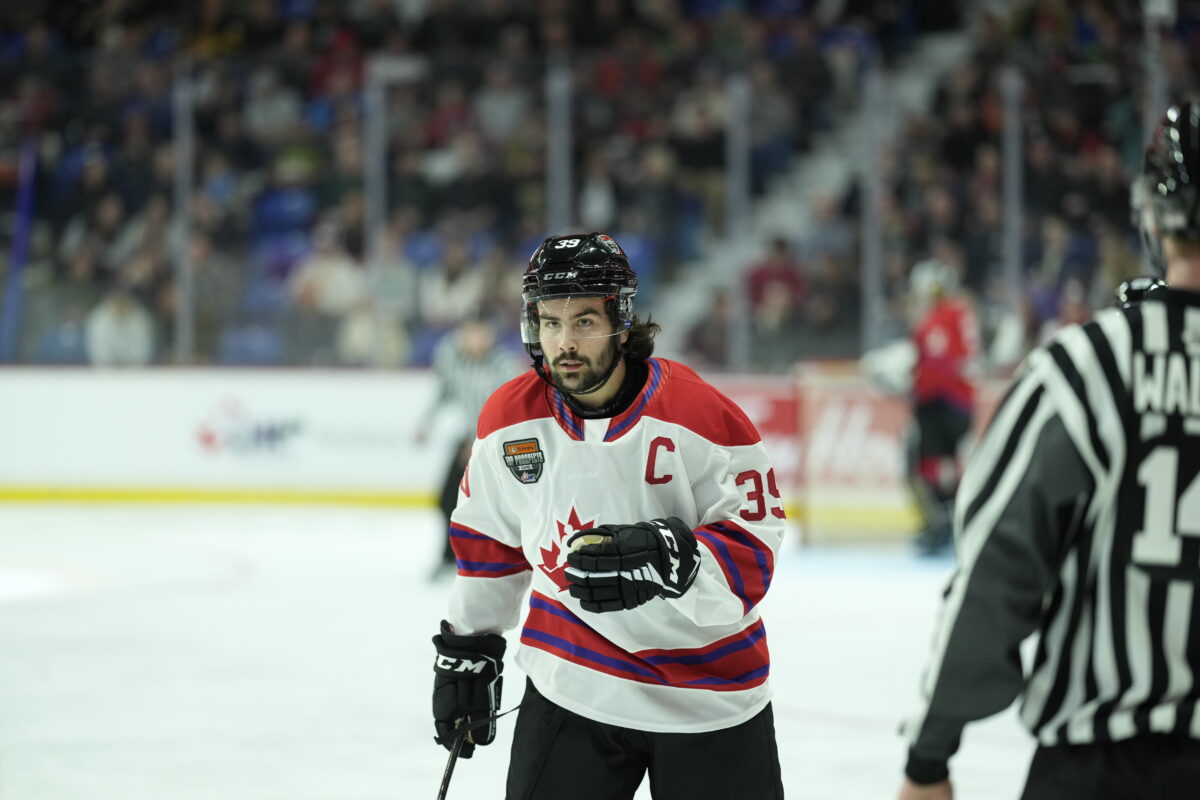 Barlow has the size, shot, power and strength to be a very impactful power forward at the next level. That combination really makes him a standout in all areas of the ice, but it's his goal scoring abilities that jump off the page. He has excellent power with his release and great accuracy that freezes goaltenders and a one-timer that's hard to stop. He can in multiple ways, be it from far out or even in tight displaying great hands and patience. His work ethic is off the charts. He's always engaging on the attack to establish a forecheck and pressure the opposition to make a mistake and regain possession. 
He's already built for the game with his size and offensive production, but his ability to play a responsible 200-foot game makes him all the more appealing as a prosect. He won't be a one-dimensional player, as he can contribute without the puck and be a presence on the backcheck.