Now that the activities of the All-Star Weekend have concluded, focus can now be turned back to the 2nd half of the season.  For the Columbus Blue Jackets, they will have some interesting decisions to make.
Sergei Bobrovsky is expected to miss 4-6 weeks with a groin injury.  With their star goaltender out, the Blue Jackets will depend on the tandem of Curtis McElhinney and Anton Forsberg to help them win games.
The Blue Jackets currently sit 12 points in back of the final wildcard spot in the Eastern Conference.  They have only 36 games left.  A late season run is certainly possible.  But with so many teams to climb over, it may be too little, too late.
With that in mind, the Blue Jackets may start to consider who could be available to trade by the March 2nd trade deadline.  Keep in mind that the team is not in bad shape.  They've had some awful luck staying healthy this season.  But there are movable pieces available for the right price.  Let's explore the 3 Blue Jackets that I think have the best chance to be traded.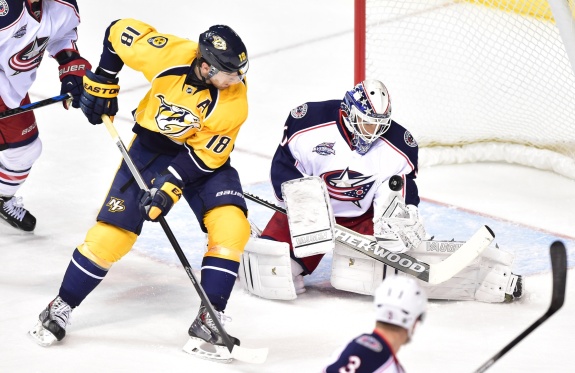 Jordan Leopold
This is the player that I think has the best chance of being dealt.  Since being acquired from the St. Louis Blues on November 15th for a 5th-round draft pick, Leopold has only appeared in 13 games.  He has been a healthy scratch since.  He was acquired to help stabilize the blue line after enduring their long list of injuries.  Playoff teams are always looking for depth when it comes to preparing for the playoffs, especially if an unforeseen injury takes place.  Leopold would bring experience and leadership, and would be cheap to acquire.  He is also an unrestricted free agent after the season.
Artem Anisimov
Anisimov is an interesting case.  On December 1st, he was placed on IR, dealing with torn triceps.  His initial prognosis was he would be out 2-3 months.  He has started to skate in recent days during practice.  He has traveled with the Blue Jackets to Florida, and could play this week.  Could it be an audition for Anisimov?  If the Blue Jackets are selling by March 2nd, it certainly could be.
#CBJ coach Todd Richards said "it's a possibility" that Artem Anisimov and Ryan Murray could play on the Florida trip.

— Rob Mixer (@RobMixer) January 28, 2015
Anisimov has one year left at a cap hit of 3.283 million, then becomes an unrestricted free agent.  With there not being an abundance of centers available, he could be an appealing option for someone who needs depth up the middle.  If you also consider the development of former 1st round pick Alexander Wennberg, all of a sudden, the Blue Jackets have some depth at center.  Their 4 centers would be Ryan Johansen, Brandon Dubinsky, Wennberg, and Mark Letestu.  The elements are there to suggest a trade could happen here, that would benefit both teams.
Mark Letestu
Speaking of Letestu, here is another interesting situation.  Unlike Anisimov, Letestu is an unrestricted free agent after this season.  He has missed a portion of this season with both groin and abdominal injuries.  When he has been in the lineup, he has been very good.  My thought is that the Blue Jackets will try to resign him.
But the chance does exist that teams will call the Blue Jackets and inquire on Letestu.  If there is one thing that teams are desperately searching for at the trade deadline, it is depth within the bottom 6 forwards, especially at center.  Letestu would make a playoff team better.  If a team calls and the Blue Jackets are able to get the right return, this can happen.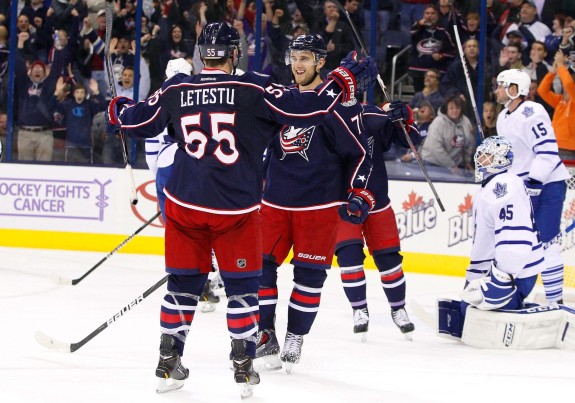 The other thing to consider about Letestu is what his next contract would be.  His current cap hit is $1.25 million.  His play certainly indicates he will get a raise.  Remember Derek MacKenzie was in a similar spot last season.  Many expected MacKenzie to resign with the Blue Jackets.  He was due a raise.  Florida offered a 3 year/$3.9 million contract.  MacKenzie is now in Florida.  Will the Blue Jackets be willing to pay Letestu?  If Jared Boll is paid $1.7 million/season, how much could Letestu command?  This will be interesting to watch.
Could Other Blue Jackets Be Dealt?
The only other unrestricted free agents after this season the Blue Jackets have are Jack Skille and Curtis McElhinney.  I don't see either of them being traded.  There are 2 restricted free agents that will be interesting to monitor.  They are Cam Atkinson and Matt Calvert.
Both players have had down years by their standards.  Atkinson just broke a 17 game goalless drought Tuesday.  Calvert has been much better as of late, bringing his usual energy to the games.  There is a chance teams will call on both players, more so Calvert than Atkinson.  I just don't think they'll be moved by March 2nd.  The Blue Jackets believe in both players, and will try to get new deals done after the season.  But if someone calls and makes a can't pass up offer, they certainly are not exempt from being involved in a trade.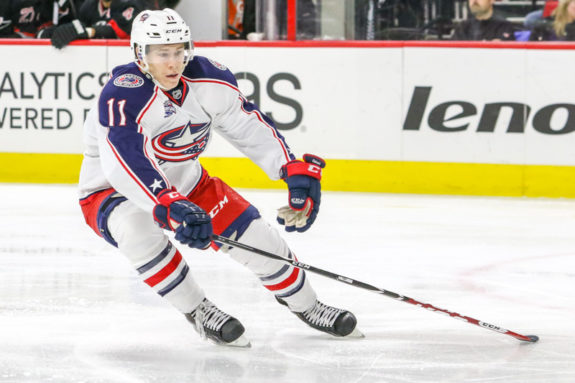 Don't expect anything major to happen for the Blue Jackets as the deadline approaches.  Expect some smaller trades here and there.  The team is in good shape, and will continue to build off the momentum of the last couple of years.  Expect the action to pick up during the summer, not so much at the deadline.