Yesterday's column chronicled the Sharks forwards with the most to prove in 2015-16 but what about the defense? Last season, the Sharks were arguably handicapped defensively whenever top blueliner Marc-Edouard Vlasic was off the ice. Both Justin Braun and Brent Burns had down years defensively, and neither rookie Mirco Mueller or first-year Shark Brenden Dillon proved to be as effective as initially hoped. Matt Irwin was once again inconsistent and the aging Scott Hannan provided little insurance for the struggling group.
Over the offseason though, the Sharks inked one of the top defensemen on the free-agent market in Paul Martin. Slated to play with Burns, Martin should help make the team's top puck-mover a better player at even strength. That is the key word though, "should" make him better, as Burns is one of the three Sharks defenseman with the most to prove.
Brent Burns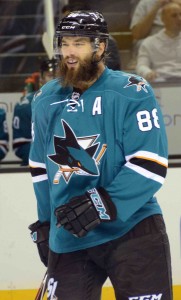 If you didn't follow the Sharks closely last season, you might recall that Burns was the lone Sharks representative at the All-Star Game and that he finished the season with 60 points. With those facts in your head, it might surprise you to learn that the 6-foot-5, 230 pounder actually struggled last season. If you ignore the power play, and judge primarily on even-strength performance, Burns was simply a disappointment last year. While he was extremely lucky points wise at even strength, the fact of the matter is Sharks' opponents scored nearly 53 percent of the goals with Burns on the ice. Despite tallying fewer points in his first season with the Sharks (the only other full season with San Jose that Burns has played defense) compared to last year, Burns' goals-for percentage was actually much higher in 2011-12. That season, the Sharks scored 54.8 percent of the goals at even strength with Burns on the ice. Burns was incredibly strong in his own end, carrying struggling defense partners like Colin White and Douglas Murray. If the Sharks are going to be able to get into the playoffs and compete for the Stanley Cup again, they will need Burns to return that 2011-12 level defensively. With a year back on defense under his belt and Martin a steady partner, Burns will get back to that level of defensive performance.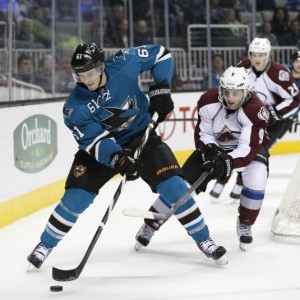 Justin Braun
There is no sugar coating it, Braun had a surprisingly poor year last season. Defensively, he was often caught staring at the puck and losing track of his mark. The poor season is surprising because the previous two years, Braun had developed into a top-four shut-down defenseman. While some believe he was simply riding the coattails of his most common partner in Vlasic, the truth of the matter is Braun has played excellent defensive hockey all on his own. During 2013-14, the Sharks were excellent all season long and for the second half of the year, Jason Demers was actually paired with Vlasic. Braun, on the other hand, was paired with the struggling Brad Stuart and Braun still posted really strong overall numbers. If Braun was simply benefiting from Vlasic's greatness, he wouldn't have been able to perform with Stuart as his regular partner. This season, Braun is slated back with Vlasic and is due for a strong season. With a new coaching staff, Braun should be able to get a fresh perspective on how to clean up his game.
Brenden Dillon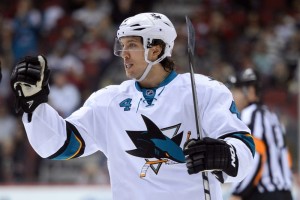 This offseason, Dillon worked with a power-skating coach and put in extra work on his shot. A big man at 6 feet 4 inches, 220 pounds, Dillon has the potential to be an effective shut-down defenseman in a top-four role. Unfortunately, last season Dillon didn't produce to the level of a second-pair defender and finds himself rightfully on the third pair to start the season. Dillon signed a five-year extension this offseason and he has a ways to go to prove that to be a wise contract. Last season, Dillon wasn't as effective as he should have been defensively, at times being out-muscled by smaller forwards. Furthermore, his point shot was frequently blocked out high near the blue line. Rarely did his shots make their way through towards the net. That needs to change. Even shots gone wide are better than shots blocked out high. Dillon has the size and skating ability to be a dominant third-pair defenseman if he can put it all together this season.