It's the most, wonderful time, of the yearrrrrrrr! Who doesn't love playoff hockey right? This is what we wait all season for, this is why most of us became fans of the game, as the postseason captivates us year after year after year. My personal favorite part is the dying minutes of a one-goal game when everything is a scramble, bodies are diving everywhere, pucks are zipping around the zone and the intensity is as high as can be. Until we get to overtime that is, when it become full-on, tighten your butt cheeks, gasp and cringe with every shot end-to-end action (WITH NO COMMERCIALS!!).
Who will hoist the 2016 Stanley Cup?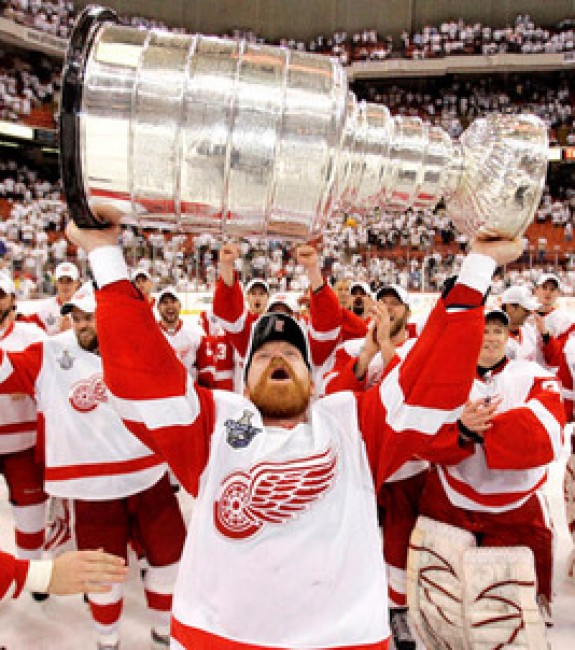 With the team I cover out of the playoffs (again), I relish the opportunity to write a little out of character and enjoy the playoffs as a fan of the game, and pick my three stars of each night like our friends over at Yahoo!/Puck Daddy blog do throughout the season. You can find player standings at the bottom of each  post with three points for being the no. 1 star, two for no. 2 and one for no. 3 and on some nights we'll have an honorable mention.
April 27, 2016
#3) Colin Wilson, Nashville: goal
Wilson set the tone early with his hustle and hard-working effort on the game's opening goal that had the Ducks and their fans saying: here we go again. It didn't stop there as he won a key battle and kept the puck moving in the offensive zone that resulted in the second and eventual game-winning goal. Just like I'm about to mention below with star no. 2, the Stanley Cup playoffs are all about the unlikely hero stepping up and that's what Wilson did in the biggest game in Preds history.
Colin Wilson, so silky. #Preds #NSHvsANAhttps://t.co/LzYRlvv3DR

— Nashville Predators (@PredsNHL) April 28, 2016
WILLLL-SONNN!!!
Watching Castaway! #WILSON 🖐🏻 pic.twitter.com/8F9bq2FBbm

— Tom – La5ty (@la5ty) April 27, 2016
#2) Shane Prince, NY Islanders: 2 goals
We've talked about this before. The unsung or unlikely hero stepping up to push his team to a victory in the postseason. That's what happened in Tampa during Game 1 of the second round as Prince went crazy and scored not one, but two goals as the Islanders shocked the Lightning at home. His two goals in a span of 2:29 at the end of the opening period gave New York all the momentum it would need to steal Game 1 on the road, again, just like they did against the Panthers. John Tavares scored the dagger goal, but it was Prince's pair that made the Bolts buckle at the knees.
Shane Prince is 1st @NYIslanders player with 2+ goals in 1st period of a playoff game since Game 2 of 1983 DF (Duane Sutter: 2) @EliasSports

— NHL Public Relations (@PR_NHL) April 28, 2016
Shane Prince scores twice as Islanders hold off Lightning 5-3. NYI leads series 1-0. #NHL https://t.co/VnRObjLgmF pic.twitter.com/JKbk6F4obf

— SportsCentre (@SportsCentre) April 28, 2016
#1) Pekka Rinne, Nashville: 36 saves/37 shots, Win
One of the NHL's tallest goaltenders came up huge in the first ever Game 7 in Nashville's history, helping to finish off the Ducks on the road. Rinne made 27 saves over the final two periods, as Anaheim threw everything at the net after falling behind 2-0 in the opening period; over the course of the game he stopped a combined 13 shots from Corey Perry (0 goals in 7 games) and Ryan Getzlaf (2 goals in 7 games). In fact Perry was denied on all 21 of his shots on goal in the series and will likely have nightmares about the Finnish netminder all summer long. The final five minutes of Game 7 there were so many close calls in front of the Preds net and so many pileups but not one puck made it to the back of the net.
The @PredsNHL earned their third road win of the series – in their first #Game7 appearance – to advance to the Second Round. #StanleyCup

— NHL Public Relations (@PR_NHL) April 28, 2016
Glove me. #Preds #NSHvsANA pic.twitter.com/pcctblDLUm

— Thomas Willis (@TomAWillis) April 28, 2016
3-Stars Standings:
Joe Pavelski (SJ): 5
Brian Elliott (StL): 5
Michal Neuvirth (Phil): 5
John Tavares (NYI): 5
Braden Holtby (Wash): 5
Pekka Rinne (Nash): 5
Nikita Kucherov (TB): 4
Tyler Johnson (TB): 3
Thomas Hickey (NYI): 3
Alex Ovechkin (Wash): 3
Antti Niemi (Dal): 3
Evgeni Malkin (Pitt): 3
Artemi Panarin (Chi): 3
Troy Brouwer (StL): 3
Patric Hornqvist (Pitt): 2
Roberto Luongo (Fla): 2
Tanner Pearson (LA): 2
Frederik Andersen (Ana): 2
Ben Bishop (TB): 2
Mikko Koivu (Minn): 2
Sami Vatanen (Ana): 2
Shane Prince (NYI): 2
Dan Rice is in his 9th year of reporting for THW & has covered NJ Devils home games for 15+ years at various websites. He began his journey working for legendary broadcaster/writer Stan Fischler from 2002-04 & completed an internship at the ECHL; he also has been writing features for the NWHL (nwhl.zone) website since 2016.