There were plenty of things that went wrong for the Boston Bruins this season. Their sketchy defense opened up too many holes on their own end of the ice, the offense struggled with inconsistency, and the team was unable to show up when it really mattered. So, here we are once again. Mid-April has come, and New England is left without any playoff hockey.
When you look at this season's statistics in a nutshell, a certain set of numbers at the back end may concern you upon first glance. Tuukka Rask posted career-low numbers in net for the Bruins this season. His .915 save percentage dropped off .07 points from last year (.922) and is .09 points below his career average (.924, 27th in the league). Meanwhile, his goals against average fell from a 2.30 last season to a 2.56 this season (25th in the league). His career average? A 2.24.
This season's performance has some people calling for Tuukka to be traded. Don Sweeney addressed this question, as well as Tuukka's season, when asked whether or not Rask was untouchable on the trade market.
"It would absolutely depend," Sweeney said, per CBS Boston. "I think Tuukka Rask is an excellent goaltender. Do I think he came out of the gate this year a little slower than we would've liked? Do I think he finished up being sick in two times that were inopportune? Yeah. That's not necessarily Tuukka's fault. Do I think we had areas that we broke down a little bit defensively with, as I said, newer players? Yep. But he'd be the first to sit up here and tell you that he would like to have made a couple of those saves at key opportune times.

"[Tuukka's] driven to win and he has been a part of a winning organization, his Olympic experience. We believe he's a damn-good goaltender and I'm not inclined to give that away."
Sweeney didn't flat out say that Rask was untouchable, but stating that he's a "damn-good goaltender" and that he's "not inclined to give that away" would lead us to believe that he is incorporting Rask into Boston's plans for the future. And, at this point, it seems to be the right move.
Sure, Rask's numbers have declined since the2012-13 season. But before you sound off the "trade Tuukka" alarm, you've got to take in one important factor that has undoubtedly played into Rask's struggles – Boston's worsening defense.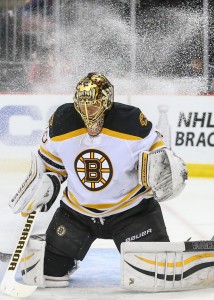 Boston's defense used to be the cream of the crop. Everybody knows the old saying "defense wins championships", but the Bruins really proved that back in 2011. Since then, however, Boston's defense has come across more difficult times. Zdeno Chara and Dennis Seidenberg are noticeably older. The Bruins parted ways with Johnny Boychuk, replacing him with younger, inexperienced players, and threw away any future they might have had with Dougie Hamilton.
So, when you look at the defense that Tuukka Rask had in front of him this season, it's understandable that his numbers may have dropped off a bit. That's not to say that Rask should escape all blame for this season's failures. As a starting goalie, it's your job to give your team a chance to win on any given night, and some nights, he was unable to do so. Consistency from night to night is important for a starting goaltender, and Rask struggled with that this season. However, he's certainly not Boston's biggest issue.
Despite Boston's underwhelming season, Rask believes that the team can find success in the future, and wants to be a part of the solution.
"I've loved every minute here, and I plan to be here many, many years to come," said Rask, per NESN. "I'm in for the long run, and I want to be part of the solution here and bring this team back to the playoffs and bring the Cup back. So that's where my head's at."
Bruins fans will be looking for a better season out of Rask next year. Of course, an upgrade or two in front of him certainly would help the cause.
Cam is a Broadcast Journalism student at the University of Maryland. He's the Boston Bruins Beat Writer at The Hockey Writers, and is an avid college hockey fan. Find him on Twitter @CamHasbrouck!