It's the most, wonderful time, of the yearrrrrrrr! Who doesn't love playoff hockey right? This is what we wait all season for, this is why most of us became fans of the game, as the postseason captivates us year after year after year. My personal favorite part is the dying minutes of a one-goal game when everything is a scramble, bodies are diving everywhere, pucks are zipping around the zone and the intensity is as high as can be. Until we get to overtime that is, when it become full-on, tighten your butt cheeks, gasp and cringe with every shot end-to-end action (WITH NO COMMERCIALS!!).
Who will hoist the 2016 Stanley Cup?
http://gty.im/50937750
With the team I cover out of the playoffs (again), I relish the opportunity to write a little out of character and enjoy the playoffs as a fan of the game, and pick my three stars of each night like our friends over at Yahoo!/Puck Daddy blog do throughout the season. You can find player standings at the bottom of each post with three points for being the no. 1 star, two for no. 2 and one for no. 3 and on some nights we'll have an honorable mention.
May 13, 2016
#3) Valtteri Filppula, Tampa Bay: 2 assists
Over the last six games, Filppula now has six points (1G-5A) following his two-assist night in Game 1 after going pointless in the opening-round series. The Lightning have had to battle the most injuries of the four remaining NHL teams and they will need more players like the ex-Red Wing to step up on varying nights if they are going to make it to the top of the mountain. His first assist was the primary on Ondrej Palat's goal (a rebound of Filppula's shot) and his second assist sprung Palat and Jonathan Drouin on a breakaway that resulted in the latter's goal.
Palat and Filppula get the assists on No. 2 for Dru. Two points each for 18 & 51.

— Tampa Bay Lightning (@TBLightning) May 14, 2016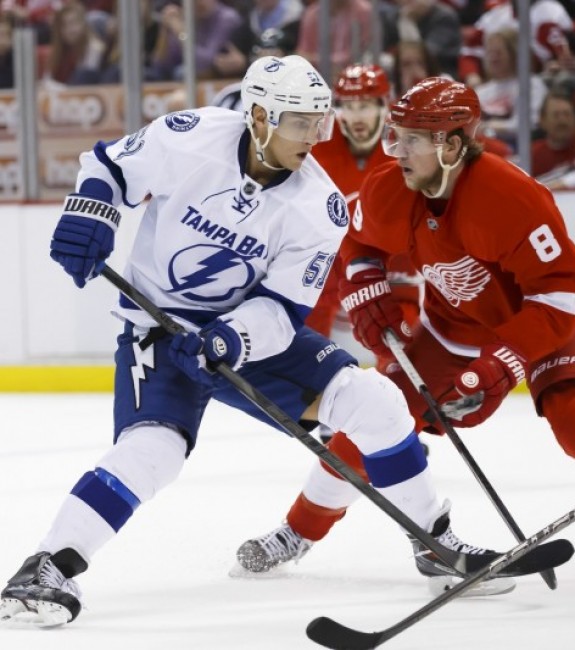 #2) Andrei Vasilevskiy, Tampa Bay: 25 saves/26 shots, Win
When Ben Bishop went down early in the first period of Game 1, it was Vasilevskiy to the rescue again, just like Game 2 of last year's Stanley Cup Final. The kid came in cold, and stayed that way because the Penguins only managed one shot on goal over the final eight minutes of the first period. Pittsburgh seemed like the team stunned by the Bishop injury, not Tampa, and once the host Penguins recovered, the 21-year-old netminder only surrendered one goal (on the power play) and shut everything else down.
Andrei Vasilevskiy (@TBLightning) earned his 2nd career playoff win, both in relief efforts (also Game 2 of 2015 #StanleyCup Final vs. CHI).

— NHL Public Relations (@PR_NHL) May 14, 2016
Before Vasilevskiy, Olie Kolzig was last to earn 1st two career playoff wins in relief (Game 1 of 1995 & 1996 CQF, both at PIT) @EliasSports

— NHL Public Relations (@PR_NHL) May 14, 2016
Vasilevskiy kicks out the pad pic.twitter.com/VCiPBYmsQT

— Jeremy Houghtaling (@JGHoughtaling) May 14, 2016
#1) Ondrej Palat, Tampa Bay: PP-GWG, assist
Not only was he a scoring hero for the Lightning, but he also led all players with eight hits. Looks like the Pens forgot about Drej heading into Game 1 and will need to pay more attention going forward. Tampa was two wins from the Cup last year and the majority of that team is back, and hungry for redemption. No matter how many bodies go down, this team has someone step up and at the start of the the East Final, it was Palat's turn. His PPG early in Period 2 turned out to be the GWG, his assist was saucy, very saucy, and he was atop the ice-time leaders among the Bolts forwards.
Palat saucer feed to Drouin like his one last round, which Johnson called "A little sauce but not too much. Good home-cooked Italian pasta"

— Joe Smith (@JoeSmithTB) May 14, 2016
Palat pounces to make it a pair for the @TBLightning. #StanleyCup #PITvsTBL pic.twitter.com/TtVDtDX9zQ

— NHL (@NHL) May 14, 2016
3-Stars Standings:
Joe Pavelski (SJ): 11
Brian Elliott (StL): 9
Braden Holtby (Wash): 8
Nikita Kucherov (TB): 7
Victor Hedman (TB): 6
Michal Neuvirth (Phil): 5
John Tavares (NYI): 5
Pekka Rinne (Nash): 5
Tyler Johnson (TB): 5
Matt Murray (Pitt): 5
Patric Hornqvist (Pitt): 5
Ben Bishop (TB): 5
Troy Brouwer (StL): 5
Alex Ovechkin (Wash): 4
Nick Bonino (Pitt): 4
Thomas Hickey (NYI): 3
Antti Niemi (Dall): 3
Evgeni Malkin (Pitt): 3
Artemi Panarin (Chi): 3
TJ Oshie (Wash): 3
Radek Faksa (Dall): 3
Kris Letang (Pitt): 3
David Backes (StL): 3
Mike Fisher (Nash): 3
Kari Lehtonen (Dall): 3
Carl Hagelin (Pitt): 3
Phil Kessel (Pitt): 3
Robby Fabbri (StL): 3
Ondrej Palat (TB): 3
Dan Rice is in his 9th year of reporting for THW & has covered NJ Devils home games for 15+ years at various websites. He began his journey working for legendary broadcaster/writer Stan Fischler from 2002-04 & completed an internship at the ECHL; he also has been writing features for the NWHL (nwhl.zone) website since 2016.