What a difference a year makes.
The Columbus Blue Jackets enter the 2016-17 season with very different expectations than at this time last year. Remember how most everyone saw them as a contender in the Eastern Conference? Now you'd be hard-pressed to find anyone who thinks they finish outside the bottom-10 of the league.
Many expect the Blue Jackets to finish last in the Eastern Conference. There's even one who thinks that coach John Tortorella is gone after just a month. Everywhere you look on a national scale, the Blue Jackets are out of the playoffs, and the season hasn't even started yet.
But There's Good News…
I have some good news for you. The Columbus Blue Jackets have not been eliminated from the playoffs as of this writing. In fact, if you take a real close look at this team, there is hope, even for this season.
Now with that said, many things have to fall in their favor.
Just like a genie's bottle, I've been granted three wishes. I'm going to use these wishes on different areas of the Blue Jackets that will help them realize success this season. If they can get these three things right, they'll compete all season long.
Here's my roadmap to Blue Jackets success in 2016-17:
https://www.youtube.com/watch?v=zB1oTrDyu-c
First Wish – Sergei Bobrovsky Stays Healthy
We know the past. We know the injury history of goaltender Sergei Bobrovsky. Is this finally the year he avoids injured reserve?
My first and most important wish is for Bobrovsky's health. As long as he is in net and healthy, the Blue Jackets are in every game.
A good litmus test was the World Cup of Hockey. We got to see right away where Bobrovsky was at health-wise. He did not disappoint. He was Russia's best player in the tournament.
Over time we'll forget Sergei Bobrovsky's performance Saturday night against Canada. That'll be a shame. https://t.co/3cccbJDieZ

— Scott Burnside (@OvertimeScottB) September 25, 2016
He made saves that not many goalies in the world could make. More importantly, he had no setbacks. He constantly put pressure on the leg by stretching out and making sudden movements. He looked fast and confident. He did this against the best players in the world.
The important question now is, can this carry over into the season? The team worked with Bobrovsky throughout the offseason to make some adjustments to his routine so he could maximize his chances of staying healthy. So far, it's working.
The fact that the Blue Jackets kept Curtis McElhinney as his backup seems to imply that the team plans on relying heavily on Bobrovsky to carry the load all season. This is great. But for everyone's sake, let's hope this wish comes true.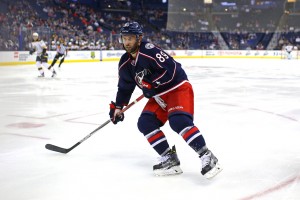 Second Wish – Limit The Dumb Penalties
My second wish focuses on the team's propensity to take needless penalties. When you spend over 13 minutes a night in the box, good things don't happen.
What was frustrating was the kind of penalties the team kept taking. Whether it was a lazy slashing penalty, or an extra punch to the face, or a too many men call, the team was very undisciplined. Any little stretches of momentum the team had were quickly erased and handed back to the opposition. By the time the Blue Jackets got things under control, they were down multiple goals.
Penalties will happen. But if the team can make a concerted effort to avoid the needless and lazy penalties, they'll spend less time in the box. They'll spend less time short-handed. They'll keep momentum for longer stretches.
This has to start with the leadership. The leaders need to take this upon themselves and make it a habit game in and game out to avoid lazy penalties. Hopefully, we see a level of accountability if this continues to happen.
Even if it's a small drop in penalty minutes from last season, the effect will be dramatic. Emotions are part of the game. But the best teams can control themselves in the heat of the moment. It's no wonder many disciplined teams stay in most games. They're not consistently down a man or more.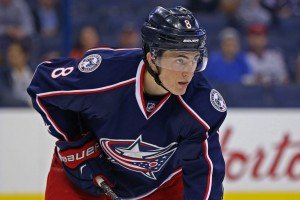 Third Wish – Put Nationwide On Their Side
Home ice has not been kind to the Columbus Blue Jackets. If they hope to make something out of this season, they need to start doing a better job of defending Nationwide Arena. Even some fans have taken this message to heart.
Meet Kevin Valentin. He is a die-hard fan of the Blue Jackets. Back in 2014, he wanted to do something fun for the home opener. He came up with a wonderful idea that still exists on opening night. He created the "March of the Union Blue Soldiers."
The Blue Jackets and the state of Ohio have a rich history in battle. With the help of friends Marc Humker, Craig Morris and Mark Rucker, Kevin decided to create the march. Starting at 5:30pm on opening night, fans meet near the arena and then march together with different flags (the State of Ohio, Blue Jackets, and American) to the arena in solidarity. This is their way of going to battle with the team and defending Nationwide Arena.
My third wish is for the Blue Jackets to follow Kevin's example and defend Nationwide Arena. Given the brutal early schedule the team has, home-ice is more important than ever. The Blue Jackets must win games at home against teams they should beat. The crowds in Columbus can be overwhelming if the team is doing well.
If they can manage to tread water through the tough schedule, the month of February presents an opportunity. From February 9th-25th, the Blue Jackets play seven-in-a-row at Nationwide, which includes their one-week bye from February 20th-24th.
If they can't get things right at home early, then February doesn't matter. The Blue Jackets must find a way to jump on teams early and keep the pressure on for 60 minutes.
There you have it, my three wishes for the upcoming season. A healthy Bobrovsky combined with fewer penalty minutes and more success at home equals a chance for a playoff season. Can they make this happen? Maybe. We'll all find out together starting Thursday night.