The 2010-11 season was the 30th season played by the Calgary Flames. As the next season quickly approaches, we present a three-part look back at 30 seasons of the Flames, one decade at a time.
 
Part 1, The 1980s
Part 2, The 1990s
Part 3, The 2000s
PART ONE: 1980-81 to 1989-90
Way, way back in the 1980s, the World Hockey Association's short-lived Calgary Cowboys were but a fading memory when a group of local businessmen banded together to bring the financially floundering Atlanta Flames north of the 49th parallel. While fairly strong on the ice – making the playoffs in six of their eight seasons – the Flames never quite caught on with Southern hockey fans (a fate that would repeat three decades later).
THE NHL ARRIVES IN CALGARY
National Hockey League hockey made its debut in Calgary on October 9, 1980, as the Flames and the visiting Quebec Nordiques skated to a 5-5 tie in the Stampede Corral. Bolstered by an underrated core group, led by the offensive prowess of Kent Nilsson, the Flames performed quite admirably in the first season in cooler climes. Nilsson racked up 131 points – still a team record – and the Flames, shockingly, marched all the way to the playoff semi-finals before falling to the Minnesota North Stars. The table had been set for the decade to come and, despite looming economic turmoil, Flames hockey was established as a solid draw.
LET'S MAKE A DEAL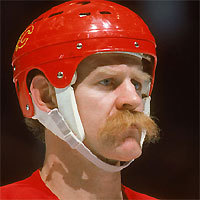 If one person were to receive credit for the success of the Calgary Flames, particularly in the 1980s, it would be Cliff Fletcher. Initially the general manager in Atlanta, Fletcher moved north with the team and continued to tinker with the club, never satisfied with merely qualifying for the playoffs. The Flames line-up never stayed stagnant from year-to-year, as Fletcher shipped out pieces for other pieces. And it wasn't just Fletcher shipping spare parts for good players; he gave other general managers good players in an attempt to get even better players.
November 1981: The Flames trade Don Lever & Bob MacMillan to the Colorado Rockies for Lanny McDonald and a draft pick
September 1982: The Flames trade two draft picks to the Montreal Canadiens for Doug Risebrough and a draft pick
June 1985: The Flames trade Kent Nilsson and a draft pick to the Minnesota North Stars for two draft picks
March 1986: The Flames trade Ed Beers, Charlie Bourgeois & Gino Cavallini to the St. Louis Blues for Joe Mullen, Terry Johnson & Rik Wilson
March 1988: The Flames trade Steve Bozek & Brett Hull to the St. Louis Blues for Rob Ramage & Rick Wamsley
These moves would have been strong, but were made even better by how these assets were utilized. The Flames drafted very well during the '80s, choosing names like Mike Vernon, Al MacInnis, Gary Roberts and Joe Nieuwendyk during this period, Nieuwendyk using one of the picks acquired in the Kent Nilsson trade. Fletcher supplemented his trading and drafting by pursuing players from European leagues (Hakan Loob) and American colleges (Joel Otto).
CHASING LORD STANLEY
As a result of this constant tinkering, the Flames gradually improved throughout the 1980s. Once a punching bag, a kid sister to the dominant Edmonton Oilers dynasty, the Flames soon became their equal. After losing twice to the Oilers in the playoffs (in 1983 and 1984), Calgary overcame their provincial rivals in 1986 – memorably as Oilers defenseman Steve Smith's pass accidentally caromed off Grant Fuhr's skate into his own net to clinch the series for the Flames.
The win over the Oilers catapulted the Flames into rarefied air. The Flames went on to their first Stanley Cup Final in 1986, losing to the Montreal Canadiens in five games. Nevertheless, knowing his team was good enough, Cliff Fletcher continued to tinker and the team continued to get closer to their goal. Calgary earned back-to-back President's Trophies as the NHL's best regular season team in 1987-88 and 1988-89, with the latter season coinciding with their second trip to the Stanley Cup Finals…and their first win, in six games over the Montreal Canadiens. The decade ended with the Flames with a stocked roster of stars just about to hit their prime years, poised to repeat their prior playoff success.
THE TEAM OF DESTINY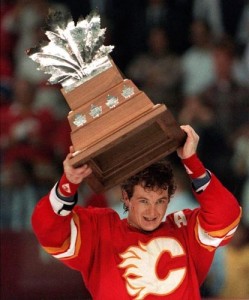 In retrospect, it is a bit difficult to imagine the Flames not being successful in the 1980s. On paper, they probably should have won more than they did. At various points, the team boasted six Hall of Fame players (Lanny McDonald, Joe Mullen, Brett Hull, Doug Gilmour, Al MacInnis & Joe Nieuwendyk), a Hall of Fame general manager (Cliff Fletcher), a Hall of Fame coach ("Badger" Bob Johnson) and a pair of owners who are in the Hall (Harley Hotchkiss & Darryl "Doc" Seaman). Calgary hosted an Olympics and got a brand-new world-class arena as a result and while the western Canadian economy gradually recovered from the rigors of the National Energy Program, Alberta's two hockey clubs engaged in a decade-long battle for supremacy that cemented the Battle of Alberta as one of the league's prime attractions. And lastly, most of the team's most impressive records (including Kent Nilsson's 131 points in 1980-81 and Lanny McDonald's 66 goals in 1982-83) were set during the run-and-gun '80s. Not bad for a start.
—–
THE ALL-1980s TEAM
Goaltenders: Reggie Lemelin (136-90-45 record) & Mike Vernon (138-63-25 record)
Defensemen: Al MacInnis (506 points), Paul Reinhart (399 points), Gary Suter (346 points) & Jamie Macoun (210 points)
Forwards: Kent Nilsson (469 points), Hakan Loob (429 points), Jim Peplinski (423 points), Lanny McDonald (406 points), Joe Mullen (388 points) & Joe Nieuwendyk (269 points)
—–
ALMANAC
TEAM RECORD: 405-279-116 (57.9% of possible points)
PLAYOFFS: Qualified in all ten seasons. First round losses in 1982, 1985, 1987 and 1990. Second round losses in 1983, 1984 & 1988. League semi-final loss in 1981. Stanley Cup Final loss in 1986. Stanley Cup win in 1989.
CAPTAINS: Brad Marsh (1980-81), Phil Russell (1981-83), Doug Risebrough (1983-87), Lanny McDonald (1983-89), Jim Peplinski (1984-89), Brad McCrimmon (1989-90)
GM: Cliff Fletcher
COACHES: Al MacNeill (1980-82), Bob Johnson (1982-87), Terry Crisp (1987-90)
BEST TRADE: The Flames shipped a talented but notoriously streaky Kent Nilsson (and a third round pick) to Minnesota for draft picks used to take Joe Nieuwendyk and Stephane Matteau. An honorable mention goes to the June 1980 swap that saw the newly minted Calgary Flames send goalie Jim Craig to Boston for draft picks used to take Steve Konroyd and Mike Vernon.
WORST TRADE: To close out the decade, the Flames sent Joe Mullen to Pittsburgh for a draft pick used to choose Nicolas Perreault. Mullen went on to win two more Stanley Cups, while Perreault played exactly zero games in the NHL.
Ryan Pike has covered the Calgary Flames and the NHL Draft extensively since 2010 as a Senior Writer for The Hockey Writers and Senior Contributing Editor of FlamesNation.ca. A member of the Professional Hockey Writers Association, he lives in Calgary.