The Avalanche haven't been much to watch this season, even for the most diehard Colorado fans.
A two hour flight from Denver however, and you'll find a fan base that's very interested in what is going on with the worst team in the National Hockey League. Vegas Golden Knights faithful should be watching, as there are plenty of indicators that their team may have a Colorado goalie on its radar. Beyond that there are three forwards to watch that may not be particularly thrilling options, but listen, we're probably going to have to take one of these guys. Better to study up now.
Additionally, watch out for Colorado to be players at the Mar. 1 trade deadline. The names below have contracts the Avs would love to unload. Regardless, the Avalanche look to be busy between now and the end of the year, and the moves they make may have a significant impact on the NHL's newest franchise.
Calvin Pickard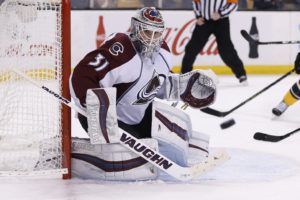 At the beginning of the season, it seemed like a no-brainer which Colorado goalie would be protected by the time the NHL expansion draft rolled around. The smart money said Semyon Varlamov would remain with the Avalanche while Calvin Pickard would be made available to the Golden Knights. The only question was whether or not Vegas would be interested in the services of the 24-year-old goaltender.
Then Varlamov's season came to an end thanks to hip surgery on Jan. 26. When Colorado's top netminder went down he sported a 3.38 GAA, dead last among eligible goalies. Seemingly this opened the door for Pickard to prove he should be the future in net for the Avalanche. He has not done that.
Since being handed the full-time job in the final week of January, Pickard sports a 2.61 GAA. Among  goalies who have logged at least 400 minutes of ice time, he's right in the middle of the pack. That said, it looks as if he will be available to Vegas in June. He'll be an attractive option because after this season he'll only have a year left on his contract and the salary cap hit would only be $1 million. Watch him closely, Vegas fans, and keep in mind he does not have much of a defense playing in front of him.
Carl Soderberg
Ok, the following three names I'm going to give you assumes that Colorado goes with the four forwards and four defenseman option in regards to protection. This is largely due to the non-movement clause Francois Beauchemin has in his contract. This means in all likelihood one or more of the three forwards listed here are made available to the Golden Knights. If the Avs are able to convince Beauchemin to waive his NMC, it's possible a couple of these names are not exposed though it's unlikely all three will be protected.
Carl Soderberg will provide a valuable veteran presence to the inaugural Vegas squad, but his name is not likely to get fans very excited. His top year was two seasons ago when he set career marks with 39 assists and 51 points. He's 31 years old but has fewer than 300 NHL games on his resume. He didn't get his shot at the big time until 2012 with the Boston Bruins.
The reason Vegas is unlikely to call Soderberg's name is the same reason that Colorado hopes he does. He's got a less than desirable contract, particularly for a new franchise. After this year Soderberg is still owed $14 million across three seasons after which time he'll become an unrestricted free agent at the age of 34. If a fourth-liner is the goal, the Golden Knights can find one younger and cheaper.
Joe Colborne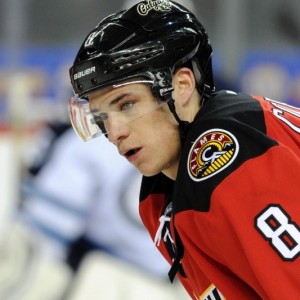 Speaking of younger, cheaper forwards, maybe Joe Colborne will be available. He's 27 years old, after this season he's got one more year left on his deal with Colorado that will pay him $2.5 million. The #16 overall pick in the 2008 NHL Draft has spent time with Toronto and Calgary before signing a two-year deal with the Avs last offseason.
It was peculiar to many that the Flames did not sign him to a qualifying offer last season. In the 2015-16 campaign, Colborne set career highs with 19 goals and 25 assists in 73 games. In his debut with the Avalanche he recorded the first hat trick of his career.
Perhaps Calgary saw something others did not, though. Like Soderberg, Colborne's contract is bad, not as bad, but bad all the same. This season he's only found the back of the net once since that opening night hat trick, this past weekend against the Islanders. During the 41 games in between he's seen his ice time steadily drop, actually bottoming out against New York. His TOI fell below seven minutes on Sunday for the first time this season.
Blake Comeau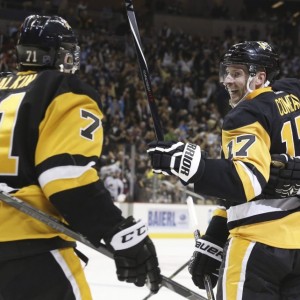 If the Golden Knights elect not to take a goalie from Colorado, and no intriguing blueliners are made available, Blake Comeau is the name I think they should call.
Like the other two, his is not a name that will get Vegas fans talking. That said, he brings the veteran leadership the NHL's 31st franchise will need. Comeau has been with five different clubs in his career. Say what you will about teams being unwilling to re-sign the 30-year-old from Saskatchewan, I think having a guy that has been in that many locker rooms can be a real asset.
Don't get me wrong, he's not the future of the franchise. This season he's got seven goals and 11 points in 49 games. The prior two seasons however, he did top 30 points, last year with Colorado, the year before with Pittsburgh. Not a lot has gone right for the Avalanche this year, and their arguably bland offerings to the expansion draft is demonstrative of that. If Vegas doesn't go with Pickard, the $2.4 million owed to Comeau isn't a terrible way to start season one.
Las Vegas local covering Golden Knights hockey since 2016.
Ball State University '05
Other work:
Credentialed NBA writer covering the Phoenix Suns,
Credentialed NCAA football writer covering the UNLV Rebels