The St. Louis Blues are coming off a season where they were one point away from a playoff spot. That may explain why they have been one of the busiest teams this offseason. The Blues started their summer of acquisitions by trading away a big part of their forward core to the Buffalo Sabres for Ryan O'Reilly. They also lost veteran Kyle Brodziak but brought in other veterans like Tyler Bozak, David Perron and hometown boy Patrick Maroon via free agency. The Blues will also get another vital piece of their offense back in Robby Fabbri who missed all of the 2017-18 season. Here are four possible forward line combinations for the upcoming 2018-19 season.
The Free Agent Line
Schwartz – Schenn – Tarasenko
Fabbri – O'Reilly – Steen
Maroon – Bozak – Perron
Soshnikov – Barbashev – Jaskin
The three veteran free agents that the Blues signed this offseason could very well make up their third line. It would make sense to put Tyler Bozak with power forward Patrick Maroon since Bozak has had some success playing with power-forward James van Riemsdyk in Toronto over the past couple of seasons. Adding a proven scorer in Perron to the mix could be a recipe for success and would give the Blues one of the best third lines in the league.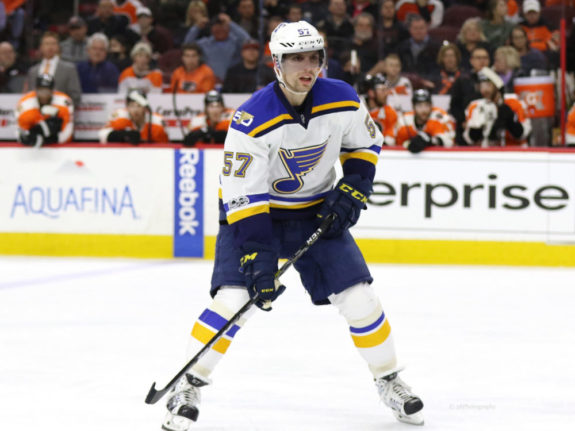 Up top, the Blues may not want to change anything after the success their top line of Schwartz, Schenn and Tarasenko had during the 2017-18 season. The second line will be centered by Ryan O'Reilly which will give the Blues a strong two-way line that can be used to score, but also shut opponents down. Nikita Soshnikov would slide on to the Blues' fourth line with Barbashev and Jaskin to add some speed.
Robert Thomas Up Top
O'Reilly – Thomas – Tarasenko
Schwartz – Schenn – Perron
Maroon – Bozak – Steen
Fabbri – Barbashev – Jaskin
Robert Thomas should have a very good chance to make the Blues roster come opening night. Another season in the OHL is still a possibility for him, but there is no doubt he is ready to make the jump to the NHL. Last season, Thomas had 75 points in 49 games with the London Knights and Hamilton Bulldogs. He also tallied an impressive 32 points in 21 playoff games to win the Wayne Gretzky 99 Award which is the MVP of the OHL playoffs. Thomas is an excellent playmaker with high-end vision and if he is paired with elite goal scorers in Tarasenko and O'Reilly, they could be very difficult to contain.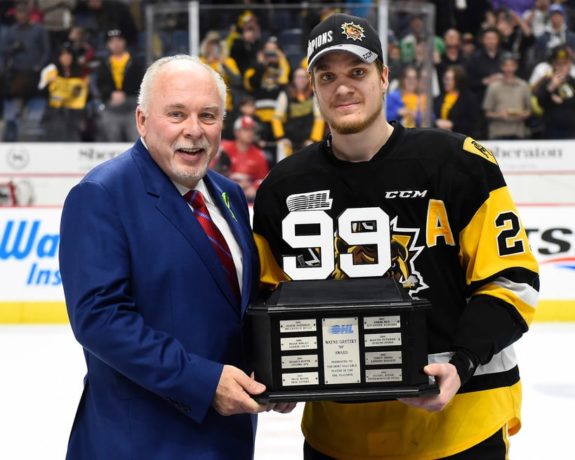 Realistically, it is a long shot for Thomas to be on the first line with O'Reilly and Tarasenko, but it would actually spread out the rest of the offense which would give the Blues a deep four lines. Putting Schenn on the second line with Schwartz who had 24 goals last season and David Perron who had 50 assists last season gives the Blues another legit scoring line. A third line of Maroon, Bozak and Steen is very respectable and could be more of a two way shut down lineup with some offensive upside. Robby Fabbri is coming off of ACL surgery which means he could find himself on the fourth line with Barbashev and Jaskin to start the season which could actually turn out to be a very good line.
St. Louis Blues Young Guns
Schwartz –  Schenn – Tarasenko
Perron – O'Reilly – Steen
Fabbri – Bozak – Kyrou
Maroon – Thomas – Jaskin
A big question leading up to opening night is if prospect Jordan Kyrou can crack a spot on the roster. The easy answer to this is no since there are not a lot of spots up front, plus he is still on an entry-level contract which means he can be sent down to the AHL. Although, let's not forget this kid tallied 109 points in 56 games last season in the OHL and played a big role for Canada at last years IIHF World Junior Championships in Buffalo. Kyrou, who is usually looked at for his offensive abilities is actually a very good two-way player who can play both ends of the ice. Both his offensive and defensive abilities are what give him a fair shot to make the team.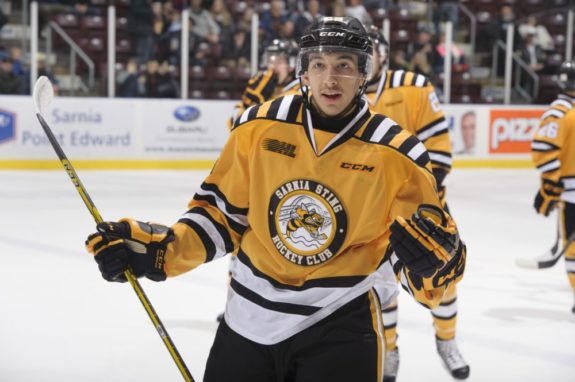 Kyrou would most likely be paired with veteran centre Tyler Bozak and Robby Fabbri on the third line, while Robert Thomas would have to slide down to the fourth line and play with Maroon and Jaskin. If Kyrou and Thomas were to crack the roster Ivan Barbashev and or Oskar Sundqvist would likely be sent down to the AHL since Nikita Soshnikov and Chris Thorburn are on one-way deals.
Top Heavy
O'Reilly –  Schenn – Tarasenko
Schwartz – Bozak – Perron
Fabbri – Barbashev – Steen
Maroon – Sundqvist – Jaskin
The Blues may decide to just load up their top line. Last season Brayden Schenn was lights out with Vladimir Tarasenko and if the Blues put O'Reilly with them, they could be a force to be reckoned with. Once again, putting two centres up on the first line would spread the offense out between all four lines. Spots up the middle on the third and fourth line could be taken by Ivan Barbashev and Oskar Sundqvist.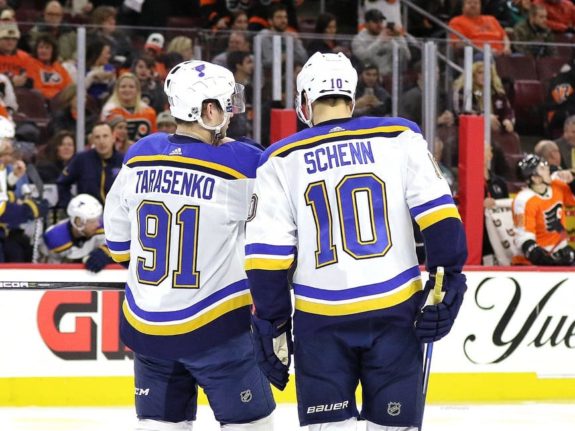 David Perron would have to make the switch over to the right side to play on the second line with Bozak and Schwartz which has a ton of upside. Barbashev would hopefully see his offensive numbers increase on the third line with Fabbri and Steen, while Oskar Sundqvist would centre Jaskin and Maroon on the fourth line.
Final Thoughts
All in all the St. Louis Blues will have a ton of different options up front, which is definitely a good problem to have. Regardless of how head coach Mike Yeo wants to deploy his forward lines, he will have a very strong top nine no matter what. The Blues offense is certainly deep enough to make a serious playoff run so there is no rush to promote some of the Blues top prospects in Robert Thomas and Jordan Kyrou, although they could crack the roster and add some real value to the team.