The 2017 Stanley Cup Playoffs are less than two months away, making it crunch time for all NHL teams. The Chicago Blackhawks are strong playoff contenders and a favorite to win the Stanley Cup in June, but there are still plenty of things to worry about before the playoffs begin. There are many teams the Blackhawks should keep an eye on prior to the playoffs, yet some outrank others.
Here are four teams Chicago should keep an eye on for the rest of the regular season.
Minnesota Wild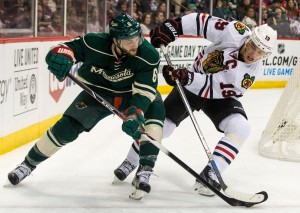 The Blackhawks have a history of destroying playoff dreams for the Minnesota Wild, but the regular season is an entirely different story. Minnesota tends to rally against Chicago in the regular season, which led to their eight-game regular season win streak. The streak ended on Feb. 8 when the Blackhawks defeated Minnesota 4-3. Chicago defeated Minnesota again on Feb. 21 with a final score of 5-3. The two teams will meet one more time in the regular season.
Statistically speaking, Chicago and Minnesota are an elite matchup. There are five points between the two teams, with Minnesota in first overall in the Central Division and Chicago seeking to shrink that lead in the next two games due to Minnesota's bye week. Both teams are among the top five overall and excel in most aspects of the game. Their matchups this season have been lethal, with both teams racking up at least 30 shots on goal per game. Despite Minnesota blowing Chicago out of the water when it comes to power plays and penalty kills, the teams are well matched and should be a must-watch series in the playoffs.
St. Louis Blues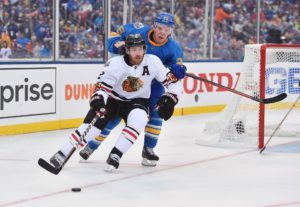 The Blackhawks will never forget St. Louis cutting their playoff stint short last year, especially since they were looking to be the first team to repeat a Stanley Cup win since the 1990's. They have been rivals since the inception of the Blues franchise half a century ago, and it has grown in bitterness over the past few seasons. After the Detroit Red Wings left the Central Division, the Blues became Chicago's primary rival. If they meet in the playoffs, it will mean two entirely different things for each team. For Chicago, it will be all about defeating St. Louis to prove themselves after the playoffs last year. For St. Louis, it will be all about getting past their strongest rival to get to their first Stanley Cup.
Statistically speaking, both teams have strengths and weaknesses. St. Louis dominates Chicago in power plays and penalty kills, while Chicago dominates St. Louis offensively and defensively. The teams have played four games against each other this season and split the wins. The games also tend to be more competitive than most. The teams are well matched to make for a good playoff series, and their historic rivalry would make it one for the ages.
Edmonton Oilers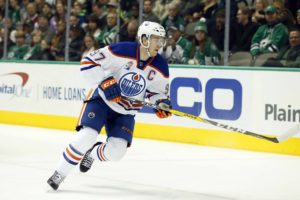 Edmonton has had a prolific season due to their success and the rise of Connor McDavid, who has helped turn the franchise around. As the current leader in the league for points and assists, McDavid is one to watch, especially against veteran players. The Blackhawks are no exception.
Statistically speaking, Chicago and Edmonton are nearly identical when it come to their strong offensive and defensive play. Edmonton outshines Chicago regarding power plays and penalty kills, but it's also not their strong suit. They have played three games against each other this season, with Edmonton taking two wins and Chicago taking one. Ironically, the losing team in all three games outshot the other. Neither team will face each other again for the rest of the regular season but are both strong playoff contenders. A playoff series between Edmonton and Chicago would be exhilarating to watch due to their competitive edge as well as the allure of Connor McDavid playing against a modern dynasty.
Columbus Blue Jackets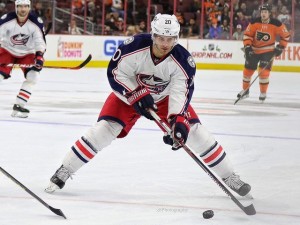 The Blue Jackets have had a breakout season due to their 16-game win streak earlier in the season. What makes a matchup between Chicago and Columbus interesting is Brandon Saad. He was one of the most powerful forwards on Chicago's roster for three seasons before being traded to Columbus shortly after the 2015 Stanley Cup win. Saad has played a crucial role in the recent success of Columbus due to his lethal scoring ability, something he perfected during his three-year tenure in Chicago. When Chicago fans watch Columbus, all eyes are on Saad.
Statistically speaking, the teams matchup pretty evenly, as they are both strong offensively and defensively. The teams have had one matchup so far this season, and Columbus won 3-2, despite being outshot by Chicago. They will face off one more time before the regular season ends. It is too early to speak of a possible playoff matchup between the two since they would only face each other if they both reached the Stanley Cup Final. However, it would be an interesting Final to watch. It would not have the media appeal of Chicago facing another Original Six team, but since their are similarities between the two teams, it would definitely make it one to watch.
The regular season will come to a close in a matter of weeks. Although the Blackhawks have a lot on their plate in the weeks leading up to the playoffs, keeping a close look at these teams can't hurt.