While many Vancouver Canucks players are sunning themselves on the beach during the team's NHL mandated bye week, the team's general manager Jim Benning is fielding offers from around the league for veteran forward Jannik Hansen.
Benning has gone on record saying that Hansen is a big part of the Canucks roster now and potentially moving forward. But with the Canucks on the outside of the playoffs looking in and teams calling to inquire about Hansen's availability, is there a chance that the Danish Dynamo gets moved in advance of this year's NHL trade deadline?
The Sedin Bump
Coming off a 22-goal, 38-point performance last season, Hansen's six goals and 13 points up to this stage in the season can only really be described as a disappointment. Sure, injuries have been a factor as Hansen has only suited up for 27 games this season. His usage has also been a factor. Whereas last season he played significant time in an offensive role alongside Henrik and Daniel Sedin, this season has seen him play mostly in a second or third-line role with a mixed bag of linemates.
Fortunately for Hansen, offensive statistics don't really do justice to his style of play. Hansen is a speedy winger with defensive skills and a willingness to play in scoring areas. While he may not always appear to have the best vision, creativity or awareness, he more than makes up for his deficiencies through speed, determination and a dogged work-ethic. He's a player that can turn a board battle into a scoring play, even if he only converts on these plays half the time.
Last season was a coming out party of sorts for the 30-year-old native of Rødovre, Denmark. His 22 goals were a career high and he was celebrated by Canucks fans and analysts as the successor to Alex Burrows on the team's top-line alongside the Sedin twins. However, between the team's signing of Loui Eriksson in the offseason, a rib fracture and a knee injury, Hansen hasn't been able to live up to expectations this season.
Here's a look at Morgan Rielly's big hit on Jannik Hansen. #RGCL pic.twitter.com/3wo9drWZca

— Rogers NHL LIVE (@RogersNHLLive) November 6, 2016
Call it bad luck, but things haven't worked out the way the player, the team and their fans had hoped it would.
Stock Room or Clearance Bin?
TSN hockey insider Bob McKenzie speculated that although the Canucks aren't actively shopping Hansen, they would move him for the right offer. What might this be? McKenzie speculates further that the Canucks would want a prospect or an established player in return, ideally someone who could play on the team next season. A draft pick alone probably won't be enough for the Canucks to trade a 20-goal scorer.
However, with the NHL expansion draft looming this summer, teams may be reticent to add another expansion exposed forward whom they would need to protect. Hansen meets this criteria and it could plummet his value to the point where the Canucks decide to keep him. Of course then they'll have the task of protecting Hansen himself or risk losing him for nothing — a true dilemma.
My understanding is that Jannik Hansen was scheduled to provide his trade-approved list of 8 teams to the #Canucks last night.

— Matthew Sekeres (@mattsekeres) February 22, 2017
Let's assume that Benning receives an offer he cannot refuse and that Hansen — who holds a modified no-trade clause which allows him to specify which eight teams he'd accept a trade to — is open to a trade. Where might Hansen end up?
Pittsburgh Penguins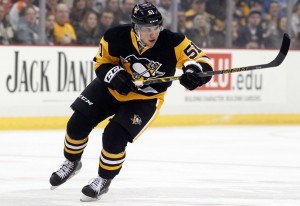 On paper the Pittsburgh Penguins seem like the perfect landing spot for Hansen. Under head coach Mike Sullivan, the Pens play an up-tempo style that's heavily reliant on speed and creating scoring opportunities off of turnovers. Coaches love terms like puck chases and puck battles. But for Mike Sullivan, "like" is a bit of an understatement. It wouldn't surprise anyone if he had these terms cross stitched on his bedroom wall. Sullivan also has past relationship with Hansen having served as the Canucks' assistant coach —and interim head coach during John Tortorella's six game suspension — in 2013-14.
Hansen's speed and checking capabilities make him the perfect fit in the Penguins system. But, did the Penguins deal their biggest trade chip when they sent a second round pick to the Carolina Hurricanes in exchange for defenceman Ron Hainsey? If Bob McKenzie is to be believed (Why wouldn't we believe The Bob Father?) and the Canucks want a player or prospect in return for Hansen, might the Penguins finally cut bait with Derrick Pouliot?
Ottawa Senators
The Ottawa Senators have surprised many this season by contending with the Montreal Canadiens for top spot in the NHL's Atlantic Division. The Sens have been riding an emotional roller coaster all season, highlighted by the remarkable play of their goaltender Craig Anderson, whose wife is battling throat cancer.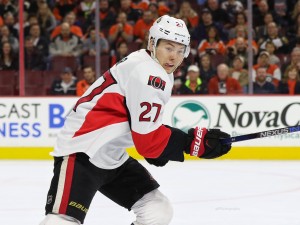 Recently hired head coach Guy Boucher has the Sens playing a rigid defensive structure that has them amongst the NHL's elite in terms of goals against. Defensive responsibility, especially amongst the team's wingers, is crucial in Boucher's system. If general manager Pierre Dorion is looking to build on his team's strengths heading down the stretch and into the playoffs, it appears that Hansen may be a natural fit.
But, does Dorion have the required assets to acquire Hansen? It's unlikely that the Sens are interested in moving any of their four selections from this year's draft. They've moved their second round picks in 2017 and 2018 in separate deals for Dion Phaneuf and Derick Brassard, so that's off the table. An intriguing player, however, is 22-year-old Salmon Arm, BC native Curtis Lazar. After bursting onto the scene and earning a full-time roster spot with the Sens as a 19-year-old, Lazar's stock has dropped and is now at an all-time low. It's unclear at this point whether Lazar will develop into an impact player, but maybe a change of scenery will help jump start his once promising career.
Montreal Canadiens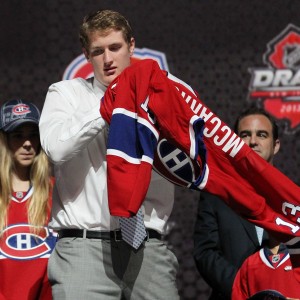 In my Trade Bait: Alex Burrows article, I highlighted the trade needs on the Montreal Canadiens and described how general manager Marc Bergevin is expected to be active in advance of the year's NHL trade deadline. Add Hansen's name to the list of players that Bergevin may kick tires on if he fails to consummate a deal with the Arizona Coyotes for Martin Hanzal or with the Colorado Avalanche for Matt Duchene.
Might new Habs head coach Claude Julien find value in adding Hansen to his team's forward unit? Again, his speed and defensive prowess sound like a perfect match for a team that relies on creating scoring opportunities through open ice puck battles. And if the Habs' play drifts towards the sideboards, as Julien's teams have a tendency to do, well, Hansen is dynamite there as well.
In terms of assets, Bergevin has an additional second round pick in this year's draft and two additional second round picks in next year's draft. That's five second round picks in back-to-back drafts, so it's safe to assume that Bergevin will look to deal from his surplus. However, the Canadiens' trade block looks pretty unappealing unless the names David Desharnais and Greg Pateryn excite you. But if Bergevin decides to open up Michael McCarron or Charles Hudon to offers, there could be a deal on the table for Hansen.
Vancouver Canucks
For the second straight deadline there's a very good chance that the Canucks stand pat with what they have and pass on acquiring assets for their veterans. Just like last year with Radim Vrbata and Dan Hamhuis, Benning may elect to retain both Burrows and Hansen if the offers he receives are deemed unworthy. What's unique about Hansen's case is that although he's under contract for next season the team may very well lose him through expansion. If that happens, it'll be just another example of poor asset management for Benning and team president Trevor Linden.
If Hansen somehow makes it onto the Canucks opening day roster for 2017-18, it'll be at the expense of another, potentially younger, player. Damned if you do, damned even more if you don't.
Will They or Won't They?
For better or worse, Hansen is the most valuable trade asset that the Canucks have had since Benning took over the team and was tasked with moving Ryan Kesler to the Anaheim Ducks.
What has been apparent to most of the hockey world for two calendar years — that the Canucks are a team trending downwards — is only now apparent to the team's management. If the rumours are to be believed, the Canucks will at least try to leverage their current assets, like Hansen, and turn them into future assets like draft picks and prospects. Unfortunately, because they've failed to be proactive in their approach thus far, they'll need to be reactive, which means potentially accepting a below market value offer for Hansen.
Is this something that Benning and Linden can swallow? History tells us no, but unless management can capitalize on their opportunities, they may be history themselves.
Copywriter and web developer by day, THW contributor by night. Rabid hockey fan, beer-league defenceman and tyke hockey coach always. Covering the Canucks from BC's Sunshine Coast.