Winnipeg Jets right wing Patrick Laine scored his 30th goal this week, and it only took him 55 games. Center Auston Matthews isn't far behind him with 28 goals and 52 points.
Laine and Matthews are the two obvious choices to win the Calder Trophy. Toronto's Mitch Marner and Williams Nylander are strong candidates too. Those two players, along with Matthews, have the Maple Leafs competing for a playoff spot.
But also don't forget defenseman Zach Werenski, who has been a breath of fresh air to the back end of the Columbus Blue Jackets. He leads all rookie defensemen with nine goals, 36 points and a plus-16 rating.
Not much talk about Matt Murray and Calder Trophy, but he's eligible: 7-1-0, 1.75 GAA, .939 SV%, 1 SO).

— Tom Gulitti (@TomGulittiNHL) November 27, 2016
However, one player that everyone does seem to be forgetting in the Calder Trophy race is Pittsburgh Penguins goaltender Matt Murray. Entering this season, he had more postseason victories (15) than regular season starts (13). That puts him in extremely unusual circumstances, but he is certainly eligible for the award.
Let's take a look at why he might not be receiving much attention in the rookie of the year race and the reasons his strong 2016-17 season should put him in the conversation.
2016 Stanley Cup Hurting His Chances
The most obvious reason why Murray isn't receiving more attention for the Calder is likely because he won the Stanley Cup last spring. But the NHL rules clearly state that any player who is under 25 and has never played more than 25 games in an individual season is still classified as a rookie.
Murray made 21 postseason starts, going 15-6 with a .923 save percentage and 2.08 goals-against average. But those numbers don't count towards his NHL eligibility. During the regular season, he started 13 games, recording a 9-2-1 record, .930 save percentage and 2.00 GAA. Failing to make 25 starts during the 2015-16 season makes him eligible for the Calder.
If Matt Murray didn't have the Stanley Cup on his resume he'd probably get more Calder Trophy hype. I'm sure he is fine with that tradeoff.

— Adam Gretz (@AGretz) February 22, 2017
Murray truly is embarking on something the league has never seen previously. He is one of four netminders who won 15 playoff games as a rookie, but the other three — Patrick Roy, Ron Hextall and Cam Ward — all played at least 25 regular season games. They weren't still a rookie after that postseason.
Technically, Murray could break the rookie goaltender mark of 15 postseason victories this spring because he's still a rookie. That's how unprecedented this all is.
Pittsburgh's No. 1 Offense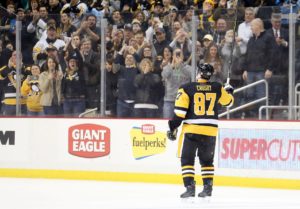 The other major reason Murray isn't getting much attention in the Calder Trophy conversation has to be because of the Penguins' potent offense. Pittsburgh is first in goals per game and sixth in power-play percentage.
Captain Sidney Crosby leads the league in goals with 33 and is only two points behind in the scoring race. He could very well win the Hart, Art Ross and Rocket Richard Trophies this season. Evgeni Malkin hasn't been shabby at all either, scoring 25 goals and 60 points in 52 games. Of the players who have dressed for at least 20 games, Crosby and Malkin are first and second, respectively, in points per game.
Right wing Phil Kessel is dominating too. He has 21 goals and 56 points in 59 contests. Pittsburgh is the only team that possesses two players with at least 55 points, and the Penguins actually have three such guys.
Pittsburgh doesn't ask Murray to win them games like Toronto does with Matthews. The same goes for Laine in Winnipeg. Those guys receive more credit when their teams win and thus more attention in the rookie of the year conversation.
Elite Numbers
The Penguins might not win because of their goaltending, but Murray's numbers should speak for themselves. He is 22-7-3 with a .926 save percentage, 2.27 GAA and three shutouts. And he's been even better lately.
Matt Murray has a save % of .930 or better in 9 of his last 13 starts

Currently 5th in the nhl in save %

2nd best save % since march 2016

— Dad Chad (@madchad412) February 22, 2017
His worst game came on Jan. 16 when he allowed seven goals in a victory against the Washington Capitals. Since then, Murray is 8-3-2 with a .939 save percentage and 1.91 GAA. After the All-Star Break, Murray has posted a 1.84 GAA and a .940 save percentage, which are second and third-best, respectively, among goaltenders with at least five starts since the break.
This hot streak has moved Murray into fifth in save percentage and seventh in GAA. That includes all goaltenders — not just rookies — and Murray has been doing it recently with a depleted defense in front of him. Pittsburgh played the final two periods in Carolina on Tuesday without three of their top six defensemen and Murray stopped 29 of 30 shots in a 3-1 victory.
What Laine and Matthews are doing right now is truly special. Those two will likely be the top two vote-getters in the Calder Trophy race, but Murray deserves a lot more recognition than he's currently receiving.