The Nashville Predators have been around for just 19 seasons, meaning their "all-time lists" in terms of team history simply lack richness compared to other storied franchises. However, the Predators have been able to find success in their short-lived tenure since joining the league and a few goalies have been a part of the ride, etching their way into Predators' history.
When ranking the top three Predators goalies of all-time, the masked men mentioned will be nominated based on their play during their stay in Nashville, rather than their overall careers. Here are the best netminders to don the saber-toothed tiger in Tennessee.
1. Pekka Rinne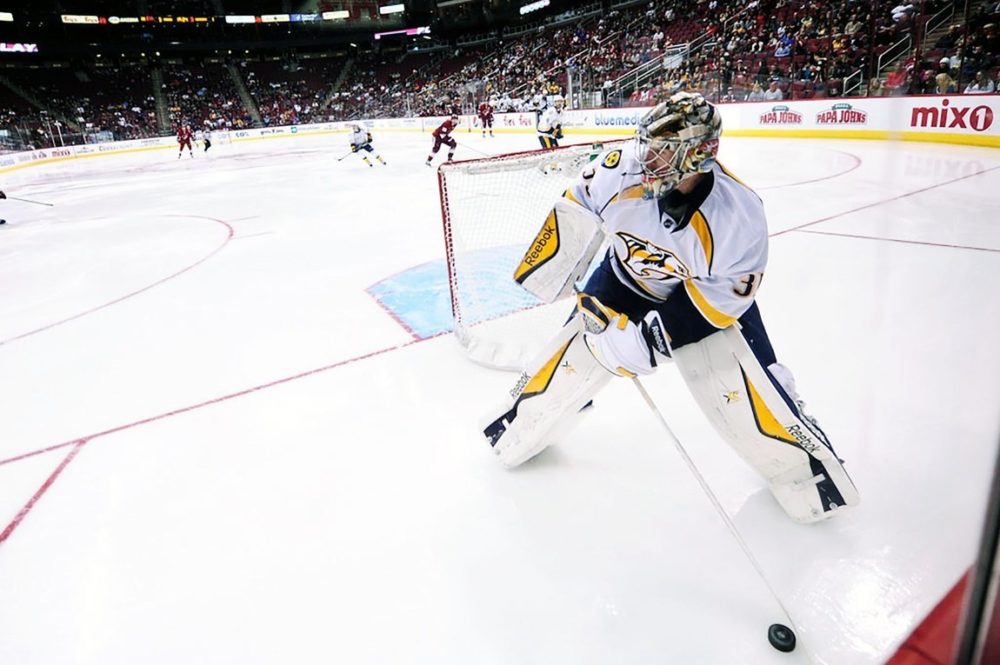 Since there's no surprise here, we thought we'd give you number one right away. Pekka Rinne, drafted in the eighth round (258th overall) by the Predators in the 2004 NHL Entry Draft, has been the team's go-to guy since the 2008-09 season and has undoubtedly cemented himself as the number one netminder in Predators' history.
In his time with the Preds, Rinne owns a 260-151-59 record, a save percentage of .918, and a goals-against average (GAA) of 2.43. As mentioned before in a recent post, he tends to be inconsistent in that he'll be dominant one season, only to fall to average play the following year for reasons unknown. However, he's yet to give up his starting role in Nashville since the 2008-09 season and continues to be their perennial starting netminder.
Rinne has been one of the most exciting goaltenders to watch over the last few years due to his "flashy" style of play and speed in the crease, despite his 6'5″, 217-pound frame. Just watch how well the big man moves around.
Rinne's highlight reel is filled with incredible saves like the one shown above, meaning Predators' fans will have no shortage of entertainment whenever they decide to look back on his career and the memories he provided in Smashville. For now, however, there are more memories to be made as Rinne and the Preds continue to push for their first Stanley Cup championship.
2. Tomas Vokoun
The first "official" starting goaltender to bring the Predators any success, Tomas Vokoun will forever be remembered in Nashville for putting the team on the map. He even recorded the franchise's first shutout victory in 1999, his first season with the Preds after being acquired in the expansion draft. It was also his first career shutout, but you could probably guess that by how excited he was in the celebration.
Vokoun spent eight seasons in Nashville racking up a 161-159-46 record, a .913 save percentage, and a GAA of 2.54. He was even a part of Vezina Trophy finalist discussions three times during those eight years, an award presented to the league's top goaltender at the end of each season. He also represented Nashville at the 2004 NHL All-Star Game — the first Predator goalie to ever do so.
Vokoun was eventually traded to the Florida Panthers in 2007 for a number of draft picks, but not before setting just about every goaltending record available to the Nashville franchise. Although Rinne has since taken over a majority of the records, the masked man who wore number 29 will forever be remembered in Smashville.
3. Chris Mason
Remembered mainly for being the Predators' number two guy for a number of years, Mason was able to find some success as a backup goaltender in Nashville behind Vokoun early in his career, and then later, Rinne, when he made his return to the Music City in the 2012-13 season.
He would finish his stint in Nashville with a 59-50-13 record paired with a .910 save percentage and a GAA of 2.68, standard numbers for a backup goalie during that period of time. His best season came in 2003-04 at the age of 27 where he went just 4-4-1, but still managed to post a save percentage of .926 and a GAA of 2.18, respectable numbers for any goaltender.
While there was nothing really flashy to Mason's game, the Red Deer, Alberta native was able to find NHL work for a number of years with the Predators, St. Louis Blues, and the Atlanta Thrashers/Winnipeg Jets. Deservingly, Mason is awarded the number three spot on the Predators' all-time goalies list.
Honourable Mention – Mike Dunham
After The Hockey Writers'  Peter Ferrell insisted that Mike Dunham be included somewhere in this list, it was only right that we included Dunham in this conversation for everything he contributed to the Predators' franchise during their early years.
There's the saying, "Some guys have all the luck." Well, if someone were to be the exact opposite of that, we would say that someone would be Mike Dunham.
Drafted by the New Jersey Devils in 1990 – just 33 picks behind Martin Brodeur — Dunham went off to the University of Maine, while the now-legendary Brodeur ascended from major junior through the American Hockey League and into superstardom in the NHL.
During the mid-1990s, Dunham bounced between New Jersey's AHL affiliate, the Albany River Rats, and the Devils, sharing the William M. Jennings Trophy with Brodeur in 1996-97 for allowing the fewest goals in the league. Having to back up one of the game's greats is no mean feat. That said, it did mean that Dunham was left unprotected for the 1998 NHL Expansion Draft and was scooped up by the Nashville Predators.
But that's okay though, being the goaltender for an expansion team has its benefits, right? More freedom, fewer expectations… Unless the team also selected a younger goaltender – Tomas Vokoun – and had him platoon with you, despite your experience and better numbers. Sure enough, Dunham, after sharing duties with the younger Vokoun for four seasons, was officially supplanted in 2002-03 and shipped off to the New York Rangers. Luckily for Dunham he received some acting classes in Nashville before heading to Broadway with this gem of a commercial.
Dunham was the Predators' starter for the team's first four seasons – and part of a fifth. Though the Predators were offensively anemic during his tenure – ranking fourth-last in in goal scoring, and never having anyone register more than 25 goals or 62 points – he posted a respectable 81-104-24-9 (remember, this was the era of ties) record in 217 games, with a .910 save percentage and nine shutouts.
This save percentage ranks Dunham 10th in the NHL over that span (the start of the 1998-99 until Dec. 11, 2002) and his shutout total is 16th. Mike Dunham was just an all-around good, solid goaltender for a fledgling expansion team. He not only gave a brand-new franchise stability and consistency between the pipes, he bought the Predators time, giving them the opportunity to develop not just Tomas Vokoun, but what is now one of the preeminent goaltending factories in the NHL. Dunham deserves to be on this list for his efforts and time in Nashville, no doubt. Goodness knows he didn't get much help during it.
Though the Predators haven't been around for very long, their goaltending history isn't as dull as some of the other younger franchises across the league. Rinne is still in the Preds' crease working towards a Stanley Cup championship, and upcoming prospect Juuse Saros looks like he could be given more NHL time sooner than most expected. One thing is for certain, Nashville's always been able to find the right guy to stick between the pipes and it doesn't look like that trend is ready to break now. The history book is still open — who will be the next goaltender to have their name etched in it?