Fresh off a two point performance in Sunday's victory over the Buffalo Sabres, long-time Vancouver Canucks winger Alex Burrows has found himself in the middle of rumours and trade speculation. Is it possible that the team who developed Burrows from an undrafted ECHLer to a legitimate top-line NHLer could wave "goodbye" to their beloved dragon slayer? If so, who might the potential suitors be at the NHL trade deadline?
Hangin' Tough
Burrows' history as a Canuck mirrors his team's history in many respects. Just like his team, he broke out in the 2008-09 season and displayed the peak of his abilities from 2010-2012. Since then, Burrows' production and the team's results have both varied. Having survived the purge of pivotal players from the Canucks teams that won back-to-back President's trophies, Burrows has averaged only .38 points-per-game since 2013, a steep drop from the .69 that he averaged from 2008 until 2012.
Last season was his least productive of any, save for his rookie season. His .28 points-per-game had many fans and analysts in Vancouver predicting an offseason trade or contract buy-out. Having stayed the execution, as he's somehow managed to do throughout his career, Burrows has found a resurgence this season with 20 points in 50 games. His .40 point-per-game average this season is far from his career peak, but it at least shows that he can still be a productive NHL player.
Big Game, Bigger Player
Despite the criticism that Burrows receives outside of Vancouver — some deserved, some contrived — he's somewhat of a folk hero to Canucks fans. Burrows has been front and center in some of the Canucks most important moments as a franchise, scoring overtime game winning goals against both the Chicago Blackhawks and Boston Bruins in the 2011 Stanley Cup playoffs.
Between his big game heroics and his bow-and-arrow goal celebration performed in memoriam of his good friend Luc Bourdon, Burrows has endeared himself to Canucks fans and will go down in history as an all-time fan favourite in Vancouver.
Burrows is just 16 points shy of 400 in his career and he ranks 14th in Canucks all-time scoring. If he remains in Vancouver beyond this season, it's realistic to assume that he'll move into the top 10. There's no denying the impact of Alex Burrows on the Canucks franchise.
Will He Stay or Will He Go?
While Burrows has re-established himself this season, the Canucks haven't been as successful. The team is again languishing on the outside of the playoffs and will be faced with a proposition at this year's NHL trade deadline. Will Canucks management try to acquire players for a playoff push or will they relinquish players for future assets? Where does Alex Burrows fit into the team's plan?
Alex Burrows on trade rumours: "I've cut off my Twitter. Right now, I'm staying away from anything where my name could be." #Canucks

— Canucks Now (@CanucksNow) February 14, 2017
Confusing the matter further is the fact that Burrows holds a no-trade clause in his contract that would allow him to veto any potential transaction. If the Canucks are going to move Burrows to another team they'll need to seek out a situation worth leaving Vancouver for in the player's eyes.
Let's assume that Burrows is amenable to a trade, where might he end up at this year's trade deadline?
Montreal Canadiens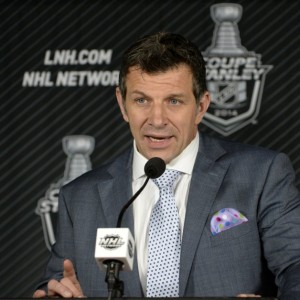 Whenever there's a French-Canadian player on the trade market, there will be dozens of articles penned about how and why the Montreal Canadiens will acquire said player. In the case of Burrows however, there may be some substance to the rumours.
The Habs are in a bit of a free-fall lately after having started the season looking like they'd be a Stanley Cup contender. Star goaltender Carey Price's play has dipped as a result of a softening defence in front of him. Meanwhile, the team's offence has dried up. A weak defence and an anemic offence is a bad combination for any team, let alone a team with massive expectations like the Canadiens.
Pressure is mounting on general manager Marc Bergevin by the day and it's almost a certainty that he'll make some sort of addition to the Canadiens roster by the trade deadline. Could Burrows provide a jolt to their lineup? He might, but it's also possible that Bergevin passes on Burrows in favor of a more high profile target like the Colorado Avalanche's Matt Duchene or Arizona Coyotes' Martin Hanzal.
Chicago Blackhawks
Despite his statements earlier this week that he won't be making any big moves this year, Blackhawks general manager Stan Bowman can never be counted out on deadline day. In fact, his desire to steer clear of any blockbuster transactions may lead him directly to the Canucks and Burrows.
Stan Bowman: "I'm not expecting to make a deal this year." But take it with a grain of salt, as always. My story: https://t.co/pNQDRDiS5X. pic.twitter.com/VxGwuzgPOP

— Mark Lazerus (@MarkLazerus) February 1, 2017
After paying a fortune to acquire Andrew Ladd and Dale Weise at last year's trade deadline, it's expected that Bowman and the Blackhawks will be out of the running for the big name players like Duchene, Hanzal and St. Louis Blues defenseman Kevin Shattenkirk. The secondary trade market features players like Burrows who, theoretically, could be acquired at a much lower cost than the more sought after players. Adding intrigue is the fact that the Blackhawks have three additional picks in this year's NHL Entry Draft that they could use to acquire a player or two.
Could the Blackhawks use some veteran presence on their third and fourth lines? Would Burrows — with his playoff history against the Blackhawks — fit their dressing room? Would Burrows even waive his no-trade clause to play in Chicago? All of these questions would need to be answered before a trade could be consummated.
Edmonton Oilers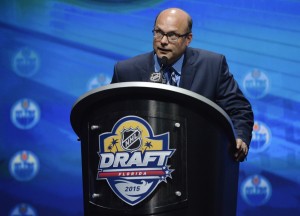 For the first time in over a decade, it appears as if the Edmonton Oilers will be buyers on trade deadline day. The Oilers have two additional picks in this year's draft and could potentially use one to acquire some veteran help on the wing. Burrows seems tailor made to play on Ryan Nugent-Hopkins' wing and could also add some additional value on the team's penalty kill.
Would Burrows waive his no-trade clause for the opportunity to compete for a Stanley Cup with generational talent Connor McDavid? The opportunity would be enticing to almost anyone and with Burrows' contract expiring this summer, the Oilers wouldn't have to commit to the aging veteran for any longer than necessary.
The pieces certainly seem to be in place for a trade to the Oilers, however it's been speculated that general manager Peter Chiarelli has strong interest in several other comparable players, including: Jarome Iginla, Brian Boyle, Brian Gionta and P-A Parenteau.
Home Sweet Home
If Canucks general manager Jim Benning decides to stand pat with Burrows in the lineup for the remainder of the season, what's the likelihood that the player returns for next season? While he'll likely receive a steep pay cut from the $4.5 million that he's earned each year for the past four, there's still a spot for Burrows in the Canucks lineup moving forward.
Both Benning and Canucks head coach Willie Desjardins have spoken about their strategy of surrounding young, developing players with experienced veterans. Outside of Henrik and Daniel Sedin, no one else on the team has as much experience as a Canuck than Alex Burrows. Bo Horvat has credited Burrows as a playing a big part in his success up to this point in his career. Who's to say that Burrows couldn't do the same for next season's potential crop of youngsters like Jake Virtanen and Brock Boeser?
Forever a Canuck
Whatever the future holds for Alex Burrows he'll undoubtedly go down in history as a Vancouver Canuck. Even if he lifts the Stanley Cup with the Blackhawks this summer, most people would sooner picture him pulling Duncan Keith's hair than passing Keith the Cup.
If Burrows remains a Canuck past this season, it's likely that he'll move into rarified company and pass Markus Naslund in all-times games played for the franchise. He could also end his career having played it entirely with one team, which is not something the Canucks can say for any of their all-time greats, save for Stan Smyl.
Whenever Burrows moves on from the Canucks, whether it be to another team or to retirement, he'll forever be revered in Vancouver and reviled in 29 other NHL cities.
Copywriter and web developer by day, THW contributor by night. Rabid hockey fan, beer-league defenceman and tyke hockey coach always. Covering the Canucks from BC's Sunshine Coast.