The new framework for an expansion draft has been laid out, and, likely with it, plans by Montreal Canadiens fans seeking do-overs on several moves.
According to the tabled idea, teams would be able to protect one goaltender and either seven forwards and three defensemen or eight skaters, with players in their first two professional seasons being exempt.
So, in a hypothetical scenario involving a draft taking place in the near future, which potentially surprising names should the Habs leave exposed?
Here are the top five:
5) Torrey Mitchell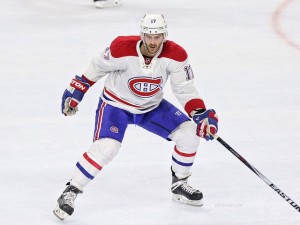 It's not that Torrey Mitchell is a bad player or even that the Habs would want to see him go. He's just not first-line material like fellow grinder Mike Brown, especially at one year older.
Joking aside, age should play into the theoretical decision to expose Mitchell, who, at 31, is out of his prime and bound to lose his effectiveness at an exponential rate in the coming seasons, two of which after 2015-16 he will play under contract for the Habs at a salary-cap hit of $1.2 million.
When general manager Marc Bergevin signed Mitchell to his, by all accounts, fair deal, he was coming off a decent playoff run in a contract year. He even rewarded the team for that loyalty with nine points in his first 13 games this season.
However, no one should expect him to maintain even close to that kind of production over the next few years, even in short spurts. Instead, they should expect easily replaceable grit, good faceoff skills and decent defensive play.
If an expansion team were to pick him up, not such a big loss. If he stays, he's still useful in one way or another.
4) Andrei Markov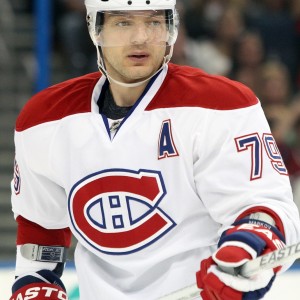 The Habs can also leave defenseman Andrei Markov to the wolves in an expansion draft.
The (overly) sentimental decision would be to protect the 37-year-old defenseman, who has played his entire career for the Habs. However, they might just be able to keep him anyway were he to be exposed due to his $5.75 million hit next year.
While his official salary would be lower at $4.25 million, it's not the money that would really matter to a large-market team like Montreal, especially when it's owed to a lifer like Markov.
However, it's the need to stay competitive that would really make it a practical decision to make Markov available to expansion teams.
There is no doubt a huge risk he would be taken as he remains a decent depth defenseman even at his age, especially on the power play. He would also bring name recognition to a new market as a legitimate (one-time) star player.
However, at his hit, the Habs would have a hard time justifying playing him lower in the lineup where he now belongs. The Habs might lose some valuable depth, but freeing up the equivalent of his hit under the salary cap would more than help to make up for it.
3) Tomas Plekanec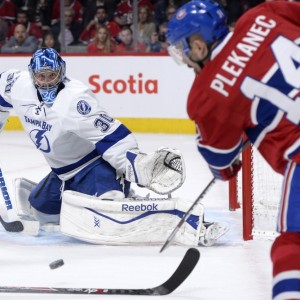 In a similar situation relative to Markov, Tomas Plekanec is a valuable contributor, but he's not as much as he once was. While he's only 33, Montreal should most definitely prefer to risk losing his contract instead of Markov's for the simple reason that his new extension runs for another year, up to 2018.
It's a similar cap hit to Markov's ($6 instead of $5.75 million), but losing Plekanec for some reason wouldn't seem to hurt as much. He's most definitely the more effective player right now, but that sentimentality factor again should not be understated.
Plekanec only joined the Habs for good for the 2005-06 season. Markov already had four complete seasons under his belt at that point and was quickly developing into an elite offensive defenseman. Ultimately, offense sells more tickets, while, ironically, it's Plekanec's defense as a forward that has been his calling card.
Plekanec has always been miscast in Montreal, oftentimes as an inconsistent top-line center with defensive awareness that would have made him an ideal third-line one on an elite team. Now that the defensive aspect of his game is slipping, he might be better served suiting up on that top line for a weaker team.
2) David Desharnais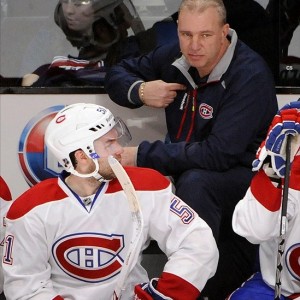 David Desharnais often gets a bad reputation for performing to the best of his ability in roles he should never find himself in the first place. He instead belongs as an exposed forward in a hypothetical expansion draft.
One can argue back and forth as to whether he is a legitimate top-six forward, i.e., do his annual approximate 50-point totals speak to his skill level or excessive ice time and favorable power-play and offensive-zone deployments? Maybe the former, because he obviously doesn't score on said power play.
It's pretty cut and dry that there isn't room on this team coached by Michel Therrien for both him and Alex Galchenyuk at center, where the latter clearly belongs.
The issue probably deserves to be revisited should Therrien be shown the door at season's end, at which point Desharnais will only have one year left on his four-year, $14 million contract. Those are his only saving graces from the top spot on his list.
1) Alexei Emelin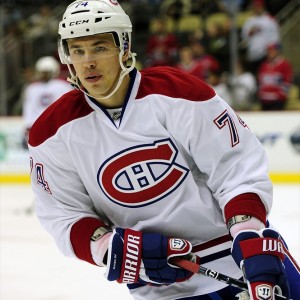 There's an argument to be made that Alexei Emelin is a good player, just one with a bad contract. As a result, he's the prototypical negative-value guy.
Under contract that does not expire until the 2017-18 season, Emelin eats up valuable cap space to the tune of $4.1 million per year. On top of handing Emelin a four-year contract with that hit in the middle of knee-injury rehab, Bergevin deemed it necessary to include a no-trade clause as well (which becomes a limited one for next season).
It's unclear at this point whether those types of clauses would apply in an expansion draft, but, needless to say, it would in the Habs' best interest to unload contracts that would be nearly unmovable otherwise. Markov admittedly has a modified no-trade clause too, but is probably more attractive to potential suitors, even if only for his leadership.
For the record, Emelin has been playing very well this season, but, when the much-maligned Tom Gilbert, who likely won't be back next season, arguably has more defensive value, it's time to rethink how your roster is made up. Emelin's hard-hitting physicality has its place, just ideally on another team.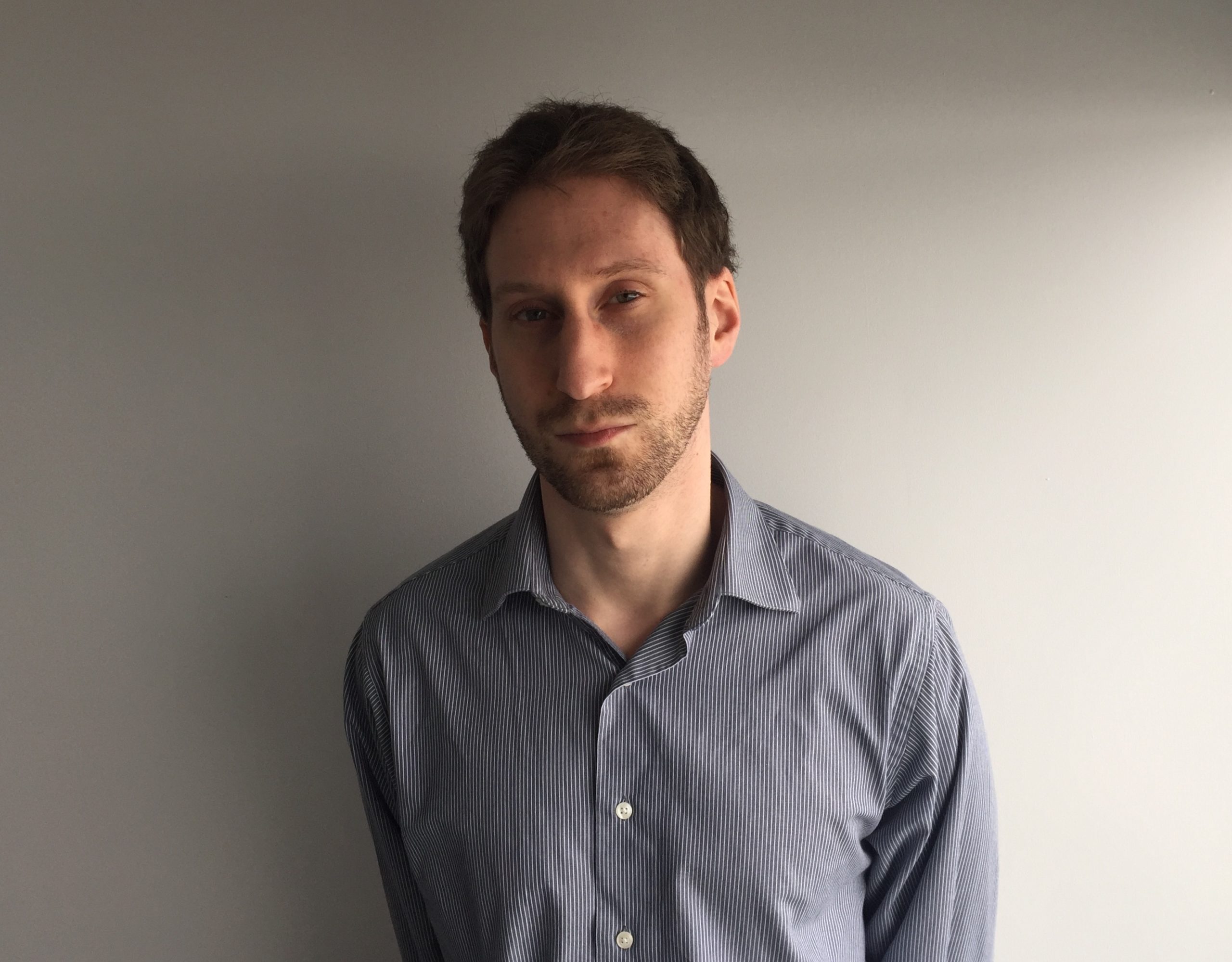 After 10 years of writing hockey, Ryan decided it was as good a time as any to actually join The Hockey Writers for the 2014-15 season. Having appeared as a guest on such programs as CBC Radio One's Daybreak, Ryan has also written for the Montreal Gazette and Bleacher Report and worked for the NHL itself and his hometown Montreal Canadiens. He currently writes about all things Habs for THW, with it being a career highlight for him to have covered the 2021 Stanley Cup Final as a credentialed member of the press.