When it comes to winning a championship, every player on the team has a hand in it. Whether it's the fourth line winger or the superstar goalie, a winning team relies on both to get them through the grind of the playoffs. However, some players influence their team's fortunes in a much more direct way. Below are the five Montreal Canadiens who will be the X factors for the upcoming season.
5. Max Pacioretty
On the surface, Pacioretty had a good season last year as he put up 64 points in 82 games which included 30 goals. However, there were far too many occasions where Montreal's captain could have played a lot better. The season prior, Pacioretty was a two-way force for Montreal as he played with a lot of purpose and had that jump in his step. For whatever reason, he did not have that same spark this past season as he floated through games and looked flat.
Going into his second year as captain, the pressure is on for him to perform better and rightfully so. P.K. Subban took a lot of the heat during his time in Montreal, and with him gone, Pacioretty will be pushed further into the spotlight. A full summer of training under his belt should help his on-ice performance and he will benefit from the influence of Kirk Muller and Shea Weber in the leadership department.
It's great that Pacioretty produces well offensively and he's an absolute bargain at $4.5 million. However, as the man wearing the C, he needs to set the tone for the team. At the World Cup of Hockey, Team USA John Tortorella evaluated Pacioretty's performance after a game as shown in the tweet below. It was a valid statement and it could apply to his performance with the Habs. As the captain of the NHL's most historic franchise, "ok" doesn't cut it. Pacioretty can do a lot better than what he showed last season.
Tortorella on Max Pacioretty "He's ok but I need more out of him!"

— Chantal Machabee (@ChantalMachabee) September 11, 2016
4. Alexander Radulov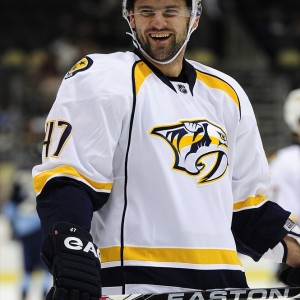 Radulov comes into the season on a one-year $5.75 million deal and more or less a guaranteed spot in the top six for Montreal. The Habs have searched for a high-end right winger behind Brendan Gallagher for several years and so far none of the previous options have worked out. Alexander Semin didn't fit in while Zack Kassian never played a game in a Montreal uniform as he went to rehab before the start of last season. Dale Weise tried and had some success but he isn't a top-six player.
The hope is that Radulov finally solves that problem for Montreal this year. Radulov has been one of the KHL's best players since its inception and has displayed he can score during various stints in the NHL (102 points in 154 games). At age 30, he hasn't shown signs of his game falling off. When Radulov is at his best, he is an elite offensive threat who can play a nasty, physical brand of hockey. If Radulov can prove that he has matured and fit into Michel Therrien's system, he can be a very dangerous player for Montreal.
3. Shea Weber
For the rest of his contract, Shea Weber will be compared endlessly to Subban. Weber has to prove to his detractors that he hasn't slowed down and that he is better defensively than the numbers suggest. On the other hand, Weber is heavily praised by other players and coaches and his influence can only help Montreal. No doubt after last year there was a leadership gap and Weber is regarded as an excellent leader. When it comes down to it, Weber will play a huge role in Montreal's success. He will receive heavy minutes in all situations and be a strong presence on and off the ice.
1/2 Carey Price on Shea Weber: "He's a competitor and a big man, he creates space out there for me to cover up pucks…" #WHC2016

— Dave Stubbs (@Dave_Stubbs) September 21, 2016
2/2 Carey Price on Shea Weber: "It's always easy (in goal) when you have a big man boxing guys out." #WCH2016

— Dave Stubbs (@Dave_Stubbs) September 21, 2016
2. Alex Galchenyuk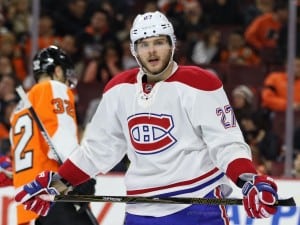 Fingers crossed that this is the year where Therrien lets Alex Galchenyuk do his thing. Galchenyuk has proven he can be an offensive producer and has shown that he has chemistry with Pacioretty, despite Therrien suggesting otherwise. Montreal has been starving for a top line centre, so why shove Galchenyuk aside in favour of a far lesser player in David Desharnais? Galchenyuk has an elite level skill and managed to score 30 goals last year despite very questionable usage. Having a proper top line centre makes all the difference for a team.
Putting Galchenyuk between Pacioretty and Brendan Gallagher gives Montreal a legitimate top line that can go up against the opposition's best. He will have his struggles at times playing against these kinds of players and it's crucial that Therrien doesn't lose patience and break up the line at the first sign of adversity. Galchenyuk has continued to get bigger and stronger with every passing year, so combine that strength with his skill and he is ready to take things to the next level in Montreal.
1. Carey Price
If there was any doubt about the most important player for Montreal, it is indeed Carey Price. Habs fans watched their team fall apart without their superstar goalie. So far, Price has proven at the World Cup of Hockey that he is healthy and looking like his old self. As much as the new additions should help Montreal, their system still relies heavily on Price's extraordinary talent.
His presence on and off the ice will improve Montreal and make them a playoff contender once again. Price is a calming influence for his teammates and intimidates the opposition as they search for the perfect shot to beat him and often fail to do so. Montreal's Stanley Cup aspirations lie on the shoulders of Price and anything less than excellent from him will have the Habs struggling.
The X Factors
There were other players that could have made this list, like Brendan Gallagher and Nathan Beaulieu, but the ones listed above will dictate how this season will turn out for the Habs. Whether it's proving something or taking on a bigger role, these X factor players will be scrutinized heavily, win or lose. The Habs need these players to turn in great performances this season in hopes of competing for the Stanley Cup in June.