The 2023 World Hockey Championship is set to kick off on May 12, with this year's tournament being played in Finland and Latvia. As usual, there is plenty of talent set to represent their countries on the world stage, but for some NHL general managers, they will be focused on the future as there are some intriguing prospects set to participate in the event. Here is a look at five prospects to watch throughout the tournament.
Adam Fantilli – Team Canada
The projected second overall pick for the upcoming 2023 NHL Draft, Adam Fantilli, is looking to finish off one of the best draft seasons by an NCAA player of all time. Not only did he lead the nation in points with 65, but he also became just the third freshman to ever win the Hobey Baker Award, joining Jack Eichel and Paul Kariya. During the season, he also won gold with Canada at the 2023 World Juniors, where he finished the tournament with five points in seven games. Now, he is ready for his new next challenge, which is showing he can deliver for his country against some of the best in the world.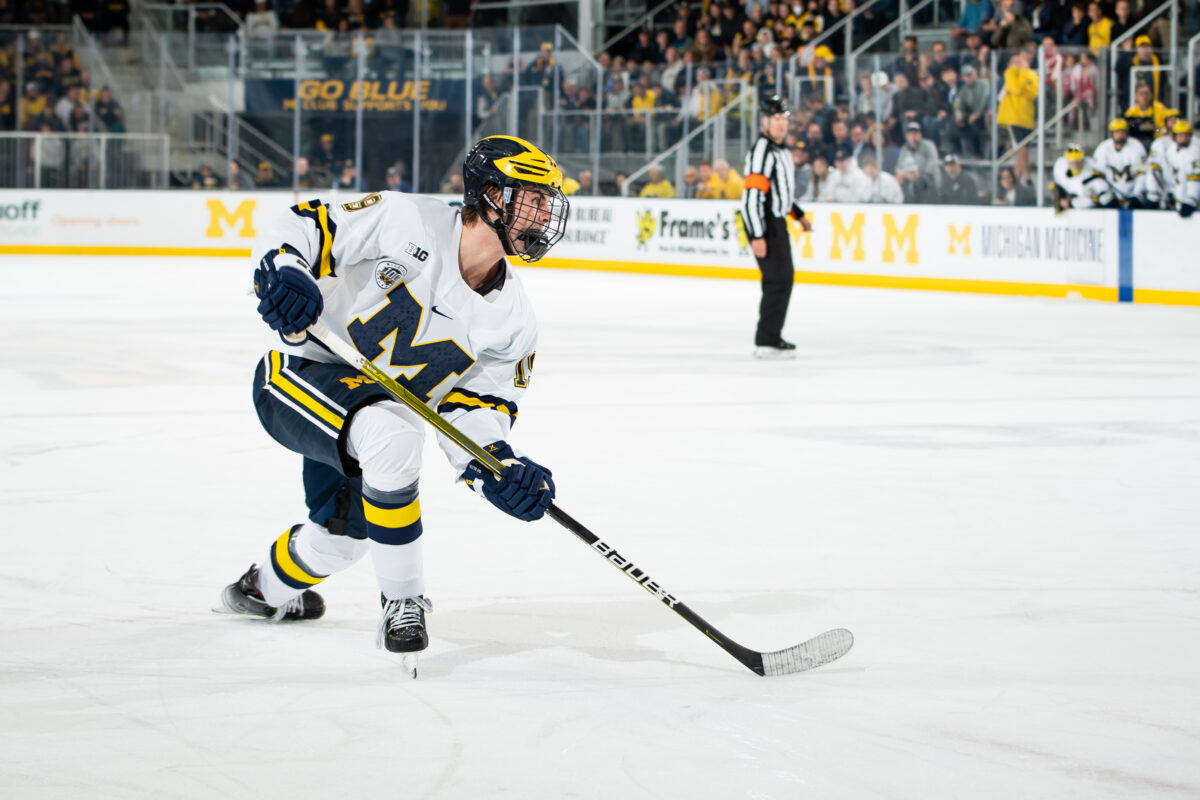 How Canada utilizes Fantilli will be interesting, as he could be one of their top offensive weapons in the tournament. During their warmup game versus Hungary, he played on a line with Jack McBain and Michael Carcone and looked ready to take on whatever challenge the Canadian coaching staff threw at him. A strong tournament will not only enforce the notion that he should be the second overall pick but should excite Anaheim Ducks fans to what the future may hold.
Leo Carlsson – Sweden
Arguably the best prospect to come out of Sweden since Rasmus Dahlin in 2018, Leo Carlsson is ready to show why he deserves to be a top-three pick in this year's draft. The Swedish Junior Hockey Player of the Year was fantastic in the Swedish Hockey League (SHL) this season, posting 25 points in 44 regular season games for Örebro HK before helping lead them to a Semi-Finals appearance before falling to Skellefteå AIK 4-2 in the series. He will be a big part of Sweden's lineup as they look to win their first gold medal since winning back-to-back in 2017 and 2018.
Related: Top 5 NHL-Ready Prospects Available in the 2023 NHL Entry Draft
---
Latest News & Highlights
---
Based on Sweden's lines during pre-tournament play, Carlsson is going to have some talented wingers playing beside him in Fabian Zetterlund and Lucas Raymond. He is also expected to see time on the power play and potentially on the penalty kill as he fills out the role of Sweden's top center for the tournament. While having a strong tournament most likely won't help push him past Fantilli at the draft, it will show the Columbus Blue Jackets, who are picking third, that he is a can't-miss prospect they will regret passing on.
David Reinbacher – Austria
The projected first defender off the board this season, David Reinbacher, is ready to lead Austria's defence core. The 6-foot-2 defenceman has been playing big minutes for EHC Kloten in the Swiss National League (NL) all season and should hit the 20-plus minute mark at least a couple of times during the tournament. A solid shutdown defender, he will also be asked to bring some offence to the table as Austria will need to fight to stay above the relegation line in a stacked group that includes the U.S., Finland, Sweden, and Germany.
From a personal standpoint, a strong tournament for Reinbacher could be the difference between being a top-ten pick and falling into the teens. The Arizona Coyotes, Washington Capitals, and St. Louis Blues are all teams looking to beef up their defensive prospect pools and will have their eyes fixated on him throughout the tournament. It is going to be a tough World Championship, but one where if he performs well, could lead to a team at the draft calling his name earlier than expected.
Oscar Fisker Mølgaard – Denmark
It has been a busy draft year for Oscar Fisker Mølgaard, as he is set to play in his third international tournament this season with Denmark. He recorded five points in five games back in December during the World U20 Division 1A tournament, helped his home country win a silver medal at the World U18 Division 1A tournament, with 12 points in five games, and is now set to show off his talents at the World Championship. On top of the tournaments, he also played 41 games for HV71 in the SHL, 24 regular season and postseason games for their J20 Nationell team, and two playoff games for their J18 Nationell team. On top of all of this, he only just turned 18, as his birthday was on Feb. 18, meaning he played the majority of his season as a 17-year-old. The hard work, though, has paid off as he has seen a massive jump in the NHL's Central Scouting list and is now listed 18th among European Skaters, which is a jump of 32 spots compared to his midterm ranking.
Despite Denmark bringing an experienced group, including Winnipeg Jets forward Nikolaj Ehlers, to the tournament, expect Fisker Mølgaard to get plenty of ice time as he is the type of player coaches can rely upon at both ends of the ice. While his 2022-23 season has already been extremely impressive, a strong showing at the World Championship could boost his stock even higher heading into the draft.
Petter Vesterheim – Norway
The prospect with the most to gain during this year's tournament is Petter Vesterheim. The Norwegian-born forward is ranked 73 among Europen Skaters according to NHL Central Scouting and is ready to show organizations why they should take a chance on him in the later rounds. A player who already helped his country gain promotion into next year's World Juniors, he will be given plenty of opportunities throughout the World Championship on a Norway team that features just two NHL-drafted players.
While Vesterheim has a lot of developing to do before he gets a crack in the NHL, he does possess some intriguing attributes, especially in the offensive zone. He is a good playmaker who produced 27 assists in 41 games for Mora IK in the J20 Nationell league this season and even saw some time in the HockeyAllsvenskan, where he played 12 regular season games plus an additional seven during the postseason. Even if he can't find the back of the net during the tournament, as Norway will be in tough with games against Canada, Slovakia, and Czechia, he needs to find a way to stand out if he wants to see a rise in his draft stock.
World Championship is Always Must-Watch Hockey
Regardless of what country you cheer for, the World Championship always delivers with exhilarating games and shocking upsets. Just look back to last year when for the first time ever, Denmark beat Canada thanks to a 3-2 preliminary round win. Expect the fans in Finland and Latvia to create a fantastic atmosphere as these five prospects will look to add a gold medal to their pre-draft resumes.