For the Minnesota Wild, prospects who surprised and surpassed expectations were a big part of the team's success last season. Players like Erik Haula and Justin Fontaine, who prior to the season many didn't think would play more than a handful of games, wound up being a critical part of the team's success.
Last season Fontaine, with 13 goals, Fontaine finished fourth on the team, 12th among NHL rookies, and third all-time among rookies in franchise history. He also became the first Minnesota Wild rookie to record a hat track.
Haula played a solid two-way game throughout the year, performing well on the third and fourth lines and becoming an important part of the Wild's penalty kill. Haula also stepped up toward the end of the season when Mikael Granlund got hurt and performed well as the team's second line center.
He kept that going into the playoffs, scoring four goals and three assists through 13 games and was arguably the best forward on the team in the Chicago series. He had a 56.9% Corsi for during the playoffs, +1.7% relative. That was done with a low PDO of 96.7%, rough zone starts at 36% (-17.2% relative), and seeing ice time in 46.5% of the Wild's short-handed situations.
At the outset of last year the prospects expected make the team included Mikael Granlund, Jason Zucker, and Nino Niederreiter. It was a year for forwards. This season the expected prospects to make the roster are largely defenseman with Mathew Dumba and Christian Folin expected to get good minutes and Gustav Olofsson waiting in the wings if injury should strike.
The Wild had the best season they've had in a long time and it was in no small part because of some prospects who surprised and proved they're ready for full time NHL action. The team will be looking for more of the same from their young players again this season.
While there are good list of the team's best prospects at NHL.com and here at The Hockey Writers, here are five Minnesota Wild prospects who aren't projected for the opening night lineup and may be able to surprise this season in the same way Haula and Fontaine did for the Wild last season.
5. Kurtis Gabriel – right wing
Gabriel was brought into the Wild's system as a third round draft pick in the 2013 draft. He joined the Iowa Wild last season after posting a very strong season in the OHL with the Owen Sound Attack where he scored 16 goals and 35 assists over 60 games. At the close of the OHL season he went to Iowa, where he posted two goals and two assists in eight games. A solid start for the 21-year-old forward.
By all accounts Gabriel is a hard working player who wants to make his NHL debut this season. He even managed to impress Wild beat writer Michael Russo by already being in Minnesota and training in mid-August.
Couple notes: Was impressive young #mnwild players Christian Folin and Kurtis Gabriel are already in Minnesota skating (1/2)

— Michael Russo (@RussoHockey) August 19, 2014
Gabriel, who scored during the team's second development camp scrimmage this summer, is a big player at 6-foot-4, 214 pounds. Like I'll discuss with Tyler Graovac and Brett Bulmer, Gabriel would appear to have the size and offensive upside to make an impact in the bottom six if he gets the call up or makes the team out of camp. For many young players, making an impact in the bottom six is the path to a permanent spot on the squad. We saw that on this team last year with Fontaine, Haula, and Niederreiter.
4. Tyler Graovac – center
Graovac made his AHL debut last season, posting 13 goals and 12 assists in 64 games. Not too bad for a player who was 20 at the start of last season, especially considering that he performed increasingly well as the season wore on. In his final OHL season (his 19-year-old season) he posted 30 goals and 33 assists through 60 games split between the Ottawa 67's and the Belleville Bulls. His ceiling is high, though he probably won't reach it at this young age.
The Wild's assistant general manager Brett Flahr said of Graovac's play, "The American league was an adjustment for him but by the second half of the year he was arguably our best player in Iowa."
He's young, but this may be the season where he gets to make his NHL debut. Does that mean he makes his debut and sticks in St. Paul? It's hard to make your NHL debut and never head back to the AHL, but Graovac has the ability to surprise and step up. With his offensive ability and size (6-foot-5, 200 pounds at 21-years old) he may have the ability to make an immediate impact on the third or fourth line, which could earn him an extended stay. He's probably not the first call-up the team makes if he doesn't make the team out of camp, but he, like the next player on the list (and Haula last season), appears to have the right skill set to make the most of an opportunity.
The only knock on his play is that he has to get better on the defensive side of the puck in order to make the most of this kind of opportunity. If he's worked on that side of his game this offseason, it could be his time.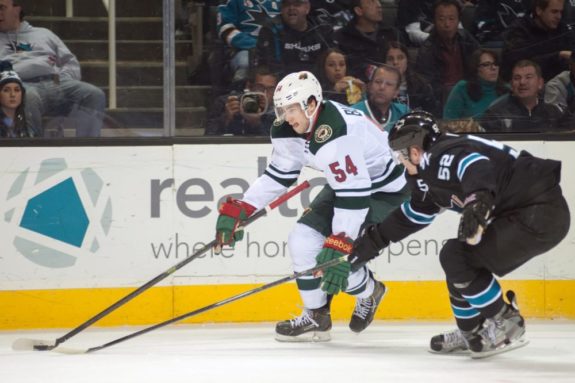 3. Brett Bulmer – wing
Wild faithful will know this name. Brett Bulmer,/a> has been in the Minnesota system since the 2010-11 season and played nine games in the 2011-12 season and five more in the 2013-14 season.
Bulmer ranks among the Wild's top prospects, but after the huge influx of prospects on forward last season, the line up is crowded. The top six is pretty much locked in place with Mikko Koivu, Zach Parise, Charlie Coyle, Thomas Vanek, Jason Pominville, and Mikael Granlund the likely sextet there. The bottom six has little room for maneuvering too with Haula, Kyle Brodziak, Matt Cooke, and Nino Niederreiter nearly a guarantee to get spots there and Jason Zucker and Justin Fontaine the favorites to round out those lines. Even if there's room to move, Bulmer is competing with new signee Jordan Schroeder (who we discussed here), Cody Almond, Stephane Veilleux, and Brett Sutter. Not to mention other prospects on this list and in Iowa.
His experience is in his favor, but why Bulmer may really get a shot and surprise is that many of the prospects who should get a chance this season are best suited to a top six role and may need a little work on the defensive end of their game. Bulmer is a physical player who should thrive in a third or fourth line role. At 6-foot-4, 212 pounds he has solid speed, hands, and offensive upside. With the Wild losing many of their biggest players, Bulmer may be the perfect role player to slot in, especially if the team avoids injecting tough guys like Joel Rechlicz or Paul Bissonnette (who they are rumored to be interested in) into the lineup.
2. Guillaume Gélinas – defense
Gélinas was signed this summer as an undrafted free agent who won the Emile Bouchard Trophy as defenseman of the year in the Quebec Major Junior Hockey League. Playing for Val-d'Or Foreurs last season he put up 23 goals and 69 assists for 92 points in 67 games, adding 34 points and a plus-11 rating in 24 playoff games.
Gélinas' size has been cited as a concern by many. He's only 5-foot-9, 181 pounds, according to Elite Prospects. But Wild fans know that a player of that size — ahem, Jared Spurgeon — can be an impact player.
The Wild have a lot of talented, exciting young defenseman in the system that Gélinas will be competing with, including Christian Folin, Mathew Dumba, and Gustav Olofsson. But Gélinas has big offensive upside, which the Wild are looking for in a defenseman. They're also looking for size, after the loss of Clayton Stoner and Nate Prosser on the blueline, which Gélinas can't provide. Nonetheless, if he gets a shot and starts putting the puck in the net, it'd hard to argue with results.
Gélinas showed his offensive skill to the Wild brass once already, scoring in both development camp scrimmages and putting home his attempt during the all-player shootout following the second scrimmage.
1. Michael Keränen – wing, center
At 24, Keränen isn't a young prospect and he's not big at 6-foot-1, 176 pounds, nor was he even in the NHL last season. So why does he have the ability to surprise?
He's spent the last four seasons playing in the Finnish Elite League, where he's posted solid numbers, scoring 41 goals and 60 assists over the course of 195 career games. Last season he was a standout though. He was awarded the Golden Helmet Award, given by the players of the league to the best player, the Lasse Oksanen Award given to the best player during the regular season, and was voted to the All-Star team. He earned those awards scoring 17 goals and 35 assists in 52 games.
Keränen entered the 2010 NHL Entry Draft, but went undrafted and entered the Finnish Elite League full-time after that. The Wild signed him during the offseason to a one-year contract to see if he can build on his success and growth last year. He'll need to get bigger, but as players like Nathan Gerbe or Jared Spurgeon have proven, that's a problem that can be overcome with skill. Keränen's one-year deal is a sign that he'll probably get to see a little NHL time to give him something of a tryout. There's no guarantees, but it would seem that his upside is big. Working against him is that his build and skill set seem well-placed in a top six role. If he's given a shot, the openings are in the bottom six where a forward of his size may not thrive.