It's that time of the year.
Yes, the holiday season, but in some minds more importantly, the return of the World Junior Hockey Championship, one of the most popular, if not most stressful times of the hockey season for participating countries and their fans.
With pre-competition play under way, these few games for each Country will provide coaching brass with the opportunity to further evaluate the play of their roster, and make potential cuts or roster moves as they see fit.
Preliminary play is scheduled to begin on December 26th, with the Canadians in particular set to face off against their arch rival, the United States, in their opening contest.
However, before we reach this annual spectacle, it is worth taking a closer look at the Canadian roster, particularly at those who are poised to be of greatest impact and responsibility as the tournament progresses. With former WJC standouts such Max Domi, Anthony Duclair, Connor McDavid, Nic Petan, Darnell Nurse and Sam Reinhart having moved on to professional hockey careers, there will be a greater emphasis placed on Canada's few returning players, as well as some new, to step up and once again lead Canada to the Gold Medal game.
Brayden Point
A Gold Medalist at the 2015 WJC with Canada, Point played exceptionally well, recording two goals and four points over seven games played. Playing predominantly with Petan and Jake Virtanen, Point was a consistent force, who alongside his linemates were one Canada's most dangerous forward lines.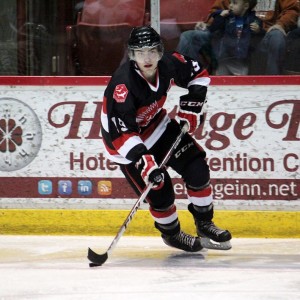 This tournament, Point will once again be depended upon to be an offensive catalyst, and will likely play on Canada's second forward line.
A third round draft pick of the Tampa Bay Lightning, 79th overall in 2014, Points has produced at greater than a 2.00 points per game pace in the Western Hockey League with the Moose Jaw Warriors, indicating his tremendous skill.
However, Point has been dealing with a shoulder injury which he suffered in a league game on November 17th, and had not played a game to date when Canada opened camp. After wearing a non-contact jersey throughout training camp, Point was since been cleared for play, yet Canada's coaching staff must hope he does not re-aggravate the injury throughout the tournament.
Joe Hicketts
Undrafted Joe Hicketts burst onto the WJC scene in 2015, making the team despite his longshot odds, and in doing so, became one of Canada's most dependable defenders. A year earlier, he accomplished a similar feat, earning a three-year entry-level contract after attending a Detroit Red Wings' development camp in 2014.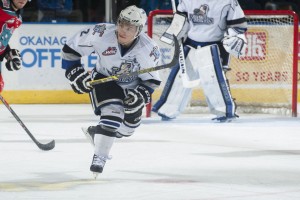 In the 2015 WJC, Hicketts, on top of his strong, physical defensive game, became one of Canada's strongest puck movers, and as a result added three assists over his seven games players.
Hicketts has produced at greater than a point per game pace over his last season and a half of WHL play, yet must not worry about offensive production in the 2016 tournament, where he will primarily be expected to defend, and then make crisp outlet passes to his forwards.
Although defenseman aren't typically among a WJC teams most valuable players, Hicketts' complete game will add a level of stability to a relatively young Canadian team in 2016.
Mitch Marner
The success and incredible skill of Mitch Marner has been well documented, especially so considering he is a prospect of the Toronto Maple Leafs. As a result, expectations of Marner in the 2016 WJC are sky-high, as he is expected to be one of Canada's premier offensive producers.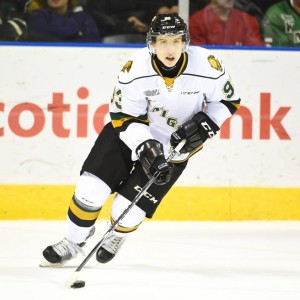 Approaching his first WJC, Marner appears set to play wing on Canada's top line, most likely alongside Dylan Strome and Lawson Crouse. This line is the ultimate combination of size, speed and skill, which should become one of Canada's most reliable and productive throughout the tournament.
Drafted by the Maple Leafs fourth overall in 2015, Marner recorded an incredible 126 points in 63 games with the London Knights in 2014-15, and is once again producing at greater than a 2.00 points per game pace this season.
Ultimately, great things are expected from Marner this WJC, however, given his incredible abilities and proven production to date, it appears as though anything but will quickly be classified as failure.
Dylan Strome
Like Marner, Dylan Strome will also be expected to produce considerable offense for his team throughout the tournament. The reigning points leader in the OHL after recording 129 points in 68 games, Strome has a solid shot, yet is better known for his quality passing and vision on the ice.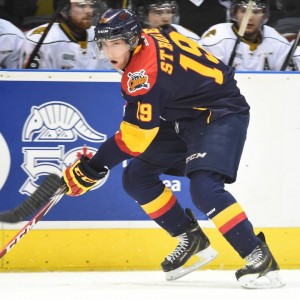 The qualities which made Strome the third overall pick by the Arizona Coyotes in the 2015 NHL Draft are the same as those which should lead him to success in the 2016 WJC. Alongside Marner and Crouse, as previously mentioned, Strome will have both size and skill to work with, qualities which should lead to a large number of high percentage scoring opportunities.
This season in the OHL, Strome has illustrated his consistency, producing at, like both Marner and Point, greater than a 2.00 points per game pace. Although it will be his first time representing Canada at the WJC, Strome appears poised to lead his team to considerable success.
And, in case you were still wondering, yes – he can produce without McDavid.
Mackenzie Blackwood
Mackenize Blackwood truly is Canada's wildcard heading into the 2016 WJC.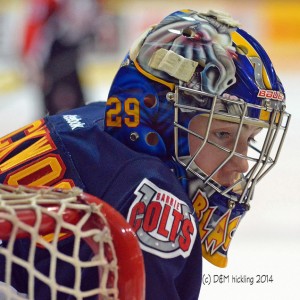 Viewed largely as Canada's presumptive starting goaltender, Blackwood was recently suspended eight games for a slashing incident which occurred during an OHL game. As a result, once a lock for the crease, Blackwood will now miss Canada's two opening games of the tournament against the United States and Denmark.
This unfortunate incident could work against Blackwood, as the door is know wide open for either Mason McDonald or Samuel Montembeault to permanently seize the crease.
However, if Blackwood is able to return and grasp the starting role, he could lead Canada to a Gold Medal, as he is undoubtedly their most skilled goaltender. A second round pick by the New Jersey Devils, 42nd overall in 2015, Blackwood currently holds a sub 2.40 GAA and .930% SVP with the Barrie Colts of the OHL.
---
Who Will Be Canada's 2016 WJC Standout? Comment Below!