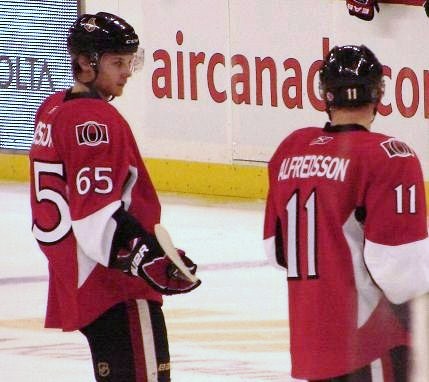 With NHL training camps opening in less than a month, the thoughts of puck heads turn to all matters icebound. The local magazine racks are rifled in search of the new hockey annuals, calls are made to ascertain who will host the fantasy draft, and for those who actually dare to hit the ice in their local beer league, it's time to dust off (fumigate) the equipment and book ice time.
For those of us of the ink-stained variety, charged with conveying the unfathomable secrets of "the best game you can name", it is time to make sure the satellite package includes as many games as is possible, come up with a good way to explain to the wife that she will watch more hockey than Gary Bettman in the coming months, and begin thinking of new ways to entertain readers to the point where they don't give up on you after the first column. Yup – begging it is!
But, prior to grovelling, I figured I'd charge boldly forth, a scribbling Don Quixote pen first towards the Platonic idea of the perfect screed!
So, without further adieu, I present Five Predictions for the Coming Senators Season.
Prediction number ONE: Bryan Murray wont fire Paul Maclean.
In the wake of a trip to the Stanley Cup Final in 2007, John Muckler, quite reasonably, was fired as general manager of the Senators. Replacing him was the man he hired as coach in 2005, Bryan Murray. Murray has since then gone through John Paddock (fired after 64 games), himself (18 regular season games and a first round playoff sweep at the hands of the Penguins), Craig Hartsburg (48 games), Cory Clouston (198 games plus a loss in 6 games to the Penguins in 2010), and now Paul Maclean.
At some point, no matter how much of a booster Murray has in team owner Eugene Melnyk, if things don't start moving in the right direction, there will come a realization that the problem can't simply be the coach.
Prediction the SECOND: Daniel Alfredsson will have a rebound season…
After a season disrupted by injuries, the Captain, if able to remain healthy, will be back up to the point per game neighbourhood. Captain Consistent has shown over his career that he is able to produce, and so far he hasn't lost any of the talent that made him the teams most important player. And where he goes when healthy…
Prediction 3: …And so will Jason Spezza.
Last season saw Spezza have an awful first half, before picking things up later in the second half. A consummate playmaker, having Alfredsson to convert his passes will improve things markedly. Depending on who slots in on the other wing (hello, Nikita Filatov), his season could go from a good one (80pts or so) to a great one (90+ pts).
Prediction quatre (the City of Ottawa being bilingual): Erik Karlsson will have a better season, but won't finish second in team scoring.
His 45 points last year saw the blueliner second only to Jason Spezza in scoring. This year, I expect he'll hit the 50 point mark – and finish third or fourth in scoring, behind Spezza, Alfredsson, and if the Sens are lucky, someone else. Not likely fourth, but it is possible.
And finally, the Fifth Prediction: The Sens will miss the playoffs.
I just don't see who the Sens can catch. But consider these names: Robin Lehner. Mika Zibanejad, Jared Cowen, David Rundblad, Nikita Filatov. Young players all, they have the potential to ensure this is a rare occurrence in the next few years.
So there they are. And if I am wrong? Never happens…