The Washington Capitals had an excellent 2014-15 season, bowing out of the Stanley Cup playoffs in the second round against the New York Rangers after an overtime loss in Game 7. However, it was a flattering postseason run given that the Capitals were lacking at right wing.
The right-wing situation changed during the offseason with the acquisition of T.J. Oshie (in a trade deal with the St. Louis Blues) and Justin Williams (a pick-up via free agency). The Caps' GM Brian MacLellan obtained two excellent forwards – and without breaking the bank.
Goaltender Braden Holtby had a career-best season and was rewarded with a five-year $30.5 million deal. So, are all the pieces now in place for a run to the Stanley Cup Final? It's possible.
Here are a few predictions for the Capitals' 2015-16 season.
T.J. Oshie will hit the 30-Goal Mark
An Alex Ovechkin-Nicklas Backstrom-Oshie top line will have opposing goalies wishing they'd never kitted-up and hit the ice. Oshie scored 19 goals last season with the Blues, but he'd have added another 10 with arguably the best assist provider in the NHL (Backstrom) alongside him. Oshie is more than capable of topping 30 goals next season as long as Backstrom recovers fully from his offseason hip surgery. Oshie will appear on a power play unit that could lead the NHL each month of the season.
Andre Burakovsky and Evgeny Kuznetsov Will Combine for 30 Goals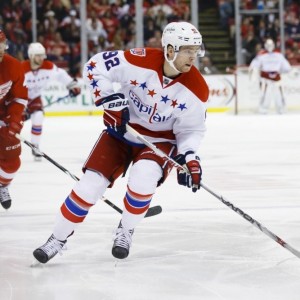 The two talented youngsters Andre Burakovsky and Evgeny Kuznetsov blossomed last term. Burakovsky scored nine goals, had 13 assists and 22 points, while Kuznetsov tallied 11 goals, 26 assists for 37 points. Both were quite exceptional in the postseason, scoring seven vital goals between them. The Capitals will be an offensive powerhouse next season, and both young forwards will each vie for second-line duties. Kuznetsov will likely start the season in the top six, but Burakovsky will want to replace him. It's that hunger for goals that will equate to a combined total of at least 30 goals for the young stars.
Braden Holtby will be Even Better
Holtby is finally the goalie to replace legendary goalie Olie Kolzig – it's just that Kolzig left the team in 2008. Yes, it only took seven years to get a man between the pipes with the all-around skillset to propel the Capitals into a long playoff run. The Caps have rotated a few goalies in and out of the organization since Kolzig moved on including Semyon Valarmov, Jose Theodore, Tomas Vokoun, Michal Neuvirth and others, but they all turned into also-rans this past season when Holtby finished up in the top 10 with a 2.22 GAA, .923 save percentage and nine shutouts. He'll go even higher in 2015-16 – a top-three position is on the cards.
Stanislav Galiev will Break into the Capitals' First Team
Stanislav Galiev just completed his third year as a pro with the Caps' affiliate Hershey Bears. He had his best AHL season to date with 25 goals, 20 assists and 45 points over 67 games. Caps' coach Barry Trotz will have taken note, and Galiev will likely impress at training camp. However, to break into the NHL ranks (and he has the game to rise to a top-six forward position) Galiev must perfect his two-way play. Trotz is always looking for an offense producer who is also willing to step up to the plate for defensive duties. This is Galiev's year to break through and hold a first-team spot. He'll do just that, and he'll be there to stay. It's probably best that he stay away from eating still-beating cobra hearts though.
Alex Ovechkin will Top 60 Goals – Again
If you thought Ovechkin was heading over the hill – think again. He's not even started yet. The 29-year-old superstar will hit his prime next season. I'm not basing that statement on some kind of fan-induced love for the man, it's based on his form last term and the men (Backstrom and Oshie) who will line up with him. The power play goals will pile up and put Ovi over the 60 goal mark for the first time since the 2007-08 season when he scored 65.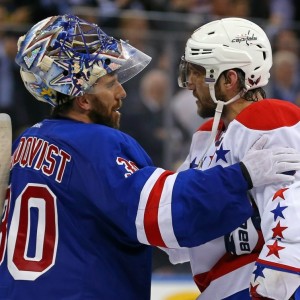 No disrespect to Joel Ward and Troy Brouwer, but neither of those players had the same amount of drive as Oshie and Williams. Oshie wants to prove he's something more than 'Olympic Shootout Guy' and Williams wants to show the hockey world he's no has-been. Oshie will improve Ovi's top line, and Williams will improve the second line. Ovi can outdo seasons past and tally 60. Easily.
If the predictions above come to fruition, or even maybe four out of the five, the Capitals can go much deeper in the postseason and possibly all the way to a Cup win. GM MacLellan's final transactional business will likely occur later today – inking forward Marcus Johansson – but it's unlikely that Johansson's deal will surpass one year. Even so, Mojo on the second line just adds to the already stacked offense.