With the NHL regular season winding down and the San Jose Sharks possibly missing the playoffs for the first time in a decade, it makes one wonder about 2016. If they do miss the playoffs here in 2015, will it be just a one year hiatus? As bad as this season has gone for the Sharks thus far, there is hope that a number of young guys will make much bigger impacts in 2016. In no particular order, the following are five Sharks 23 years of age or younger who should take big strides forward next season.
(C, LW) Tomas Hertl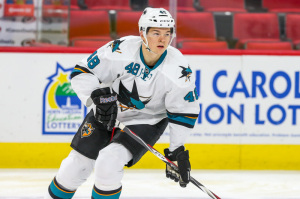 Everyone knows the name Tomas Hertl after last season's impressive rookie year that included the famous four goal game against the New York Rangers. Unfortunately Hertl's freshman campaign was cut short by a devastating injury and he hasn't been nearly the same player this season. Knee injuries take quite a long time to fully recover both physically and mentally. The latter might even be the biggest hurdle for Hertl. (just now realized hurdle/Hertl sound the exact same). This season the 21-year-old doesn't have the same explosive stride as a year ago and that has limited his ability to create time and space. A year ago Hertl scored 25 points in 37 games a rookie but this year he has only managed another 25 points despite playing in 30 more games. This past offseason Hertl suffered a setback in recovering from the injury and assuming this offseason rest and rehab goes much better with the knee, I fully expect a bounce back next season. It wouldn't surprise me to see Hertl score 20 goals and reach the 50 point mark next season.
(D) Mirco Mueller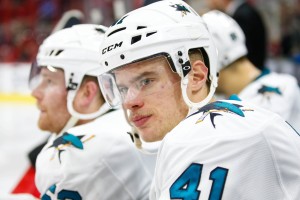 The 19-year-old Swiss born defenseman has arguably been mishandled by the Sharks this season. San Jose's first round pick (18th overall) in the 2013 NHL entry draft has frequently been a healthy scratch this season and that hasn't helped his development. His size and skating ability project for him to be a terrific top notch shut down guy in the near future but irregular playing time hasn't helped him improve. He has a number of areas where he needs to get better, namely making quicker decisions with the puck on the breakout. That will only come with regular playing time as he gets used to the NHL speed. Next season he should be a regular fixture in the Sharks lineup and will likely be used in a second pair role.
(RW) Nikolay Goldobin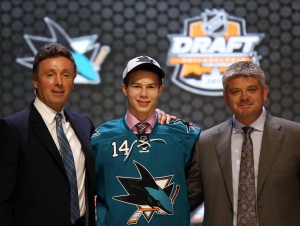 From the moment he was drafted 27th overall in the 2014 NHL entry draft, 19-year-old Nikolay Goldobin was considered a steal for the Sharks. The incredibly gifted Russian winger was a super star in the OHL for the Sarnia Sting, and lot of scouting projections raved about his offensive ability. During this past preseason Goldobin shined for the Sharks and remained with the big club longer than most expected in his first training camp. He was one of the final cuts and has played his first pro season in Finland with HIFK Helsinki. In 37 games across the pond Goldobin has a respectable nine goals and 19 points. With some extra time in the gym this offseason, Goldobin will be a very safe bet to make the 2015-16 opening night Sharks lineup. Obviously not having yet made his debut means any impact will be bigger than this season, but don't be surprised if he has a Calder trophy type rookie season. He is an offensive wizard and the Sharks will likely try to take advantage of that by playing him with a guy like Joe Thornton. That is where Hertl did most of his scoring as a rookie, and Goldobin might just be the next winger to thrive on the wing of the future hall of famer.
(LW, RW) Matt Nieto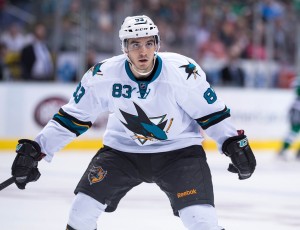 Second year winger Matt Nieto has had some of the worst puck luck imaginable this season. Despite literally leading the league in Corsi-for percentage for a number of weeks to start the year, Nieto had little production to show for it. In recent weeks the 22-year-old has finally started to appear more regularly on the score-sheet. He now has seven goals and 21 points on the year. With any luck at all the first few months of the season, he would easily be over the 35 point mark. Given Nieto is still adjusting to the NHL level, next year he should really put it all together and with even average luck should be good for 12-15 goals and 25-35 assists for 37-50 points.
(C) Chris Tierney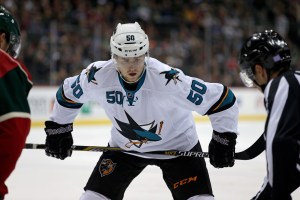 As mentioned here recently, the 20-year-old Tierney has been heating up for the Sharks. Playing a good chunk of the year in the AHL, Tierney has played in just 28 NHL games this year. However, seven of his nine points have come in the past 13 games. Over half a point per game average is terrific for a third liner, and some of those games have come with him on a fourth line with enforcer John Scott. With better wingers around him, Tierney would likely be even hotter points wise. Considering the way Tierney has played recently, he now looks like a sure bet to be a regular next season. Depending on his usage, the point totals are harder to predict because he may only be given fourth line minutes, but I fully expect to see Tierney play all 82 games next season if healthy. If given third line center minutes, 30 points wouldn't be out of the question.
Andrew has been credentialed to cover the Sharks since 2010 and the 49ers since 2012. He graduated with his BA in Broadcast Electronic Communication Arts in 2013 from San Francisco State University.