The Calgary Flames entered this past summer with a bit of a problem.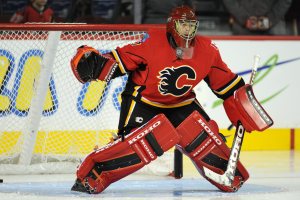 Their first rebuilding season had gone reasonably well, given their injury troubles and their general lack of roster depth. They had gone on a pretty strong run beginning in late January, but by that point the season was well off-the-rails and they had zero hope of a playoff berth.
Faced with some holes in his roster and with most projecting his team's young core would require a couple years to coalesce into something that could make some noise, new Flames general manager Brad Treliving went shopping over the summer months.
His off-season additions included goaltender Jonas Hiller, defensemen Deryk Engelland and Raphael Diaz, and forwards Brandon Bollig, Mason Raymond and Devin Setoguchi. Along with a handful of rookies, the six players were the primary changes from the 2013-14 edition of the team.
Their common trait? Playoff experience.
Hiller has 26 post-season games under his belt.
Diaz has 9 post-season games, including a trip to the 2014 Stanley Cup Final.
Engelland has 13 post-season games, in addition to a Calder Cup win with the Penguins farm team in 2008.
Raymond has 55 post-season games, including a trip to the 2011 Stanley Cup Final.
Bollig has 24 post-season games and a Stanley Cup ring from 2013.
Setoguchi, since assigned to the AHL, has 53 post-season games under his belt.
Adding players with playoff experience in depth roles has paid dividends for the Flames as they continue their unlikely playoff chase. The existing veteran leadership has added some on-ice back-up, as the team has more playoff experience to spread around its lines.
The team's renowned this season for its late-game comebacks, even moreso than last season when they were the NHL's kings of one-goal games (though they often lost them). The transition from being in games to winning them has, to some degree, been facilitated by the fact that the team's added players who have experience in clutch moments.
When the going gets tough, the team's bench is full of players who have been in key moments and know what to do.