The Stanley Cup playoffs opened last night in Detroit and Montreal and went pretty much as scripted, with the favoured Canadiens and Red Wings posting victories.  Both games were close, decided by one goal as Montreal edged Toronto 3-2 while Detroit got by Chicago 4-3.
Ullman's late goal does it
Norm Ullman's goal with less that five minutes left in regulation time snapped a 3-3 tie and gave the Detroit Red Wings a come-from-behind 4-3 win over the Chicago Black Hawks in the first game of their best-of-seven Stanley Cup semi-final series,  Ullman's goal came just two minutes after Alex Delvecchio had tied the game.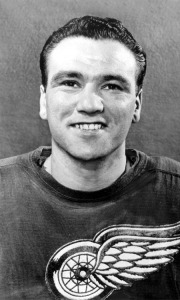 Detroit grabbed the early lead at 12:52 of the first period thanks to a tally by Floyd Smith, off passes from Ron Murphy and Ullman.  Bobby Hull came back about four minutes later to even the count at 1-1.
Early in the second period Phil Esposito, who had set up Hull's goal, connected for one of his own to put the Black Hawks up by one.  Hull had an assist on his centreman's marker.  Delvecchio's first of the night just before the 12-minute mark of the middle frame tied it back up at two.
Nesterenko penalty a turning point
Just over a minute into the third period, Chicago's Chico Maki cashed a Bobby Hull pass to put Chicago ahead once again.  That lead lasted until Delvecchio's second of the night tied it up on a power play with the Hawks' Eric Nesterenko in the penalty box.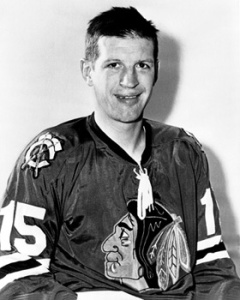 Chicago general manager Tommy Ivan was very upset with the call on Nesterenko.
"It wasn't a good call.  Sure they scored the winner afterward, but they had to get the tying goal before they got the winner, didn't they?"
The play that resulted in the penalty saw Gordie Howe skating into the Chicago zone to retrieve a pass from Bill Gadsby.  Howe and Nesterenko collided, although not particularly severely (neither player went down).  Referee John Ashley decided to send the lanky Chicago right-winger off for interference.
Chicago coach Billy Reay was disappointed to see his team come out on the short end of the score despite a solid effort.
"I thought we played well enough to win, but I guess it wasn't enough."
Hull Hawks' best
Bobby Hull was Chicago's best player with a hand in all three goals.  He appeared to get stronger as the game wore on after being listed as a doubtful started due to a knee injury.
Hull and Ullman had a couple of run-ins, with one of them leading to the winning goal.  Just after the two of them had gone off for roughing (with Hull suffering a facial cut), they came out of the penalty box and renewed hostilities.  Hull knocked Ullman down in the Chicago zone. As the Chicago left winger skated away, Ullman skated to the Chicago goal and was fed a perfect pass by the Wings' Parker MacDonald.  Ullman took the pass and whirled around, firing a quick backhand shot up and over Chicago goalie Glenn Hall.
Hull maintained that Ullman should have been given a major penalty for their fracas. Ashley had put both off for roughing, and rejected Hull's argument that Ullman's stick had cut him. Had Ullman been given the major, he wouldn't have been on the ice for the winner.
"He should have had the major but Ashley didn't agree with me.  He might have given it to him if he had called it highsticking."
Ullman agreed that he and Hull had an exchange of high sticks.
"Hull hit me with the high stick once, and then he hit me again.  So I hit him back."
Rookie goalie Roger Crozier admitted to being "a little jittery" in his first Stanley Cup appearance.  He was extremely glad to get that first win under his belt.
Habs win a rough one
At Montreal, the puck seemed to be a secondary consideration for much of the game as the Canadiens edged Toronto in a rough contest in which Toronto seemed to be focused on brutalizing Montreal at every possible opportunity.  Unfortunately for the Leafs, as Montreal coach Toe Blake had predicted, they were unable to run the swifter, smaller Habs out of the rink.
Referee Vern Buffey was kept busy all night, calling 75 minutes in penalties.  These included a match penalty to Kent Douglas and a major to Frank Mahovlich for various stick assaults on Montreal players.
Douglas' match penalty was the result of a first-period stick-swinging duel with Montreal's Dave Balon.  Douglas  sent Balon to the ice with a baseball-like swing that connected with Balon's skull.  Balon had started the duel when he swung his cue at Douglas.  Balon missed the Leaf defenceman but did graze linesman Matt Pavlich.  Surprisingly, he received only a minor for that transgression.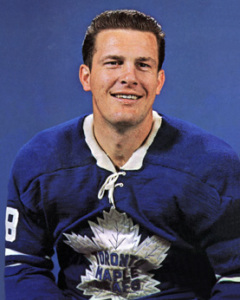 Another brawl, in the second period, resulted in an even more egregious officiating foul-up.  After the game, referee Buffey and NHL president Clarence Campbell admitted that a timekeeping error deprived Toronto of a two-minute man advantage, instead leaving them short-handed for three minutes.
Toronto coach Punch Imlach was livid during the game as his players tried to point out Buffey's error, and had not cooled down after the contest.
"Buffey made a farce of the game from the start.  And what I have to say could cost me $1,000 but I have to say it.
"In the second period he has a delayed penalty on Canadiens (Ralph Backstrom).  A free-for-all breaks out and Jim Roberts comes off the bench and joins in.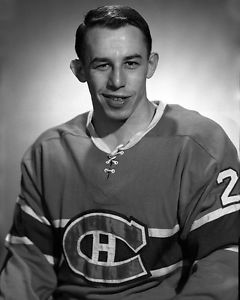 "We draw two majors, one to Pete Stemkowski, the guy Roberts tackled.  They get only one major and Roberts gets off with a 10-minute misconduct.  That means that when the delayed penalty comes into effect, we're a man short instead of Canadiens.  So I figure I lost at least four minutes.
"Buffey could have got off the hook by handing both sides two majors.  But he has to get fancy and I'm right in the middle of it.
"What about that major to Tim Horton in the first period?  He accidentally clips Roberts, draws blood and is given five minutes.  And Roberts doesn't miss a turn on the ice.  That's the worst refereed game I ever saw and I've had Frank Udvari a few times."
Imlach went on to describe an incident when Douglas left the ice after being banished by Buffey. As he exited the ice surface, he was allegedly punched my Montreal great Rocket Richard.
"And Douglas got a match penalty for retaliating while Dave Balon, the guy who started the stick-swinging, got off with a minor,  Then when Douglas was leaving the rink, Maurice Richard reached out of his box and punched him on the head."
Buffey said that during all the commotion and multitude of penalties, which included the mistaken assessment to  Roberts who had left the Montreal bench to join the fray, things became confused.
Montreal coach Toe Blake wasn't happy with Imlach and escalated what will surely be a war of words as the series progresses.
"If Imlach feels that way about hockey, why doesn't he come right out on the ice and throw punches.  I'd take a punch at him right now if he was here.
"If the Leafs want to play it that rough, I've got some pretty rough boys I haven't even let go yet.  The way the Leafs were playing, no one could play decent hockey."
As for the hockey itself, Bobby Rousseau was the hero for the Habs, scoring the game-winning goal with seven and a half minutes left in regulation time.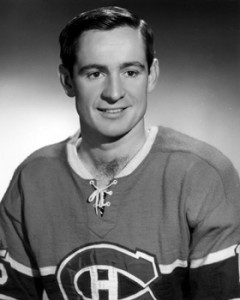 Canadiens had jumped out to a 2-0 first-period lead on goals by Henri Richard and Ralph Backstrom.  After a scoreless second period, Dickie Moore and Carl Brewer drew Toronto even in the first half of the final frame.
Rousseau's game-winner came on a brilliant pass by captain Jean Beliveau while Toronto defenceman Tim Horton was serving one of only two third period minor penalties.
"Jean gave me a perfect pass", said Rousseau after the game. "I got the shot away before falling into the boards and I believe it hit the inside of the goalie's pads."
Toronto goalie Johnny Bower played a great game in a losing cause, making 35 saves.  Charlie Hodge stopped 22 Toronto drives for Canadiens.
Smythe seeks change in Draft Rule
Toronto Maple Leafs president Stafford Smythe will seek a change in the NHL rules to enable teams to protect three goaltenders in the summer draft instead of just two.
Existing rules now call for each team to protect 18 skaters and two goalkeepers.  Players not protected can be claimed by any other NHL club for $30,000 each.
Smythe is motivated by the fact that his team has three NHL-quality goaltenders – Johnny Bower Terry Sawchuk and Gerry Cheevers, who starred this season at Rochester of the AHL.  However, Smythe  gives a logical explanation for a rule change.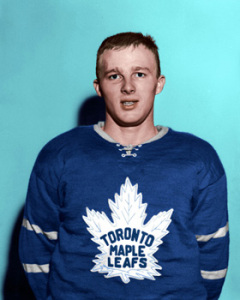 "The league now insists we carry two goalies, so if we can protect only two, it means we can't insure ourselves of a competent spare, or if we do, we risk losing of the NHL regulars.
"Look at the mess Boston got into.  They protected Ed Johnston and Jack Norris, and lost their only other youngster (George Gardner) to Detroit.  That gave us a chance to get Sawchuk, but left Detroit without a capable reserve.
"And when Johnston got hurt, Bruins had to borrow Gary Smith from us to back up Norris."
Retired police detective, involved in hockey at all levels for over 50 years. Member of Society for International Hockey Research and presently a video analyst for the leader in advanced hockey analytics (we work exclusively for 2 NHL clubs, and provide advice on an ad hoc basis to many other clients). Currently the Assistant General Manager for the Pelham Pirates of the Greater Ontario Junior Hockey League. Previously owned the Faceoff computer hockey simulation and also provided all player ratings for the EA Sports series of NHL computer games from the late 90's into the mid 2000's.