It looks like the injury bug is alive and well and circulating around the National Hockey League this week.  Three premier centres and a goaltender have gone down, and the result is that a legendary netminder will make his return to the NHL wars.
Paille sprains ankle
New York Rangers general manager Emile Francis announced last night that goaltender Marcel Paille turned his ankle in Thursday night's game against Detroit. X-rays were taken and although no break was found, the ankle is badly sprained and may prevent Paille from playing against Toronto tonight.  As a precaution, New York has recalled Jacques Plante from Baltimore of the American Hockey League.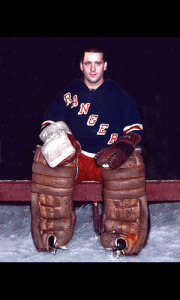 Francis emphasized that Plante is being recalled strictly as a standby.
"We're more than happy with Marcel's play.  If he can go tonight, he will.  We just want to make sure we have the best backup man we can get."
In addition to Plante's recall, the Rangers also announced that forward Dave Richardson has been sent to Baltimore.
Three centres will miss weekend action
The three centres who are nursing various hurts are all prominent men with their teams.  Dave Keon of the Leafs is still bothered by a leg muscle pull he suffered in practice on Tuesday.  Since tonight's game is the only Toronto action until next Wednesday against Detroit, it makes sense to rest the pivot until then.  Red Kelly will replace Davey on a line with George Armstrong and Don McKenney.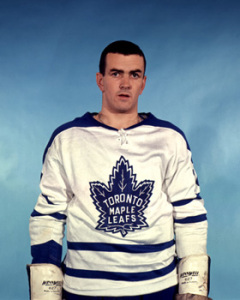 Montreal's Henri Richard made a successful return against the Leafs on Thursday, scoring a power play goal in the first period.  However, he re-injured his groin and left the game in the middle frame.  Richard said yesterday, "It's hopeless.  I just can't skate.  I don't know when I'll be back."
Stan Mikita of the Black Hawks is the third front-line centre dealing with injury woes.  "Stash" sprained his ankle on Sunday and then aggravated an existing shoulder problem Tuesday evening.  Chicago plays twice this weekend and he may not be able to make either game.  The Hawks have not announced any call-up to replace Mikita.
Giacomin's greatness not enough
There were two games in the American Hockey League Friday evening. In Rochester, the Americans scored two second period goals, then hung on for a 2-1 win over the Providence Reds.  In Cleveland, the Hershey Bears scored three goals within 92 seconds of the third period to claim a 6-3 win over the Barons.
While Les Duff and Stan Smrke were the Rochester goal-getters, Providence puckstopper Eddie Giacomin was the star of the game.  Rochester dominated the game, outshooting Providence by a 44-17 margin.  Giacomin was sensational in goal for the Reds, especially in the third period when he made 19 saves.  Jimmy Bartlett, with the only goal of the third period, was the Reds' lone marksman.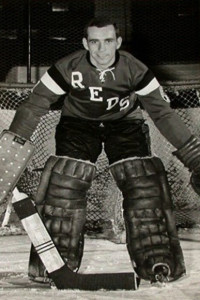 Bruce Draper popped a pair of markers to lead Hershey against Cleveland.  Other Bears goals came from Gene Ubriaco, Don Awrey, Wayne Rivers and Danny Poliziani.  Cleveland scorers were Joe Szura, Doug Senior and Gordon Wilkie.
Junior A Flyers continue to soar
In the OHA Junior A Series last night, Toronto edged Montreal 4-3 while Niagara Falls bombed Kitchener 7-3.
Over 5,000 fans took in the Marlboros win over Montreal.  A pair of goals by Jack Chipchase and Paul Laurent 38 seconds apart in the third period vaulted Toronto from a 3-2 deficit to a 4-3 lead.  Al Osborne and Brit Selby also counted for the Marlies.  Junior Canadiens' tallies were earned by Rene Drolet, Norm Ferguson and Craig Patrick.

Rogatien Vachon was the standout player in the game.  The Montreal netminder kept his team in a game on which they really didn't deserve to be close with numerous clutch saves throughout the night.  Marlboros goalie Gerry Desjardins was struck in the face with a puck early in the contest, but returned to put in a solid performance.
At Niagara Falls, 2,900 fans saw the Flyers completely outclass the last-place Rangers.  Seven players shared in the scoring with Brian Bradley, Ted Snell, Bill Goldsworthy, Jean Pronovost, Gilles Marotte, Bud Debrody and Don Marcotte each netting one.  Peter Brennan, with two, and Tom Miller replied for the Rangers.
"Get rid of the red line."
New York Ranger great Frank Boucher, who introduced the centre red line to hockey, now wants it permanently erased from the game.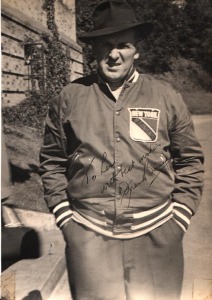 Boucher reasons, "By eliminating the red line and allowing passing to the opponent's blue line we would re-introduce the long breakaway pass."
Boucher insists that the restrictions placed on offence by the red line has led to the deterioration of hockey.
"Scrambly goals have become the substitute for artistic passing and clever shooting.  The absurd slap shot has become to hockey what rock 'n roll is to music."
Boucher also suggests the use of two referees instead of one, because "it is impossible for one man to capably supervise 12 players at one time."
Boucher is currently the commissioner of the Saskatchewan Junior Hockey League.