Bobby Hull and Stan Mikita scored a pair of goals each to lead the Chicago Black Hawks to a 5-3 win over the New York Rangers before a capacity crowd at Madison Square Garden in New York last night. The win moves Chicago into a first-place tie with the Montreal Canadiens.
Four-point Night for Mikita
Mikita put in a dominating performance against the Rangers, adding two assists for a four-point night. He was effective at both ends of the ice and in the faceoff circle. Hull's two goals now give him 14 in only 10 games this season.
Rod Gilbert put the Rangers ahead at 1:21 of the first period, but that definitely was not a sign of things to come. The Black Hawks roared back with three before the first frame was over to take full control of the match.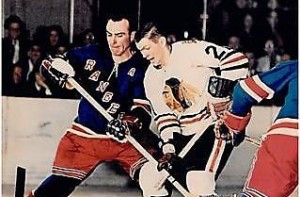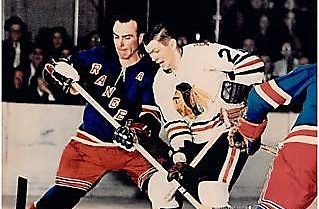 Mikita scored two quick ones and then set up Hull's 13th to make it 3-1 after one. Hull had flicked what appeared to be a harmless wrist shot from well out that seemed to catch Ranger goalie Ed Giacomin unawares. New York defender Jim Neilson had gone off just five seconds earlier for boarding.
Ken Wharram scored the second period's only marker, his seventh of the year, to make it 4-1. Wharram took a pass from Mikita and broke in alone on Giacomin, beating him with a nifty backhand shot.
The Rangers attempted to mount a comeback in the final 20 minutes firing 19 shots at Chicago goalkeeper Glenn Hall. Bob Nevin scored at the 32 second mark to halve the Hawks lead. Hull came right back at 2:19 to restore the three-goal margin, with linemates Chico Maki and Phil Esposito helping out on a nice three-way passing play. Defenseman Rod Seiling closed out the scoring with just over five minutes to play with his third.
Hall had to be strong as the Rangers threw everything but the kitchen sink at him in that final period. During the last five minutes, it was only Hall that kept the Rangers from evening the score.
Demoted NHLers Star in AHL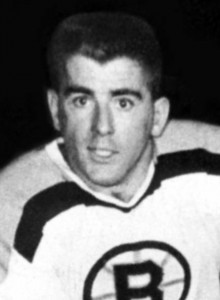 A couple of recently demoted National League players sent the message they are anxious to return to the big league with star performances in the American Hockey League last night.
Wayne Rivers, a six-goal scorer with the Boston Bruins last year, fired a hat trick to lead the Hershey Bears to a 5-3 win over the Springfield Indians. And Pit Martin, who had been counted on to take a regular turn at centre for Detroit this year, potted a pair of goals to power Pittsburgh past Providence 6-1.
At Hershey, Gene Ubriaco and Gary Dornhoefer had the other Bears goals. Brian Smith, Randy Miller and Bill Sweeney replied for Springfield.
Norm Beaudin, Bob Wall Andre Pronovost and Teddy Hampson supported Martin with markers for the Hornets at Pittsburgh. Doug Senior scored for Providence.
Burns Takes Over in 'Frisco
The San Francisco Seals of the Western Hockey League have relieved Norman (Bud) Poile of his duties as head coach and replaced him with former National Hockey League forward Charlie Burns, 29. Poile will remain in his role as the club's general manager. Burns will continue as a player along with his coaching duties.
Burns is a veteran of five National Hockey League season but it's a wonder he even reached the professional level after suffering a fractured skull during a junior practice in 1954. He had a silver plate inserted into his skull which remains to this day. Since the accident, he has been one of the few pro players who wears a helmet full-time.
Burns turned pro after starring with the Senior A Whitby Dunlops in their World Championship win in 1958. He was signed by the Detroit Red Wings as a free agent and scored 20 points while playing all 70 games for the Wings in 1958-59.
Boston claimed Burns in the 1959 Intra-league draft in June and he spent the next four years with the Bruins. His best scoring season was in 1961-62 when he netted 15 goals and added 26 assists in 62 games. He gained a reputation as a smart, hard-working player who was one of the best penalty-killer in the NHL. He was sent by the Bruins to their San Francisco farm team in the WHL for the 1963-64 season and he's been there ever since.
Howie Young on Strike?
The tempestuous career of Howie Young has taken yet another strange turn. The erstwhile National Hockey League bad boy and former penalty leader has been with the Los Angeles Blades of the Western Hockey League this season.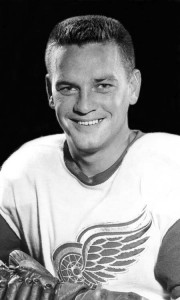 A self-proclaimed recovering alcoholic, Young seemed intent at working his way back to the NHL  by staying out of trouble and improving his defensive game. That came to a screeching halt this weekend.
Young left the team on the weekend, stating he needed a $3,000 raise for the rest of the WHL season. Young says it costs him more to live sober than it did when he was drunk.
Blades' general manager Jack Geyer informed Young that the club would not make any changes to his two-year contract, signed at the beginning of last season.
Young explained his status:
"They didn't offer any compromise and told me I could either report to Victoria (for a game tonight) or consider myself suspended."
Young says that he can't live on his present salary. He said he needs the extra $3,000 for essentials like rent, food and clothing. He also said he finds it impossible to live on the daily food allowance of $6, paid to players during road trips.
"When I go on the road, I live like a monk and I still can't get by."
Young says that he didn't spend as much money when he was drinking. He said that he drank instead of eating properly and that he bummed most of his drinks from acquaintances. He said his present contract is so poor because he was drunk when he signed it, but he refused to blame the Blades for that fact.
"I signed my present contract drunk. I didn't have much choice and they were doing me a favour. I had to have something until I quit drinking. Now I'm doing my part and I feel I'm worth more money. If I keep going along this way, I'll end up getting drunk, and I'm not going to get drunk."
Notes: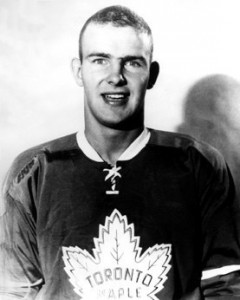 Andre Champagne of Tulsa has moved into a tie with Paul Andrea of Minnesota for the scoring lead of the CPHL. Both have 14 points.
Montreal Canadiens have lodged a complaint with the NHL that Chicago Black Hawks forward Chico Maki kicked Habs' winger Claude Provost during a recent game.
Niagara Falls Flyers remained unbeaten in the OHA Junior A Series with a 5-3 win over London. Don Marcotte scored two for the Flyers.
Yevgeny Mairov, one of the stars of the Soviet national hockey team, has been suspended until the ned of the year for insulting a referee during a recent game.
Scotty Bowman, coach of the Montreal Junior Canadiens of the OHA, is following the NHL rule of dressing both of his goaltenders, Ted Ouimet and Clifford Rose, for each game.
Quebec Aces coach Bernie Geoffrion has been fined $200 by the AHL for fighting with a timekeeper in Baltimore during a game last Friday night.
Retired police detective, involved in hockey at all levels for over 50 years. Member of Society for International Hockey Research and presently a video analyst for the leader in advanced hockey analytics (we work exclusively for 2 NHL clubs, and provide advice on an ad hoc basis to many other clients). Currently the Assistant General Manager for the Pelham Pirates of the Greater Ontario Junior Hockey League. Previously owned the Faceoff computer hockey simulation and also provided all player ratings for the EA Sports series of NHL computer games from the late 90's into the mid 2000's.