Former NHL star Bert Olmstead, now the director of player personnel for the New York Rangers, said yesterday he is open to the possibility of coaching the Rangers should they decide to make a change in that department after the season.  New York hockey writer Stan Fischler reports that the Rangers are strongly considering relieving Red Sullivan of his bench boss duties unless the team stages a strong finish to this season.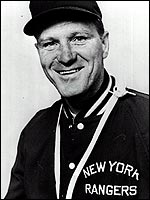 Olmstead told the New York Journal-American, "When you work with an organization, there's always a possibility of becoming coach – you never know."
He was asked if he would accept the position if offered.  His cryptic reply was, "Everybody has his price." Olmstead declined to mention exactly what that price might be.
The statements were made at a writers' luncheon in New York.  He sat at a table with Ranger president Bill Jennings and general manager Emile Francis.  During a question and answer period, Olmstead never did deny he would be interested in replacing Sullivan.
The hard-nosed former left-winger for Chicago, Montreal and Toronto, made a few comments on his time with the Maple Leafs.
Olmstead: I 'coached' the four years I played in Toronto
"I 'coached' the four years I played in Toronto and got a great deal of satisfaction from it."  Olmstead referred to his role as an assistant captain, a mentor to younger players, and often running practices for Toronto manager-coach Punch Imlach.  He registered his disagreement with Imlach's coaching philosophy.
"Punch is a fine general manager but he's not as effective behind the bench.  His biggest trouble is overworking Leafs in practice.  When I was with them he'd give us those heavy practices and I'd tell him 'you're not going to teach me how to skate at this point in my life.'"
Bruins lose Tom Johnson for season
The Boston Bruins yesterday announced that defenceman Tom Johnson will be lost to the team for the rest of the National Hockey League season.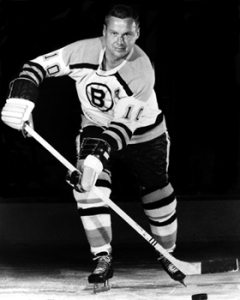 Johnson sustained a severed peroneal muscle in his left leg during the Bruins' game in Chicago Sunday night.  He had collided with Chicago forward Chico Maki near the Boston goal, and his leg was accidentally slashed by Maki's skate.
Chicago team physician, Dr, Myron Tremaine, says that it may be six months before Johnson an even walk properly.  At this stage of the veteran rearguard's career, there is a strong possibility he may be finished as an NHL skater.
Lacroix still leads OHA scoring race
Andre Lacroix, the injured Peterborough Petes scoring ace, still has a five-point lead over Ken Hodge of St. Catharines in the OHA Junior A scoring derby.  Lacroix has been on the sidelines since February 21 when he suffered an eye injury.  Thought to be severely injured at the time, Lacroix has recovered well enough to return to action this week.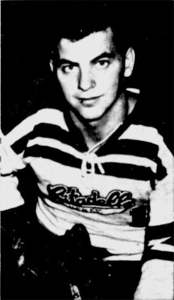 Lacroix has scored 45 goals this season, to go along with 72 assists for a total of 117 points.  Hodge, the burly St. Catharines sniper, leads the circuit with 57 goals.  He has added 55 assists for 112 points.  Hodge has been hot lately and has been making a determined run at catching Lacroix.
The only other 100-point man in the league is Hamilton's captain, Jimmy Peters.  Peters has 101 points, made up of 36 goals and 65 assists.  Close behind are Danny Grant of Peterborough and Sandy Fitzpatrick of Kitchener, each with 99.
Bernie Parent of Niagara Falls is the top netminder with a 2.60 goals-against average.  Gerry Desjardins of the Toronto Marlboros is a distant second with a 3.40 average.