I've flown under the radar for the most part since the Penguins parted ways with former GM Ray Shero.
Quite frankly, I just haven't had much to say regarding the flightless fowl. I wanted to somewhat condense and organize my thoughts on the happenings within the organization. Here they are.
The Penguins hired Jim Rutherford as their new GM, hardly a move that sparks excitement within the Pens' fan base (more on this below).
As of the writing of this column, the Penguins are still without a head coach (and I doubt that fact changes before this gets published).
So for now, here are my thoughts and ramblings on some things floating through my head:
On the Process the Penguins Have Used to Rebuild Their Front Office
The more that I contemplate how the Pens dismissed Shero but retained Dan Bylsma, the more respect I lose for the organization. I stand by my previous words that there was absolutely ZERO good reason to keep Bylsma hanging on as long as they did. This became evident not more than five minutes into new GM Jim Rutherford's introductory press conference when he basically admitted that he never spoke with Bylsma, and the decision was made largely before he officially became the GM.
In other words, ownership and upper management (team president and CEO David Morehouse and COO Travis Williams) had made the decision, and Rutherford was nothing more than the voice that announced it. All of this coming after Morehouse said during the presser in which Shero was let go, that the new GM would be the man to make the final decision on Bylsma's future. Not really sure how that worked. All Rutherford said was that through a series of meetings leading up to the official announcement of his hiring, it was determined that Dan Bylsma was not the man for the job anymore.
All of this in my opinion reeks of politics.
Did the Penguins ultimately get it right? Yes. I was screaming after last season's brutal dismissal from the Stanley Cup Playoffs that Bylsma should go. After he and the assistant coaches were awarded contract extensions, I declared that Shero had hitched his wagon to Bylsma's horse. If Bylsma failed this season, then Shero should also be dismissed.
So why am I so upset? Not one person under the sun actually thought that Bylsma stood a chance of retaining his job. Most likely including Disco Dan himself. I'm upset because the Penguins left him hanging in limbo. Unable to interview for any other job, all the while knowing they weren't going to keep him. If anyone else tells me that Pittsburgh kept him so that he wouldn't go to the Capitals, I'll seriously lose it. Are you kidding me? As a fan, are you truly THAT concerned with the Capitals? Their problems run much deeper than a new head coach. If you're that worried that Dan Bylsma will be the difference maker for a Washington franchise that has grossly underachieved, and that he'll be the reason for the Caps to suddenly start dominating the Penguins, then with all due respect, please re-examine your knowledge of hockey. That all goes double for the Pittsburgh Penguins organization.
It simply seems to me that ownership and upper management made the decision to fire Bylsma. But in an effort to not come off as "meddlesome" (think Jerry Jones, owner of the Dallas Cowboys) in hockey operations, they waited until they had the guy who ultimately should be in charge of the hiring and firing of a coach. Thats something that a politician does (allow me once again to point out that David Morehouse was a career politician until being appointed team president back in 2007).
On the Hiring of Jim Rutherford
As I said above, I'm less than thrilled with this move. However, it's probably the safest hire from a pool of candidates that didn't really boast anyone who blew me away.
It's a move that, on the surface, appears to be aimed at bridging a gap until ownership and upper management feels that either Jason Botterill (named associate GM), Tom Fitzgerald or Billy Guerin (both named assistant GM) are ready to step up and take over. The deal Rutherford signed is only a three year gig, and he seemed pretty resigned to the fact that when its up, he'll walk away.
Rutherford certainly knows what he's doing in this position, having been with the Hartford Whalers/Carolina Hurricanes organization for two decades. A lot of people pointed to his track record of the previous five seasons as a blight on Rutherford's resume. I'd prefer to point at average attendance, which led to a budget that didn't allow the Canes to spend to the cap limit. Plus injuries to key players (Cam Ward) and less-than-stellar play from it's top guys (excluding Eric Staal) that resulted in five seasons of non-playoff hockey. All that aside, the contract that he gave Alexander Semin two seasons ago is flat-out awful. Possibly one of the worst contracts in the NHL currently.
Having two studs in the stable (Crosby and Malkin) will help make Rutherford's job here a bit less difficult. It certainly is not without its challenges, however. Rutherford will be tasked with presumably finding Crosby a right winger, Malkin a left winger, and scoring depth for the third and fourth lines. All the while having to find players who also possess grit, toughness, character, and hopefully a bit of vocal leadership (as Rutherford said upon being hired "the room is too quiet").
On the Penguins Search for a New Bench Boss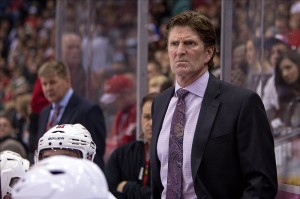 Oh yeah, JR has to find himself a new head coach as well.
The consensus here is that the Penguins need a "bad cop" behind the bench. Perhaps not as head coach, but a coach nonetheless. Rick Tocchet is a name that just won't go away. Its no secret his desire to be a part of the Penguins organization once again, and he is precisely the kind of guy that the Penguins need to get in their faces.
The list of possible head coaching candidates is a pretty short one, even before Rutherford admitted as much. Wilkes Barre/Scranton head coach John Hynes was scheduled to interview yesterday. It's likely that current LA Kings assistant and former Flyers head man John Stevens will also get a look.
After a barrage of speculation in the days after Shero's dismissal, the talk of current Red Wings' head coach Mike Babcock has died down considerably. What's interesting here is that the Penguins could make a power play for the two-time gold-medal-winning coach by simply going after Detroit's AHL affiliate (Grand Rapids Griffins) head man Jeff Blashill. Blashill is rumored to be the next man up after Babcock leaves the organization, presumably after the upcoming 2014-2015 season. By going after Blashill, the Pens could force the Wings' hand to allow Babcock to speak with Pittsburgh about its head coaching vacancy.
As for other names, the only others I've heard are Willie Desjardins, currently the Texas Stars' (Dallas' AHL affiliate, go figure) head coach, and former Tampa Bay head coach (also Crosby's junior coach with Rimouski Oceanic) Guy Boucher.
Thats it. Thats the list.
On Trades and Free Agency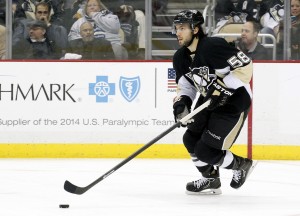 The Penguins don't have many trade pieces that will score a big return. James Neal, Kris Letang (before July 1, when is limited no-trade clause kicks in), and Paul Martin are the only viable options at this point.
Kris Letang's health will the biggest road block in terms of dealing him and his massive $7.25 million/8-year contract. More specifically, the stroke that he suffered this past February.
This is actually sort of a blessing in disguise in my opinion. The Penguins lost Olli Maatta and top overall prospect Derrick Pouliot both to shoulder surgeries at the end of May. These are tough surgeries, especially for NHL defensemen, to come back from right away. I don't expect to see either before Christmas, realistically. Which makes trading Letang a not-so-attractive proposition for the Penguins after all.
James Neal is rumored to be the guy most likely on his way out the door, but I disagree with the idea of trading him. Yes, he is in his prime. Yes, he is a former 40-goal scorer (albeit with Evgeni Malkin feeding him the puck). Yes, his contract is the most trade-friendly that the Pens currently have. So why not trade him, considering he could fetch the most lucrative return?
Im glad I asked. The Penguins need scoring especially from their wings. It doesn't make sense to me to trade away arguably the best winger on the team, to acquire scoring depth for your third and fourth lines. Yes it fills multiple holes in one transaction, but it opens another hole that will prove to be harder to fill, another top-two-line winger.
Which leaves us with Paul Martin, arguably the Pens' best defenseman of the past two seasons.
He has a year left with a cap hit of $5 million, which could be very attractive to more than a few teams. Outside of injury, Martin has been as steady as anyone could ask for in a top-pairing D-man. Plus the Penguins have a pretty good amount of depth along the blue line. Yes this is in contradiction to what I said above about Kris Letang, but I can't see the Penguins signing Martin to another long-term contract after his current deal expires on July 1 of 2015. So I say trade him now for those pieces on the third and fourth lines, and get something for him while you can.
Looking Ahead
The 2014 NHL Entry Draft is next Friday (I'll be at a Journey concert unfortunately so I'll get have to keep up with all the goings-on via Twitter) and Saturday from Philadelphia. A lot figures to happen over those two days via the trade market so there is something to look forward to. Free agency will then open the following Tuesday, July 1.
This is an incredibly important offseason for the Pittsburgh Penguins. They have to get the moves upcoming right. While I have my doubt about the hiring of Jim Rutherford and his already-announced three-year tenure in the position, only time will tell. I'll say this: the judgement of this current front office will begin with the announcement of the new head coach, which could come as early as next week before the draft (which is what I'm hoping for).
As much as I love the sport of hockey, I also love its offseason. This is where the teams are built, and we can start looking ahead and making predictions on the upcoming season.
Its a wild ride. So sit back, relax, and enjoy it. I know I will.
Pittsburgh, Pa. Class of 2000 graduate from Robert Morris University with a B.A. in Mass Communications. Full-time objective sports fan.