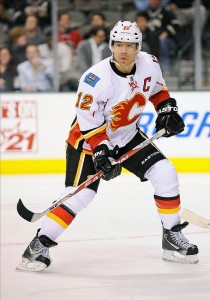 The 2012-13 NHL lockout is now over and the 2013 NHL season will soon begin, albeit in an abbreviated form. With that news, all 30 NHL clubs are scrambling to round up their players for a shortened training camp and the Calgary Flames are no exception.
But who should Flames fans expect to see suiting up next week at camp? And which of these candidates have any chance of cracking the roster?
Please consult this handy guide to the upcoming camp.
HOW MANY PLAYERS ARE GOING TO BE AT CAMP?
Flames general manager Jay Feaster noted on Sunday in an appearance on local radio that he expected between 30 and 33 players to be at training camp. Flames head coach Bob Hartley told the official Flames website that he expects about 30 guys in camp, as well.
It's likely that the camp will be kept small simply because Hartley will have to teach his club new systems in a hurry, and it's not worth it to keep extra guys around just for the sake of getting their feet wet in camp. Only guys that have a legitimate shot at making the roster will likely be invited.
WHO ARE THESE 30 GUYS?
Well, the Flames have 21 players on one-way NHL contracts: 2 goaltenders (Miikka Kiprusoff and Henrik Karlsson), 8 defensemen (Jay Bouwmeester, Dennis Wideman, Anton Babchuk, Mark Giordano, Derek Smith, Chris Butler, Cory Sarich and Brett Carson) and 11 forwards (Jarome Iginla, Alex Tanguay, Mike Cammalleri, Curtis Glencross, Jiri Hudler, Blake Comeau, Matt Stajan, Mikael Backlund, Lee Stempniak, Blair Jones and Tim Jackman).
In addition, T.J. Brodie was considered part of the NHL roster and spent the majority of last year with the club. The same goes for former junior standout Sven Baertschi, who turned a lot of heads during a five-game emergency recall last season and was one of the main bright spots of the campaign. According to Feaster, he'd need to actively play his way off of the team to not start the season wearing the Flaming C.
From the AHL's Abbotsford Heat, notables likely to appear in camp include goaltender Leland Irving, blueliners Chris Breen and Steve McCarthy and forwards Paul Byron, Akim Aliu, Ben Street, Max Reinhart and Roman Horak. Steve Begin is also likely to be in camp, albeit on a pro try-out.
WHO'S NOT COMING TO CAMP?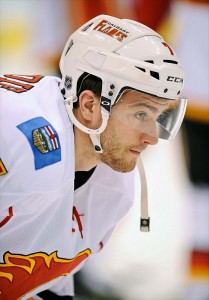 Lance Bouma (knee surgery) is out for the rest of the season, which likely costs him an all-but-guaranteed roster spot. Roman Cervenka (blood clot) is reportedly week-to-week as the team waits out his injury. He'll eventually join the roster once his injury clears (and the Flames announced this week that Cervenka would be in-town for camp).
None of the Flames junior players are on the list submitted to the NHL and CHL, so none of them can leave their clubs for a try-out. Nor would you expect them to with a shortened training camp that occurs during the junior season.
Due to NCAA regulations, college standout Johnny Gaudreau cannot attend training camp, either, without voiding his college eligibility.
WON'T ALL THESE GUYS BE RUSTY AND OUT-OF-SHAPE?
In a word, no.
Several players have been playing a regular shift in Europe during the lockout: Jiri Hudler (HC Lev Praha and HC Ocelari Trinec), Mikael Backlund (VIK Vasteras AIK), Anton Babchuk (HC Donbass Donesk) and Chris Butler (Karlskrona HC).
Most of the Flames remaining regulars have been practicing together on a regular basis as Canada Olympic Park's Winsport complex under the guidance of the University of Calgary men's hockey coaching staff. It's not "game" action, but it's about as close as you can get.
WHO HAS A SHOT AT A ROSTER SPOT?
There will be a handful of battles.
Leland Irving will attempt to unseat Henrik Karlsson as back-up to Miikka Kiprusoff. Irving's been with AHL Abbotsford all season but has rarely played, while Karlsson has been part of the Winsport practice group. It's hard to say who has the inside track.
With nine NHL defenders and likely only seven roster spots, two players (likely Brett Carson and one other) will be sent packing.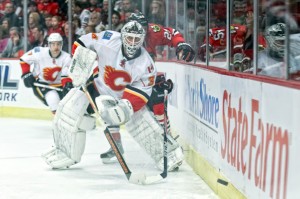 Finally, with Lance Bouma out for the year, a spot opens up for a bottom-six crash-and-bang forward. Akim Aliu impressed at the end of last season but hasn't been amazing for Abbotsford so far this year. It's probable that up to two forward roster spots will be available and it's not immediately clear who has the lead for them. Ben Street and Roman Horak have impressed the most on the farm, though.
WILL MIIKKA KIPRUSOFF PLAY LESS THAN 90% OF THE TIME?
It depends on the compression of the schedule. He is 36 years old and while he's still in incredible shape, it's unclear whether throwing him into games four days a week will be the best bet for the team's short-term (or long-term) success.