With the NHL lockout ending, numerous AHL teams will lose key players to the NHL. The Washington Capitals will gain young goalie prospect Braden Holtby, a fourth round draft pick that has turned into one the best young net-minders in the game. He has played for Washington's AHL affiliate, the Hershey Bears over the past four seasons, winning two Calder Cups.
As he heads to Washington, Holtby stands fifth in Bears history with 14 shutouts and his 73 wins in goal rank seventh in the Hershey record books. Holtby has become a fan favorite in Hershey over the past few seasons, playing alongside future Capitals goalies Michal Neuvirth and Semyon Varlamov.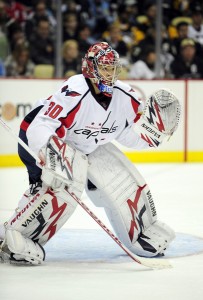 This has been Holtby's best season in Hershey, even though in a shortened one, the 23 year old goalie has registered 12 wins through 25 regular season games along with a stellar 2.14 goals against average and .932 outstanding save percentage.
Holtby quite possibly played his last game in Chocolate town Sunday night, in Hershey's 2-1 loss to the Worcester Sharks. You can view a recap of the game, here.
"Been a lot of games played here," Holtby said. "I don't know if it's going to be my last or not, but it's been a lot of fun here."
He was happy to see the lockout end, and will look to earn the starting goalie spot in Washington. He'll compete with Michal Neuvirth to become the Capitals goalie of the future.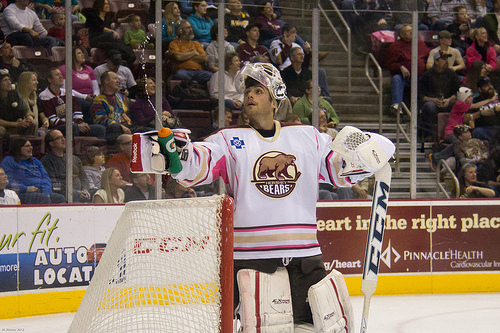 This season, Holtby's earned the majority of the starts in goal for Hershey, with veteran AHL goalie Dany Sabourin relegated to backup duty. Sabourin has been a good influence on Holtby, along with being a great teammate and person.
"He's been great here," said Holtby of the veteran Sabourin. "That's the reason why he's been here for three years. He's an outstanding teammate, especially as a goalie partner. Those are hard to come by, they don't come around too often, guys that are just when it comes down to it great people. He offers a calming influence, especially for a young guy. When I first was a teammate with him, he did a lot for me."
Holtby was a member of Hershey's consecutive cup runs during the 2008-09 and 2009-10 seasons.
"Those two championships were pretty special, not only just winning but the teams that we were on," Holtby reflected. "I don't think I'll ever play on a team that's that dominant again, what we had in our second year here that we won it."
With the Capitals likely receiving Holtby from Hershey by next weekend, the Bears called up young Capitals goalie prospect Philipp Grubauer from the Reading Royals of the ECHL on Monday. Grubauer will likely share time in net with the veteran Sabourin prior to the playoffs.
Hershey also assigned forwards Matt Pope and Alex Berry to Reading on Monday.
You can follow Matthew on twitter @m_speck and email him at mspeck21@yahoo.com with any questions or comments.