Last season, he won the OHL scoring title. This season, he's out to show that he's even better. So far, he's really standing out. That's good news for both the Erie Otters and Arizona Coyotes.
Dylan Strome was selected third overall by the Coyotes in this past June's entry draft. He went into camp thinking he had a real shot of making the team. He performed well, but ultimately, the Coyotes decided to assign him back to juniors.
This was the beginning of a new and exciting opportunity for Strome.
Upon arrival in Erie, the Otters made him their team captain. Although the season started "slowly" for him by his standards, he embraced the opportunity presented to him and has now parlayed it into a foundation for future success.
In his 11 games since returning to the Otters, Strome has 21 points, including six goals and 15 assists. He centers the Otters top line with a pair of 2016 top draft prospects in Alex DeBrincat and Taylor Raddysh.
DeBrincat in just 14 games has 20 goals and 30 points, while Raddysh in 15 games has six goals and 23 points. This trio has combined for 74 points thus far, helping lead the Otters to a number one ranking in the CHL with an overall record of 13-1-1-0.
As impressive as these numbers are, it's not the most impressive thing that Strome has displayed to this point. It's his maturity. He has come back to the Erie Otters as a new and improved player.
Strome Showing His Maturity
"You figure it's going to be easy to score a lot of points this year, but it's the OHL, it's not an easy league by any stretch.", Strome told me. "I think I'm playing my best hockey when I'm supporting my wingers and getting them the puck."
Strome leads by example, and it shows with his approach to the games. He realizes how important the concept of team and getting the younger players involved are.
"I wasn't happy to come back, but you have to look at the positives.", Strome admitted. "The positive is that our team is great this year. We got great chemistry and great coaches. The older guys last season helped myself for the draft. I want to help out the younger guys knowing that it's their draft year. That's what this league is all about."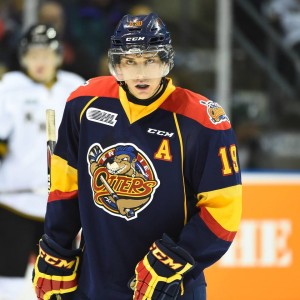 Strome has embraced the captaincy. It's still new territory for him. I asked him what are the biggest things he's learned in the early going as captain.
"The referees respect you a lot more with a "C" on that jersey. It's good for myself because I like to talk to them and ask questions and they really respect that I'm nice to them. It's a real encouragement when they like to talk to you. That "C" on the jersey really stands for something and I take a lot of pride in wearing it."
Wearing the "C" can be hard sometimes, especially when your emotions get involved. Strome admitted that this is something that he is still working on.
"I think I sometimes overreact on things after games. My emotions get too high. I have to tone that down. With what you do, people are going to follow you. You don't want to be setting a bad example for the younger players who are in their first year in the league. You have to keep your emotions in check. It's hard to do sometimes because you feel like you should be doing so much more out there. But you have to control your emotions whether you are having a good night or a bad night."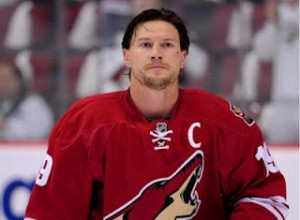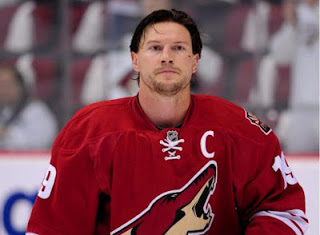 Spending time with the Coyotes did wonders for Strome. One player in particular, Shane Doan, has helped Strome during this time.
"Doan is one of the nicest guys in hockey I've ever met. He really cares about his players. He's been in the league so long, obviously he's doing something right. He was always there for me. I got to play with him on the same line a couple of times. He was always there for advice or whenever I needed something. He was always there to offer help or a ride home or whatever I needed."
Although Strome was disappointed he didn't stay with the Coyotes at the start of this season, he has embraced the opportunity presented to him in Erie as a leader. He knows he still has things to work on. He's taking the right approach to overcome these challenges. The result is a new and improved Strome. The Otters this season, and the Coyotes in the future, will all benefit from the maturity he is showing this season in staying with the process.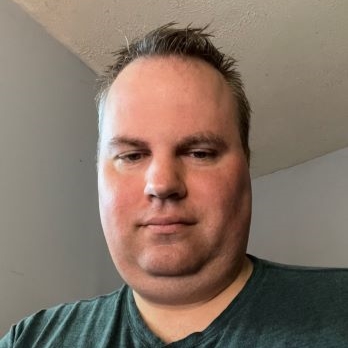 I am a fully credentialed writer who covers the Columbus Blue Jackets, Cleveland Monsters and Erie Otters as well as the Ontario Hockey League and NHL Draft. The 2022-23 season will mark nine seasons with the Hockey Writers. I am also the site's Credentials Manager. Please take note of the updated Twitter handle: @mark_scheig.