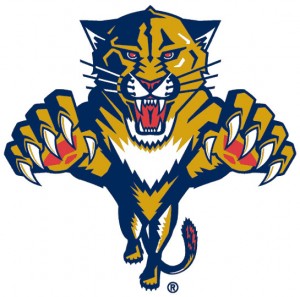 The Florida Panthers' season ended in heartbreaking fashion on Thursday night, as game 7 went to double overtime before Adam Henrique ended the game and the series.  And yet, as a fan of this team, I have never been more proud.
I have heard the ridicule, I have heard the mockery as the Panthers went 12 years without a playoff appearance.  I heard the prognosticators and experts predict a sweep, giving the Panthers little to no chance in their first round series against the New Jersey Devils.  And yet, twice they came within an overtime goal of advancing to the second round.  Twice, the Panthers came back from 2-0 deficits to force overtime.  And so I extend a giant thank you to my favorite team since I was just 8 years old.  The last time this team played a playoff game, I was 16.  Now, I'm a month away from my 28th birthday.  Thank you for making this the best 2 weeks of my life.
First and foremost, thank you, Stephen Weiss.  We have followed you since you were drafted in the summer of 2001, the year after Florida last made the playoffs.  Many others have been drafted since, and others have gone their separate ways.  But you have been the face of the fans; loyal, determined, and unwavering.  10 years since you were drafted, 637 NHL regular season games later, you played your first playoff games with the Panthers, and you made it count with 3 goals and a face fans couldn't help but love. For that, I thank you.
Thank you, Florida Panther players.  Tomas Fleischmann, who revealed he may have played the majority of the first round series with a broken hand.  Thank you, John Madden, who, in game 7, returned just minutes after colliding with teammate Tomas Kopecky and showing what a true playoff hockey face looks like.  Thank you, Jose Theodore and Jason Garrison, who returned for game 7 after missing the previous game(s) with injury.  Thank you for your commitment to this team, this fan base, and game 7.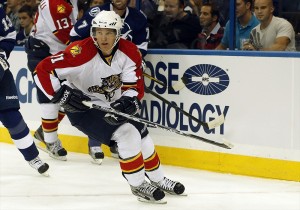 Thank you to both teams, for going through this series with class.  While other series gained notoriety for major penalties, game misconducts, and suspensions, the Panthers and Devils managed to play a tight, physical, 7 game series that had nothing but good, hard hockey.  The Panthers season has ended, the Devils will advance to face the Flyers, but both teams and their fan bases can move forward with their heads held high.
Thank you, Dale Tallon.  15 of the 20 players on the playoff roster weren't with the team last season.  Thank you for turning this roster over, finding players who weren't happy with mediocrity and getting rid of the players that were complacent in being mediocre.  Thank you for the blueprint.  Thank you for Kris Versteeg, Tomas Fleischmann, and Sean Bergenheim.  Thank you for Brian Campbell and Jose Theodore.  Thank you for Erik Gudbranson, who grew into a dominant, physical defenseman over the past few months, and who will be a part of this team for years to come.  Thank you for the hope that Jonathan Huberdeau, Nick Bjugstad, and Quinton Howden bring for the future.  Thank you for something that has been missing from this franchise for over a decade; hope and optimism going forward.
Thank you, Pete DeBoer.  You were the Florida Panthers coach for the past three seasons, and for three seasons, Florida Panther fans knew no lead was safe.  For three years, Florida Panther fans watched you turn your team into turtles once they went into the 3rd period with a lead, and often seeing 3rd period leads result in a shootout loss and a single point, or worse, zero points.  So thank you for continuing whatever strategy it is you seem to live by in New Jersey.  Game 1 opened with a 3-0 lead for the Devils that was reduced to 3-2 before New Jersey hung on for the win.  Game 3, 3-0 to the Devils and the Panthers would score 4 straight on New Jersey to take a 2-1 series lead.  Game 6 started with a 2-0 lead for the Devils before Florida would score two straight of their own to force overtime.  Game 7?  It may sound familiar, but the Devils were out to a 2-0 lead early in the 2nd period before Florida would score twice late in the 3rd period to force overtime, and then double overtime before New Jersey would score and win the series.
Thank you, #ComebackCats.  Thank you for never giving up.  Thank you for the back to back 2-0 comeback wins in February that helped lead this team to its first division title in history.  Thank you for the game 3 comeback from 3-0 that ended in a 2-1 series lead.  Thank you for the game 6 and game 7 comeback from 2-0 down that reminded this fan base what overtime hockey feels like.
Thank you, 19,313 fans who showed that south Florida can, indeed, be a hockey market.  That's how many fans showed up for game 7, and the majority of those were standing for the last 10 minutes of the 3rd period and the entire 2 overtime periods.  That's more than 24 teams in the NHL averaged this season.   Thank you for showing up for this team as they made a deep run into their first playoff series in 12 years.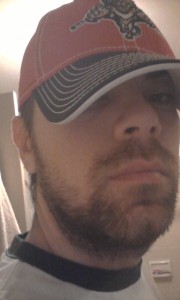 Thank you for letting me grow my first playoff beard ever.  The last time Florida made the playoffs, I was in 10th grade and could barely grow some peach fuzz over my upper lip, let alone a playoff beard.  This year, I went 2 weeks without shaving, and when the wife despises my face, you know my playoff beard is a success.
Thank you, New Jersey Devils, for sparing the Panthers the embarrassment of being embarrassed by the Philadelphia Flyers (OK, this one's kind of tongue in cheek.  Kind of…)
The sting of a double overtime loss in game seven is harsh, there is no questioning that.  But do a quick google search for pre-season predictions for this team, and you will find dozens of prognosticators putting this Florida Panthers team in the cellar of the eastern conference.  Instead, they will hoist their first ever division championship banner when the 2012-2013 season kicks off.  Look through the "experts" playoff predictions, and you will find a plethora of "Devils in 4 or 5" predictions.  Instead, the Panthers fought back 3 times from multiple goal deficits, and took game 7 of this series into double overtime.  The Panthers lasted longer than the Presidents Cup winning Vancouver Canucks.  The Panthers lasted longer than the experts' favorite Pittsburgh Penguins.  The Panthers did a community proud.  And there is every reason to feel that this is just the beginning.  Thank you, Florida Panthers.
Karl Selvig was born and raised in south Florida, and was introduced to hockey when the NHL came to Miami in 1993. It was love at first sight. After playing through college, he turned to the media side of the sport and has enjoyed writing about his beloved Panthers since 2007.