The Norfolk Admirals continued their homestand Friday as they played host to the L.A. Kings top development team, the Manchester Monarchs. Manchester has been unstoppable this season sitting atop the AHL standings with 80 points while Norfolk trails with 66 points.
Viktor Fasth looked to end the Monarchs seven game unbeaten streak while he continued his long-term conditioning assignment. Opposing Fasth was first year goaltender Mathias Niederberger who went out searching for his second AHL win of the season.
After a defensive struggle, Andrew Bodnarchuk dumped the puck from the neutral zone into his attacking zone. It appeared to be a routine dump; however; momentum turned in Manchester's favor as Bondarchuk's clearing attempt rung off the post and got the better of Fasth early in the second.
Emerson Etem who had one goal in his last sixteen games tied the game as Rickard Rakell won a loose puck battle behind the net then slid a pass to Etem who rifled home his thirteenth goal of the year.
The tide turned in Norfolk's favor as Manchester was whistled for an infraction late in the second as Emerson Etem dished a crisp pass to Sami Vatanen who sent a bb of a shot past Niederberger on the power play pulling the Admirals ahead by one in the closing seconds of the middle stanza.
The Admirals continued to chisel away at the AHL's number one team as Alex Grant and Devante Smith-Pelly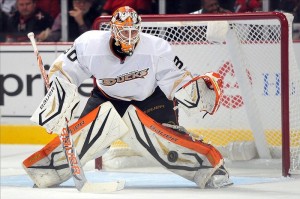 aided Rickard Rakell with his fourteenth goal of the year as they connected on a tic-tac-toe play rounding the goal total to 3-1 in favor of Norfolk. Rakell's fourteenth goal was scored on the power play.
Manchester delivered Norfolk a late blow in the third as Nick Shore netted a shorthanded goal. Shore's goal was
too little too late as the Admirals tamed the league leading Monarchs 3-2.
Norfolk's Head Coach Trent Yawney stressed why winning is important at home as the Admirals have only let one game slip by at home since January 1st, " You have to win your home games. It's the same for all thirty teams in the league. You're working against those mini playoff series every weekend. It's nice to be playing the right way at home."
Yawney also told the media why beating a top seeded team is a confidence booster for his troops, "Any time when you can have a barometer against the best team in the league guys should be ready to play and they were and we did a lot of good things."
Emerson Etem who had a goal and an assist talked about his successful night, "My line mates did a great job to open up the ice and we were moving. We got back to how we were playing the first few games we were together and it's nice to have skilled guys that can open the ice up like that."
Norfolk scored two goals on five power play chances and Etem explained why, "That's our goal as a power play unit every night (to score). We have too much skill out there not to score. Having Sami Vatanen back adds some insurance back on the blue line and manning the plays there. It just adds a lot more skill."
Norfolk looks to send the league's top team back to Manchester pointless as the two teams wrap up their weekend set Saturday at 7:15 at Norfolk Scope Arena.
Friday's forward lines
Etem-Rakell-Friberg
Kurtz-Wagner-Ezekiel
Laganiere-Steckel-Smith-Pelly
Whitney-Sauve-Stortini
Friday's D-Pairings
Exelby-Grant
Vatanen-Yonkman
Parent-Eminger
Attendance: 5554
Follow Ted on Twitter @Bauerhockeydude