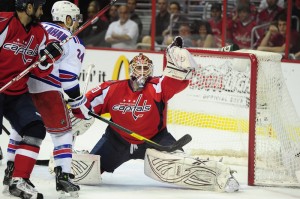 Last Thursday evening, the American Hockey League showcase was quite the hit at the Verizon Center in downtown DC. The Hershey Bears and Norfolk Admirals took to the ice in a regular season matchup, that had the majority of the fans inside one of the top venues in the National Hockey League, at the edge of their seats.
It was professional hockey, not NHL hockey, but a caliber of hockey that not only gave fans a glimpse of the future for the Washington Capitals and Anaheim Ducks organizations, but allowed potentially fading fans, to get rejuvenated while the NHL lockout continues to drag on.
"Ladies and Gentleman please welcome the Hershey Bears and Norfolk Admirals!!". Ok, so there was no visual of Alex Ovechkin, Nicklas Backstrom or Mike Green, but the loud cheer that all but erupted the Verizon Center, was a clear indication that passionate hockey fans were present. Great sign.
To the ice we go, for a quick run through of a 2-1 Bears Victory. 10 seconds into the contest, Capitals starting netminder Braden Holtby, allowed the only Nolfolk tally of the game. Holtby turned aside an additional 26 shots he faced providing the Bears with a stellar performance in front of a crowd in which seemed to have toned down quite a bit since the night began.
"It's weird, you didn't know which team was the home team," Holtby said. "Obviously, not the loudest I've heard it here but they're always great fans. I've never heard a very quiet game here, ever. It's something to say to cheer for a team that isn't even their city. That's how passionate they are."
Evan Barlow and Ryan Potulny found the back of the net for the Bears, who would eventually depart the Verizon Center for a Friday night matchup with the Wilkes Barre Scranton Penguins.
A "Fire Bettman" chant started to circulate the rink in the latter part of the game. Whether it was because of the NHL's latest rejection to the NHLPA through Voicemail, or frustration alone, is unknown, but the benches were certainly curious as to what was going on.
"I was actually wondering what they were chanting," Braden Holtby said.
Holtby was also curious if anyone had any positive news to share with him regarding the NHL's decision on the latest proposal from the NHLPA. Clearly, no one did.
"We'd all love to be playing hockey for the fans, especially here. It's the hardest part to swallow to see the game of hockey take a hit. It's a game we're all passionate about. But it's hard to take," Holtby said.
Hard to take indeed. Especially when there's no telling when Holtby will return to his permanent stall at the Verizon Center.
Follow me on Twitter @DarrenCoslov