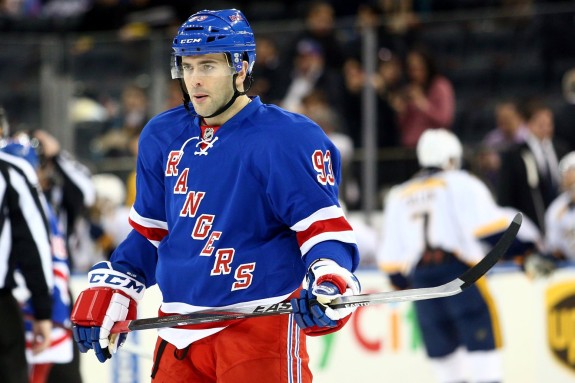 Another trade deadline has come and gone, with more winners than losers this year as far as I'm concerned. Twice as many, in reality.
It was a seller's market and the teams that sold first got the best returns. The teams that held onto their assets until the last possible second got 50 cents on the dollar — see Buffalo, with Chris Stewart, and to a lesser extent Edmonton, with Jeff Petry.
The Winners
1) Carolina Hurricanes
INCOMING: Jack Hillen, Roland McKeown, 1st rounder (conditional, 2015 or 2016), 2016 3rd rounder, 2015 4th rounder, 2015 6th rounder (conditional)
OUTGOING: Andrej Sekera, Jiri Tlusty, Tim Gleason
ANALYSIS: For my money, the Hurricanes did better than any other team. Hats off to Ron Francis for turning Sekera into a first-round pick, plus a top defence prospect in 2014 second-rounder McKeown. With the Los Angeles Kings still three points out of a wild-card berth in the Western Conference and on a three-game losing streak, that first rounder would be 14th overall as of today. However, there is a condition in the trade that if the Kings do miss the playoffs, the pick changes from 2015 to 2016. Either way, it's a first-rounder for a pending unrestricted free agent that wasn't sticking around in Carolina. Talk about making the most of your assets, which Francis also did by getting a third-rounder for Tlusty and fourth-rounder for Gleason. Overall, a solid week at the office for the rookie GM.
2) Arizona Coyotes
INCOMING: John Moore, Tye McGinn, Craig Crunningham, Anthony Duclair, Maxim Letunov, Klas Dahlbeck, David Leggio, 2015 1st rounder, 2016 1st rounder, 2015 2nd rounder
OUTGOING: Keith Yandle (1/2 salary retained), Antoine Vermette, Zbynek Michalek (1/2 salary retained), Chris Summers, Mark Louis, 2015 3rd rounder (conditional), 2015 4th rounder
ANALYSIS: Don Maloney hit one out of the park with his deadline moves, ramping up the rebuild. Moore had a rough go with the Rangers but should be a top-four option in Arizona as a former first-rounder. Duclair is a stud, a potential top-line winger who already has chemistry with the Coyotes' top prospect, Max Domi, from their world-junior stint together in helping Canada capture gold. Letunov is a bit of an under-the-radar prospect, but he was a second-rounder in 2014 and is tearing up the USHL this season. He's off to Boston University in the fall and his upside looks huge too. Dalhbeck may or may not be a player, and Leggio will always be best known for tossing his net off to avoid a 2-on-0 rush in favour of a penalty shot, which he stopped, in the AHL. The Coyotes claimed McGinn and Cunningham off waivers to flush out their current roster, and also added two first-rounders and a second as part of those impressive returns. But the best part might be the fact Arizona further purged its roster to improve its chances of drafting Connor McDavid or Jack Eichel in June. The tank is on, only one point ahead of Edmonton and four up on the last-place Buffalo Sabres. Arizona's new owner did pay a price to facilitate these deals, by retaining salary, which makes you wonder if his pockets will be deep enough to buy out struggling goaltender Mike Smith in the off-season? Who knows, maybe Columbus will be interested in him — zing! If only the Coyotes would have held onto Devan Dubnyk — who is playing like a superhero for Minnesota — but that predates the trade deadline and Maloney more than made up for letting him get away so cheap (2015 3rd rounder).
3) Winnipeg Jets
INCOMING: Tyler Myers, Drew Stafford, Jiri Tlusty, Lee Stempniak, Joel Armia, Brendan Lemieux, 2015 1st rounder
OUTGOING: Evander Kane, Zach Bogosian, Carl Klingberg, Jason Kasdorf, 2016 3rd rounder, 2015 6th rounder (conditional)
ANALYSIS: Let's be honest, this trade deadline started with the Myers-for-Kane blockbuster. I didn't think Jets GM Kevin Cheveldayoff had it in him to pull the trigger on a deal of that magnitude, or to follow it up with a couple more clear wins. He had been the least active manager in the league, but he's really stepped up to the plate over the last month and bolstered his roster for a playoff run. Myers has been great since putting on a Jets jersey, bringing more to the table than Bogosian, and Stafford is filling a role and chipping in offensively too. Ditto for Tlusty, and Stempniak should fit in there. Adding three top-nine wingers without giving up a healthy one in return is worthy of a slow clap. Not to mention, it allows Dustin Byfuglien to continue being a dominant force on Winnipeg's blue-line. Throw in Armia and Lemieux, two quality prospects, and a first-rounder in a deep draft, this is a masterful job by Mr. Cheveldayoff.
4) Philadelphia Flyers
INCOMING: Radko Gudas, 2015 1st rounder, 2015 2nd rounder, 2015 3rd rounder, 2016 4th rounder (conditional)
OUTGOING: Braydon Coburn, Kimmo Timonen
ANALYSIS: Ron Hextall didn't make a ton of moves, but he made smart moves. Who would have thought, Hextall and Garth Snow, two of the league's most notoriously temperamental goaltenders turning into two of the most intelligent and calculated GMs. Simply stunning. But full credit to Hextall for getting good value at the deadline. He managed to move Timonen, who hadn't even played at the time and might not return to his past form, then got a terrific package for Coburn. Gudas is going to be a fan favourite in Philly because of his smash-mouth style, assuming he fully recovers from injury for next season. Hextall also added three top-90 picks in a stacked draft, and freed up the cap space needed to lock up Michael Del Zotto, who has been one of this season's best free-agent signings. The Flyers might not make the playoffs, but Hextall definitely has them trending in the right direction.
5) Minnesota Wild
INCOMING: Chris Stewart, Sean Bergenheim, Jordan Leopold, Jared Knight, 2016 7th rounder
OUTGOING: Zack Phillips, Justin Falk, 2017 2nd rounder, 2016 3rd rounder, 2015 5th rounder
ANALYSIS: Chuck Fletcher's biggest move was, by far, landing Dubnyk for a token third-rounder. That deal changed the course of Minnesota's season and has the Wild a strong bet to make the playoffs. It also probably saved Mike Yeo's job. But Fletcher didn't stop there, as he added more depth ahead of the deadline without giving up much in the way of meaningful assets. Getting Stewart, thought to be one of the most coveted forwards on the market, for a second in 2017 was quite the coup. Bergenheim debuted on a line Mikko Koivu and Thomas Vanek and didn't look out of place. If the Wild can get healthy, they will be able to roll four lines with the best of them. Meanwhile, the Leopold acquisition was one that tugged at the heartstrings. If you haven't seen the letter Leopold's daughter wrote to the Wild, reach for the tissues before clicking this link. That's just another reason to appreciate Fletcher's efforts.
6) Anaheim Ducks
INCOMING: James Wisniewski, Tomas Fleischmann, Jiri Sekac, Simon Despres, Korbinian Holzer, Michael Sgarbossa, 2015 3rd rounder
OUTGOING: Ben Lovejoy, Rene Bourque, Eric Brewer, Dany Heatley, William Karlsson, Devante Smith-Pelly, Mat Clark, 2015 2nd rounder, 2015 3rd rounder, 2016 5th rounder
ANALYSIS: There's a reason Bob Murray won GM of the Year last season. The man is good at his job, seemingly on another level from some of his peers. Despite overseeing one of the league's top teams, Murray made the most trades of any manager in the week leading up to the deadline. With the Ducks struggling ever so slightly, he wasn't going to stand pat. He upgraded Lovejoy and Brewer to Wisniewski and Despres — turning water into wine there — and added two high-skill forwards in Fleischmann and Sekac to give Anaheim more scoring depth. Wisniewski has a history in Anaheim, so the Ducks know what they're getting in him too, including a booming shot from the point on the power play. Murray's wheeling and dealing really was a work of art, and in the process, he righted some of his wrongs by ditching Brewer, Bourque and Heatley. Well played, sir.
7) Montreal Canadiens
INCOMING: Jeff Petry, Torrey Mitchell, Devante Smith-Pelly, Brian Flynn
OUTGOING: Jiri Sekac, Jack Nevins, 2015 2nd rounder, 2015 5th rounder (conditional), 2016 5th rounder, 2016 7th rounder
ANALYSIS: Marc Bergevin accomplished his goals of adding an experienced two-way defenceman and overhauling his bottom-six forwards to improve overall depth. Petry was arguably Edmonton's best defenceman all season and is likely an upgrade on Tom Gilbert to plug the hole that would belong to the injured Alexei Emelin. Swapping Sekac for Smith-Pelly could be one of those win-win trades as the Habs get a bigger, more physical winger. Getting Mitchell and Flynn for next to nothing was wise to guard against injuries down the stretch. Whether any of those three play big roles in Montreal remains to be seen, but they give head coach Michel Therrien more options up front. It was a small price to pay for all of them, so bravo Monsieur Bergevin.
8) Pittsburgh Penguins
INCOMING: Daniel Winnik, Ben Lovejoy, Ian Cole
OUTGOING: Robert Bortuzzo, Zach Sill, 2016 2nd rounder, 2015 4th rounder, 2016 7th rounder
ANALYSIS: Some are going to disagree here, because some consider the Penguins to be losers. But lest we forget that Jim Rutherford got a head-start on everybody by acquiring David Perron from Edmonton for a first-rounder (and Rob Klinkhammer) back in January. That deal paid immediate dividends, and he's followed it up with some subtle depth moves. The Penguins obviously wanted to add experience on the back end, which they accomplished with Lovejoy and Cole. That's a decent third pairing, although there's a possibility one or both will be pushed to the press box come playoffs. Winnik was an overpayment, but he was in demand — rightly or wrongly — and that was the going rate for arguably the best shutdown forward on the market. Winnik with Brandon Sutter and Steve Downie is one heck of a third line. Rutherford and the Penguins will ultimately be judged on their post-season performance, but I'm giving him a passing grade for these deadline trades.
9) Toronto Maple Leafs
INCOMING: Nathan Horton, Eric Brewer, Joakim Lindstrom, Zach Sill, Tim Erixon, T.J. Brennan, Brendan Leipsic, 2015 1st rounder, 2016 2nd rounder, 2015 4th rounder, 2016 5th rounder, 2016 6th rounder (conditional)
OUTGOING: Cody Franson, Mike Santorelli, Daniel Winnik, David Clarkson, Korbinian Holzer, Olli Jokinen, Spencer Abbott
ANALYSIS: It's been a busy couple of weeks for Dave Nonis and Brendan Shanahan. Ridding themselves of Clarkson's contract was the best move, but they added a couple good picks and a quality prospect for other players that weren't going to factor into Toronto's future. Horton is still closer to retirement than returning, but Lindstrom and Erixon are intriguing additions that will get a test run through the end of the regular season. Brennan is one of the biggest teases in the league, a dominant AHLer but marginal NHLer thus far. He might get another shot back in Toronto and does have the skill-set to make the most of this second chance. Then again, it's every bit as possible that none of those incoming guys will be in Toronto's opening-night lineup for next season. The Leafs just have to hope Leipsic and a few of those pending picks pan out. All in all, it was more win than loss ahead of the deadline despite not being able to move Dion Phaneuf, Phil Kessel or any other bigger names.
10 (tie) New York Rangers
INCOMING: Keith Yandle, James Sheppard, Carl Klingberg, Chris Summers, 2015 4th rounder
OUTGOING: John Moore, Lee Stempniak, Anthony Duclair, 2016 1st rounder, 2015 2nd rounder, 2015 4th rounder
ANALYSIS: Glen Sather reeled in the biggest fish of the 43 that moved — that being Yandle — which is sure to be a short-term win even if the long-term result is less flattering. It cost a small ransom to land Yandle, but you've got to give in order to receive and the Rangers are obviously in win-now mode. With a defence of Yandle, Ryan McDonagh, Dan Girardi, Marc Staal, Dan Boyle and Kevin Klein, plus Henrik Lundqvist between the pipes for playoffs, the Rangers might be favourites to repeat as Eastern Conference champions. Without Yandle, they probably don't have that distinction as of today, although there's no shortage of contenders in the East this season.
10 (tie) Chicago Blackhawks
INCOMING: Antoine Vermette, Kimmo Timonen, Andrew Desjardins, Spencer Abbott
OUTGOING: Ben Smith, Klas Dahlbeck, T.J. Brennan, 2015 1st rounder, 2015 2nd rounder, 2016 4th rounder (conditional), 2017 7th rounder (conditional)
ANALYSIS: Stan Bowman had some needs and he addressed them. He paid top dollar for his big additions, but he seemingly got the guys he wanted. Vermette was acquired out of necessity after Patrick Kane went down with a long-term shoulder injury. Timonen hadn't played prior to debuting for the Blackhawks on Monday, but if he can shake the rust in time for playoffs, he could end up being a steal. That's a pretty big "if", but Timonen is an all-star calibre defenceman when he's at his best and there weren't many of those players available, so the risk was worth the potential reward. Desjardins has a bit more grit to his game, which should make him a good fit for the fourth line.
The Losers
1) Columbus Blue Jackets
INCOMING: David Clarkson, Rene Bourque, Justin Falk, William Karlsson, 2015 2nd rounder, 2015 5th rounder
OUTGOING: James Wisniewski, Nathan Horton, Jordan Leopold, Adam Cracknell, 2015 3rd rounder
ANALYSIS: Jarmo Kekalainen dropped the ball at this year's deadline. He's won his share of trades and made the most of his draft picks since taking the reins in Columbus, but it's easy to question his latest moves. Going out of his way to acquire Clarkson — he made that offer to Toronto — was a real head-scratcher. I guess that's buying low, but Clarkson comes with a high pricetag. Kekalainen got that cap space back by shipping out Wisniewski, but he didn't get nearly enough in return for him. That might have been a 'take what you can get' deal because Wisniewski had a modified no-trade clause — a list of 10 teams he'd waive for — but it's hard to believe that was the best offer for a top-four defenceman considering the packages for Yandle and Coburn. Maybe I'm just not that high on Karlsson, and Kekalainen does know his European prospects, but it's difficult to give him the benefit of doubt on this one. He did earn some good karma points by moving Leopold to Minnesota, so perhaps the Hockey Gods will cut him some slack on the other fronts.
2) Buffalo Sabres
INCOMING: Evander Kane, Zach Bogosian, Chad Johnson, Anders Lindback, Jack Nevins, Jason Kasdorf, 2017 2nd rounder, 2016 3rd rounder (Dallas), 2016 3rd rounder (N.Y. Islanders), 2016 5th rounder, 2016 7th rounder
OUTGOING: Tyler Myers, Drew Stafford, Chris Stewart, Jhonas Enroth, Michal Neurvirth, Torrey Mitchell, Brian Flynn, Joel Armia, Brendan Lemieux, 2015 1st rounder
ANALYSIS: It's a lot to digest, but I wouldn't trade that outgoing group for those incoming assets. No chance, no way. It probably doesn't help that Myers and Stafford have hit the ground running with Winnipeg, while Kane is out until next season after undergoing shoulder surgery. Kane will eventually make his mark and Bogosian is a nice piece, but the rest just seems like a lot to give up for not much in return. Tim Murray is probably guilty of mishandling Stewart, who had to have been worth more than a 2017 second-rounder at some point in the season. Murray did OK but not great with the goaltender swaps, which left Buffalo with a big void for the rest of this season. Then again, Enroth and Neuvirth were stealing the Sabres more points than they otherwise deserved (or wanted), which was hindering their tanking efforts towards drafting McDavid or Eichel. Buffalo will spend the rest of this season auditioning prospects and Murray probably should have added a couple more, but he was unable to find takers for depth defencemen Andrej Meszaros and Andre Benoit, both of whom are pending UFAs. This wasn't asset management at its finest.
3) San Jose Sharks
INCOMING: Ben Smith, Karl Stollery, 2016 3rd rounder (conditional), 2015 4th rounder, 2017 7th rounder (conditional)
OUTGOING: Andrew Desjardins, James Sheppard, Tyler Kennedy, Freddie Hamilton
ANALYSIS: Doug Wilson didn't do much of anything. His team is a playoff tweener that has rookie forwards from the first line to the fourth, but he decided to ship out three veterans. The Sharks appear to be going nowhere fast now, and might miss the post-season for the first time since 2003. It's not even like Wilson stood pat and gave his current group another vote of confidence, he weakened the roster without really improving the future. If the Sharks were selling, they should have tried to convince Joe Thornton and-or Patrick Marleau to waive their no-trade clauses and hit the reset button. Instead, they will keep plodding along for better or worse and Todd McLellan will be hard-pressed to survive this ongoing mess.
4) Edmonton Oilers
INCOMING: 2015 2nd rounder, 2015 5th rounder (conditional)
OUTGOING: Jeff Petry
ANALYSIS: Craig MacTavish had a quiet day, which was to be expected. The Oilers made their big move back in January by sending Perron to Pittsburgh for a first-rounder and Klinkhammer, who they have since extended. MacTavish didn't have many assets to sell — he didn't plan on shopping Derek Roy — but he didn't seem to maximize Petry's value, not in comparison to Coburn and Sekera. Sure, that conditional pick gets better with every playoff round that Montreal wins — and the Canadiens should win a round or two — but both those picks are going to be a few years away from playing in the NHL. Edmonton would have been better served by targeting a top prospect, sort of like Arizona did in getting Letunov for Michalek. Montreal is set in goal, with Carey Price and Dustin Tokarski, so perhaps the Habs would have parted with Zachary Fucale if push came to shove. Montreal also has a plethora of good forward prospects — Nikita Scherbak, Jacob De La Rose, Sven Andrighetto, Artturi Lehkonen, Charles Hudon and Martin Reway to name a handful — so any of them would have been closer to contributing for Edmonton and thus arguably better options. The Oilers don't have the best track record at the draft table either, so it would have made sense to acquire a more polished prospect. That said, if Montreal makes it back to the East final, then that fifth is upgraded to a third, which would probably be fair value for Petry. Still, it's a big gamble for Edmonton and, falling short of that, a mediocre return.
5) Tampa Bay Lightning
INCOMING: Braydon Coburn, 2015 2nd rounder, 2016 2nd rounder
OUTGOING: Radko Gudas, Brett Connolly, 2015 1st rounder, 2015 3rd rounder
ANALYSIS: Steve Yzerman must really be high on Coburn because he almost paid as much for him as the Rangers paid for Yandle. Perhaps Yandle was his target and Coburn was the fallback plan for a similar package? That's possible, but most would much rather have Yandle than Coburn. Granted, they are different players, with Yandle an offensive dynamo and Coburn a shutdown type. The Lightning do seem to get the most out of their defencemen — see Anton Stralman — so maybe Coburn will be more effective (or noticeable) in Tampa Bay. Coburn, who has another year left on his contract and therefore isn't a rental, definitely upgrades their blue-line and fills the void left by Gudas, who is done for the season because of a knee injury. So if it's all about this year for the Lightning, then it's somewhat justifiable, but they better hope Coburn helps them go deep in the playoffs. Yzerman also seemed to give up on Connolly, a former top-10 pick, but Tampa has plenty of skilled young forwards to offset that loss. He got two picks back for Connolly, which kinda, sorta cancel out the two he coughed up for Coburn. Time will tell on all these trades, but the jury is out on Yzerman's dealings. He might be guilty of giving up too much.
Larry Fisher is a sports reporter for The Daily Courier in Kelowna, British Columbia, Canada. Follow him on Twitter: @LarryFisher_KDC.
Larry Fisher is a senior writer and head scout for The Hockey Writers, having been an at-large contributor for THW since August 2014. Fisher covers both the NHL and the WHL, specializing in prospects and NHL draft content, including his annual mock drafts that date back to 2012. Fisher has also been a beat writer for the WHL's Kelowna Rockets since 2008, formerly working as a sports reporter/editor for The Daily Courier in Kelowna, British Columbia, Canada from 2008-2019. Follow him on Twitter: @LarryFisher_KDC.