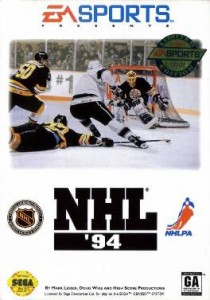 NHL 94 is a video game that we hockey fans love and cherish. It was one of the first video games I ever played and introduced me to the game of hockey, so, it holds a dear place in my heart. The game is still considered one of, if not, the best sports video games of all time. It is hard to believe that it was just 20 short years ago that it was released and is still an incredibly popular game.
That beautiful 8-bit music, the grunts and groans of players being hit, and, of course, Ron Barr to greet you before every single game and run down each teams pros and cons.
NHL 94 was the first hockey game to feature player names, logos on the ice, and every NHL team. It was a game well ahead of it's time. It's game engine was the envy of every sports game on the market and helped pave the way for current games, like Madden, NBA 2K series, and the NHL series.
The inclusion of such small details like the Brass Bonanza of the Hartford Whalers and the Sabre Dance of the Buffalo Sabres made it feel like you were at the game… almost. This was really the first sports game to feature such small, minute details that a lot of games are featuring today.
NHL 94 added in the "one-timer" shot that the other games in the series had been lacking. That move was so lethal that it was the preferred choice to score, I know it was for me, I was also mastered the art of the wraparound in the game as well with Cam Neely. They also had moves such as "the duper" and the aptly named "the move" that were successful scoring maneuvers, but none was more successful than the ol' "one-timer"
It left such a cultural footprint that it was featured in two films in the mid-90s. Notable scenes in "Swingers" and "Mallrats" featured two hockey games, but neither of which were NHL 94 due to licensing issues. Director of "Mallrats" and diehard New Jersey Devils fan Kevin Smith stated that he wanted to have the game featured in "Mallrats" but had to use Sega's NHL All Star Hockey instead due to sponsorship reasons.
The iconic scene in "Swingers" you could tell was the predecessor to NHL 94, NHLPA '93, due to the lack of logos. However, you can't help but laugh when Vince Vaughn makes Wayne Gretzky's head bleed and completely schools the Los Angeles Kings.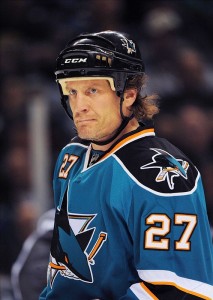 Sort of an unwritten rule with NHL 94 gamers was that you never play as the Chicago Blackhawks against your friends. This was because Jeremy Roenick was an absolute beast in this game. He was the most dominant player in NHL '94 aand there really was no way to stop him. Wayne Gretzky, Mario Lemieux, or Steve Yzerman couldn't hold a torch to Roenick.
Although, Roenick wasn't even the highest rated player on the Blackhawks in NHL 94, that honor belonged to Ed Belfour, his skill set was still so high that he destroyed any competition.
Out of all the accomplishments Roenick has achieved throughout his illustrious career, he says that fans still ask him out NHL 94,
"It's the No. 1 comment that is made to me over the course of every day, whether it's over Twitter or meeting on the street. Whatever the case may be, I would say one out of three people I meet mention '94 Sega

"They say one of three things: One, 'You couldn't beat the Chicago Blackhawks [in the game] because of Jeremy Roenick.' No. 2, 'I got through college playing Jeremy Roenickin '94 Sega.' The third is it was a rule that you couldn't be the Chicago Blackhawks in the game, because they were that unstoppable.

"That still happens almost daily."
NHL 94 is still so popular to this day that EA Sports has decided to make it a part of their next game, NHL 14. There will be a special mode in the new NHL 14 that will allow gamers to use current teams in an NHL 94-esque format. There will be no ad boards, real organ music, and 16 bit arena powerbars. Just by looking at the trailer for the special mode, I want to know where to send my money for this game.
This game really was a trailblazer in the world of sports video games and is still wildly popular in a world of Playstation 3 and XBox 360 graphics and gameplay. Now I f only I can track down my old Sega Genesis and record ten goals with Roenick.
Do you think NHL 94 was the best sports video game ever, comment below or send me a Tweet, @MarkWGraham