While the Anaheim Ducks are finally at basically full health, the odyssey along the way in the first half of the season has been, in a word, exhausting. Numerous injuries and non-coincidental up-and-down play has summarized the 2017-18 Ducks to this point.
So perhaps it's a good thing that Anaheim's scheduled bye week comes now. The team is healthier but dropped its last two contests in western Canada before the break. This week will be beneficial in allowing the players to recharge as well as build some chemistry back in practice when they do ultimately hit the ice again.
Ducks' Momentum Extinguished
The Ducks were beginning to resemble the team most figured they would eventually see, as their more complete roster was beginning to put the puck in the net more frequently, led by captain Ryan Getzlaf, who has been on an eye-opening scoring pace when he's been able to stay in the lineup this season.
A solid stretch of hockey that was sparked by two critical road victories out east was eventually tempered by disappointing results in Alberta. The Ducks fell to the struggling Oilers in a 2-1 shootout loss on Jan. 4 before seeing a third-period comeback bid two nights later in Calgary nullified by a Dougie Hamilton goal with just 16 seconds remaining that gave the Flames a 3-2 win.
Down 2-0 after a lousy (to be kind) first period in which they were outshot 17-8, the Ducks tied the game in the third period on goals by Jakob Silfverberg and Getzlaf. They appeared destined for yet another overtime affair—and a critical standings point that seemed unlikely mere minutes ago—before Hamilton sent them home with a crushing regulation loss.
"It's really hard," Getzlaf said of the last-minute defeat. "With the amount of work we had to do to get ourselves back in the game, to let it slip with 16 seconds left, it's heartbreaking at the moment. We're going to go into this break much like we did last year and hopefully we can use it."
To Getzlaf's point, Anaheim suffered a 4-1 loss to their archrivals, the Los Angeles Kings, on Feb. 25 last year before heading into their bye week. They came out of the break with a 5-2 home-ice victory against the Toronto Maple Leafs on March 3, so they'll shoot for a similar scenario this time around when they face none other than the Kings in Los Angeles Saturday night.
Perry Returns, Kase & Roy Sent Down
The loss to the Flames marred the return of veteran leader Corey Perry, who had not played since Dec. 11 because of a knee injury suffered in that contest. His return gave the Ducks their most complete lineup all season.
Ducks warm-up lines and pairs:

Vermette-Getzlaf-Rakell
Cogliano-Kesler-Silfverberg
Ritchie-Henrique-Perry
Wagner-Grant-Shaw

Lindholm-Manson
Fowler-Bieksa
Beauchemin-Montour

— Eric Stephens (@icemancometh) January 7, 2018
Forward Ondrej Kase had been battling illness, so the assumption was that he would be healthy and back in coming out of the break. Curiously, though, the Ducks made some notable roster moves on Tuesday, Jan. 9. The less curious one was sending down forward Kevin Roy to the AHL's San Diego Gulls. Despite his strong showing, Roy was the victim of a numbers game with so many key players returning.
The bigger head-scratcher was the demotion of Kase to the AHL as well. When healthy, Kase has been a noticeable offensive force for the Ducks, picking up nine goals and six assists in 27 games. His nine goals are good for third on the team behind Rickard Rakell (15) and Silfverberg (11), and he's done that in far fewer games. So why take that ability out of the lineup? Surely he has earned a spot over at least a handful of Anaheim's bottom-six players, right?
Well, time will tell, but this might not be a long-term transaction. With the Ducks on a bye week and the Gulls slated to face off against the Chicago Wolves at home on Jan. 10, this is an opportunity for the recovering Kase to get an AHL game under his belt post-illness to help him get re-acclimated and back in game shape. It seems quite plausible that Anaheim would then call him back up in time for Saturday's game in LA.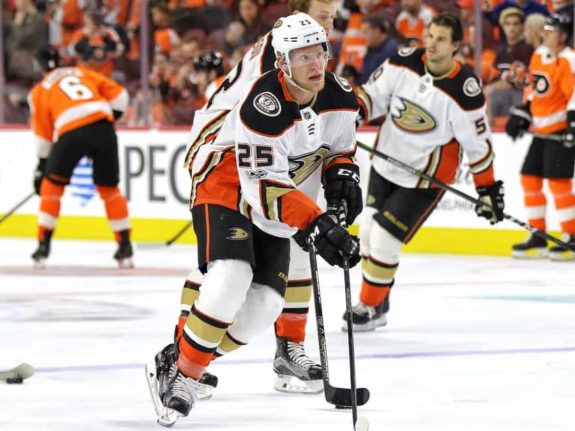 Looking Ahead
Playing regularly with a fuller, deeper lineup (barring any further injuries, of course) is something the Ducks and their fans can look forward to in the unofficial second half of the season. There figured to be some struggles in the first half because of the sub-optimal lineups with which the Ducks were forced to go into battle, but now is the time for Anaheim, which is battling for the second wild-card position right now, to string some wins together.
While they come out of the bye week with two road contests (Los Angeles and Colorado), the Ducks will then see a stretch of five straight games at the Honda Center. It's a great opportunity for them to climb in the standings and get into a more comfortable playoff position.
Tom has been with The Hockey Writers for almost four years. After previously covering the LA Kings and the New York Rangers, Tom now covers the Anaheim Ducks.
While in college at Clemson University, the 2016 college football national champions, Tom wrote game summaries and feature articles for the official team website of the Greenville Drive, a Class-A minor-league baseball team and affiliate of the Boston Red Sox. Tom is happy to be able to continue to fulfill his passions for sports and writing with THW.