This early in the season, it's probably fair to say that the jury is still out on every team in the NHL, as sample sizes are too small to draw any meaningful conclusions.
Nevertheless, this notion perhaps does not apply more strongly to any team than it does to the Anaheim Ducks. Heading into Sunday night's home tilt against the Buffalo Sabres, the Ducks have played to a .500 record through five games, but have looked unimpressive across the span of those contests. That being said, a slew of injuries has befallen the club in the early-going, leaving us unable to draw any significant conclusions about the team as a while.
Injury Bug Strikes Early
All things considered, Anaheim is fortunate to have a 2-2-1 record through the season's first five games. The Ducks knew the sledding would be tough initially with longer-term injuries to Ryan Kesler, Hampus Lindholm, and Sami Vatanen to start the season. On top of that, Ryan Getzlaf, Nick Ritchie, Patrick Eaves, and Ondrej Kase have all missed time, leaving the Ducks decimated both on the front lines and on the back end and grateful for any points they can accumulate as they aim to get back to at least reasonable collective health.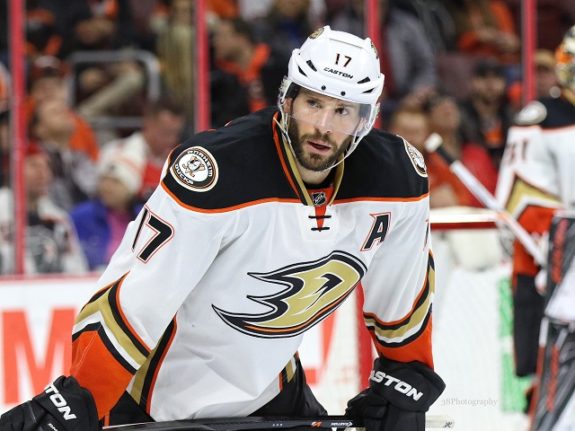 Kesler looks to have the longest road to recovery, at least in terms of how many more games he will miss. While indefinite, general manager Bob Murray's estimate at the beginning of training camp was that he would be out until around Christmastime. Lindholm could be back fairly soon, with fellow defender Vatanen a bit behind him.
Meanwhile, Getzlaf has appeared in just two of the Ducks' first five games. He missed the opening two contests before returning for the next pair, but missed Friday night's 3-1 loss in Colorado—a defeat that was much uglier than the final score indicates. Whatever in particular is ailing Getzlaf does not seem to be serious, but he needs get back into the lineup quickly and be at full health to help the Ducks through their early-season predicament.
The 33-year-old Eaves, fresh off re-signing with Anaheim after producing at a great clip following a trade that brought him over from the Dallas Stars last season, also had a lower-body injury that kept him out of the lineup for the season's first three contests. He has appeared in the last two, notching a goal in his first game back, so hopefully for the Ducks, he remains healthy and in the lineup.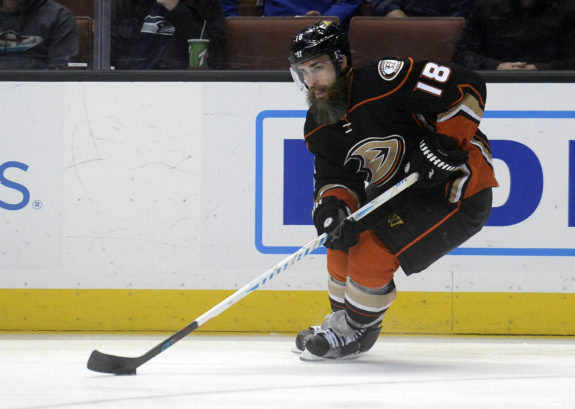 The ever-prevalent and ever-vague lower-body injury also threw a wrench into winger Nick Ritchie's early-season plans. Ritchie dressed for opening night against the Arizona Coyotes on Oct. 5 but then missed Anaheim's next three games before returning Friday night against the Avalanche.
Finally, promising young forward Ondrej Kase finds himself on injured reserve after taking a hit to the nasal area last Monday in a loss to Calgary. For the Ducks, it was their first home loss to the Flames since 2004 (yes, you read that correctly). Kase's apparent head injury—a troubling development for a player with a concussion history—added to that insult.
Uneven Play, Even Results
Given these dire circumstances, where it seems as though one player returning from injury coincides with another one falling victim, the Ducks have understandably played some subpar hockey so far. They've been dominated from a possession standpoint, achieving a lowly 44.8-percent Corsi-for mark as a team during five-on-five play—the second-worst mark in the league. They have also yielded 35.2 shots on goal against per game—seventh-worst in the league.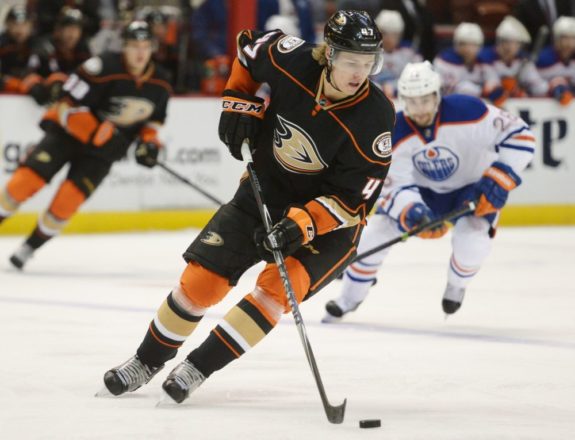 Despite some very poor underlying play, Anaheim has picked up five of a possible 10 points, thanks to some luck as evidenced by an above-average PDO (shooting percentage plus save percentage) of 101.4 and the volatility that comes with small sample sizes.
One has to believe the Ducks will improve their overall play once they get back (or at least close to) full health. At the same time, luck will come and go, and the abilities of their players to remain healthy and all produce at the levels they are expected to remain at least somewhat in question. So for now, the jury is still out on how good the Ducks are. Until that point, they just have to tread water and stay in the hunt.
Tom has been with The Hockey Writers for almost four years. After previously covering the LA Kings and the New York Rangers, Tom now covers the Anaheim Ducks.
While in college at Clemson University, the 2016 college football national champions, Tom wrote game summaries and feature articles for the official team website of the Greenville Drive, a Class-A minor-league baseball team and affiliate of the Boston Red Sox. Tom is happy to be able to continue to fulfill his passions for sports and writing with THW.