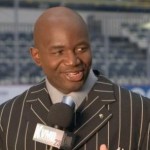 In almost mystifying fashion, the Ducks continue a downward spiral, which ominously began with a 3-1 loss to the Columbus Blue Jackets on Oct 30th. Yes, they were shut out 3-0 by Nashville the night before, but that is somewhat acceptable.
The team began the season with a 4-1 loss to Buffalo, followed by four straight wins, and the future looked bright. Most recently however, they have lost six straight though they managed to salvage 2 points, by losing to Washington and the New York Rangers in OT during this most recent skid.
What is most interesting is that it appears to be a collapse of the entire team, one which had emotional leader Teemu Selanne calling out the entire group, and challenging their effort from game to game.
What has become of the brilliant goaltending of Jonas Hiller ? Last season resulted in a 2.56 goals against avg, and a sparkling .924 save percentage in 49 games played.
This season ? 2.95 GAA and a .900 save % after 13 games played.
Consider this as well, Lubomir Visnovsky led all defensemen in scoring last season (18-50=68 pts) and was a + 18, but this season, after 15 games has only 1 goal, 3 assists and a plus/minus of -9 .
Second year rising star defenseman Cam Fowler had 10 goals and 30 assists in his rookie campaign last season, but so far this season, has no goals, 6 assists and is a -6.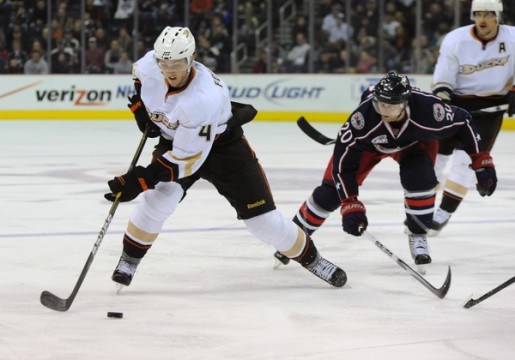 Up front, the forwards are really faring no better. Corey Perry, who won the Hart trophy (league MVP) last season, has 5 goals in 15 games. His linemates, Bobby Ryan and Ryan Getzlaf have 5 and 4 goals respectively.
Perry, Selanne, and Ryan are tied for the team lead in goal-scoring with 5 goals each.
The team has now scored the fewest goals in the Western Conference, with only 29 for the season – an average of less than 2 goals a game.
They have also allowed 44 goals. Only Colorado (47) and Chicago (45) have allowed more. The main difference being, Colorado is tied for fourth in the Conference in goals scored with 42, while Chicago leads the Conference with 46 goals scored.
Ducks' Forward Jason Blake went down with a freakish injury in the third game of the season.
The incident occurred on Oct 15th, during the third period of a 1-0 win over San Jose. After Blake had gone to the ice after a faceoff, Sharks' defenseman Brent Burns' skate blade inadvertently cut into Blake's forearm and severed tendons.
Blake was a high-energy player, and was perhaps a spark plug, but it is hard to believe that missing Jason Blake would affect the entire team in this manner.
Normally, even in losses there are some positives. One must now search high and low to come up with a reason for optimism when assessing the team's play in the last two weeks.
Their most recent loss, to Nashville on November 9th, was just such a game. The contest was a home game for the Ducks, who'd last played on November 5th (a 5-0 thumping at the hands of the Red Wings).
The Predators had just dropped a 4-3 decision to the Los Angeles Kings the night before, and were wrapping up a five game road trip.  As it turned out, even on four days' rest, and playing at home against a team which was on the second night of back to back games, the Ducks still managed to get outshot, give up 2 goals and an assist to rookie Craig Smith, and lose the game, 4-2.
The Ducks are now last in the ultra-competitive Pacific division, with 13 points in 15 games.
Last season, The San Jose Sharks, Los Angeles Kings, Phoenix Coyotes, and the Ducks, all made the playoffs, while Dallas missed out by only 2 points. The Stars were the only team in the division not to make the playoffs.
Dallas currently has the best record in the NHL after 15 games.
The Ducks are playing way below their capabilities at this point, and the search for answers continues.
Conventional wisdom is that it is much easier to replace one person, than an entire team.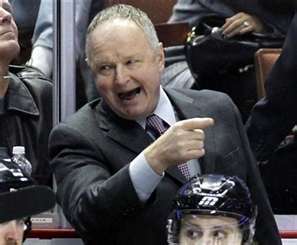 This may put head coach Randy Carlyle on the hot seat.
Carlyle survived a miserable start to last season, and eventually turned the team around and got them into the playoffs, but looking at the upcoming schedule, this could very well be the beginning of the end.
Home games against Vancouver on Nov 11th, and Minnesota on the 13th. A home and home series vs L.A. Kings on Nov 16th/17th. Home game vs Detroit on Nov 20th. At first glance, Minnesota would appear to be the soft spot in the schedule, but the Wild are riding a 5 game win streak, and are only one point out of first place in their division.
Observe the "Fasten your seatbelts" sign, Ducks fans. Severe turbulence ahead.
– Charles E Smith, Jr.
E-Mail: Charles@Officialinsidesports.com
Twitter: @TheInsideSports
Voicemail: (949) 475-7654