Going into last night's tilt with the Anaheim Ducks, Nashville Predators forward Patric Hornqvist was on a tear, scoring a goal in six consecutive games dating back to the 5-3 win over Tampa Bay on October 27th. While the Ducks were able to halt his goal-scoring streak, Hornqvist found other ways to contribute, extending his points streak to seven games by tallying three assists as the Preds won 4-2, continuing their strong play of late despite the fact they've struggled to stay healthy.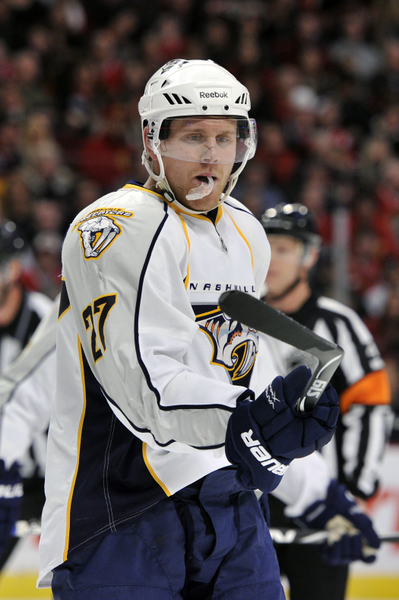 Patric Hornqvist finds immediate success
Nashville's 7th-round selection in the 2005 draft surprised everyone in 2009-2010, scoring 30 goals in his very first full season on the team. A third of Hornqvist's goals came on the power play, as he found success by stationing himself in front of the goaltender seeking either a deflection or a rebound. His gritty, pest-like play and fearlessness quickly endeared him to the Preds fanbase, and some people even began comparing his style of play to fellow Swede Tomas Holmstrom of Detroit, who has given Nashville fits in the past. Hornqvist was rewarded with a 3-year, $9.25 million contract at season's end, but with his new deal came questions of whether he would be able to repeat the previous season's offensive output, considering it came during the final year of his entry level contract.
Just as many had feared, Hornqvist fell short of expectations in the first year of his new deal, only tallying 21 goals, with six of those coming on the power play. Part of the blame could be directed at Patric's performance, but the plethora of injuries that Nashville experienced last season certainly didn't help his cause, nor the rest of the team for that matter. He knew that he had fallen short of expectations, and as this past offseason began, knew that he needed to get back to playing his style of hockey to avoid another disappointing season.
2011-2012 got off to a rocky start for Hornqvist, as he failed to register a single point in the first seven games he played, while also missing the home opener against Phoenix due to a foot injury. His injury seemed to linger for a while, but he battled through it, and when he finally scored his first goal against Tampa Bay, everyone could see the relief in his face as that burden was finally off of his shoulders. Since that game, Hornqvist has played his style of hockey and has caught fire, notching 11 points in his past 7 games, while firing 28 shots on goal (he only had 11 in the first 7 games). All of his goals (with the exception of his ENG in Phoenix a week ago) have been the goals Preds fans expect him to score, coming off of deflections or picking up garbage goals while fighting in front for rebounds. He can be an assist machine at times as last night showed, as his line that included Craig Smith and Colin Wilson was all over the place, and was responsible for 3 of Nashville's 4 goals.
Despite the rocky start, Hornqvist appears to finally be finding his groove, and another 30 goal season is certainly not out of the question. Nashville's goal-scoring problems have not shown up all that often this season (knock on wood), and if Patric Hornqvist and other players such as Smith continue their fantastic play, those problems will be kept at bay for the time being.
Josh Farrar is a junior at the University of Tennessee – Knoxville, majoring in psychology. Born and raised in Tennessee, he somehow managed to become obsessed with hockey in a state where football is king.