Good relationships can be hard to find in the NHL, but the Anaheim Ducks have struck gold with the Toronto Maple Leafs. Despite the fact that they couldn't be any further apart geographically, the two teams have developed a warm relationship, warm enough to make 15 trades since 2010. While the Leafs have benefited, acquiring players like Frederik Andersen and Jake Gardiner, the Ducks have used the trades to acquire many essential players and build their future core.
2011: Ducks 1st Round Pick for Maple Leafs 1st & 2nd Round Picks
This trade is probably one of the most important trades the Ducks have made in recent years. Their first-round pick, number 22 overall, was sent to the Maple Leafs. That pick would become Tyler Biggs, a right winger from the US Hockey League. Biggs would never play a game in a Leafs sweater and was traded to the Pittsburgh Penguins years later when, once again, he remained in the AHL. On the other side of the deal, the Ducks used their picks to draft two exceptional players: Rickard Rakell at 30th overall and John Gibson at 39th overall.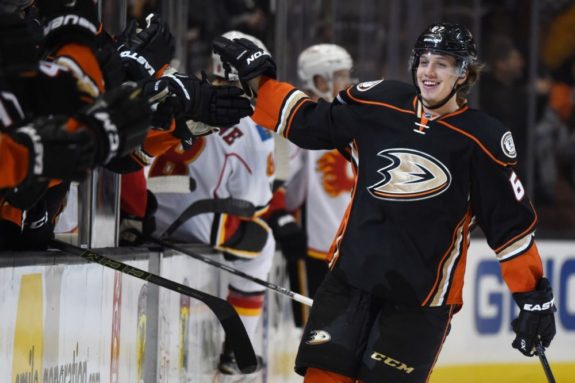 During his tenure with the Ducks, Rakell has become a formidable goal scorer on Ryan Getzlaf's left wing, recording back-to-back 30-goal seasons. He continues to improve every season, looking more comfortable and more creative on the ice while going up against other teams' top lines and pairings. Although he's known for scoring goals, he told Eric Stephens that he'd, "rather have the title of being a good hockey player and a smart hockey player than just being a goal scorer." Signed until 2022 with an AAV of $3.789 million, Ducks fans and management would have no problem with that.
In spite of the fact that his shot heat map is an absolute nightmare, Gibson has posted the best overall save percentage (SV%) by a player with 100+ games played in NHL history. The young, scrappy goaltender has honed his game, improved his injury situation, and thrown his hat into the ring of "elite".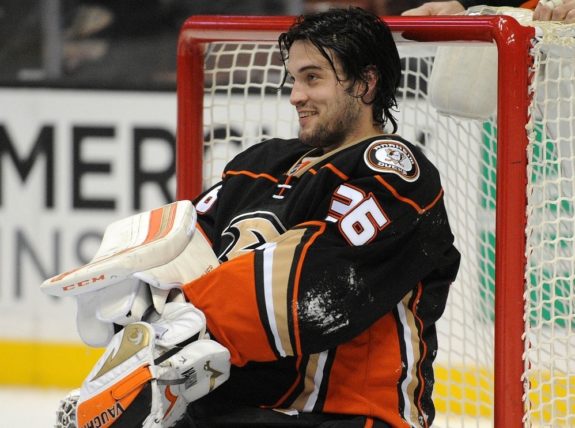 Stats wizards at The Athletic have predicted Gibson will post a SV% of .923 in the 2018-19 season, the highest in the league (from '2018-19 NHL Season Preview: Anaheim Ducks', The AthleticNHL – 9/20/18). It's perfect timing considering he just recently inked an eight-year deal with the team at $6.4 million AAV.
2011: Ducks 2012 6th Round Pick for Maple Leafs 2011 6th Round Pick
Not quite satisfied with their earlier first-round swap, Ducks GM Bob Murray and Leafs GM Brian Burke decided to make another trade the next day. This transaction seemed less exciting: the Ducks sent their 2012 sixth-round pick in exchange for the Leafs' 2011 sixth-round pick, which was number 159 overall. The result of that pick was defenseman Josh Manson, an excellent player who has been a part of one of the best shutdown pairings in the league.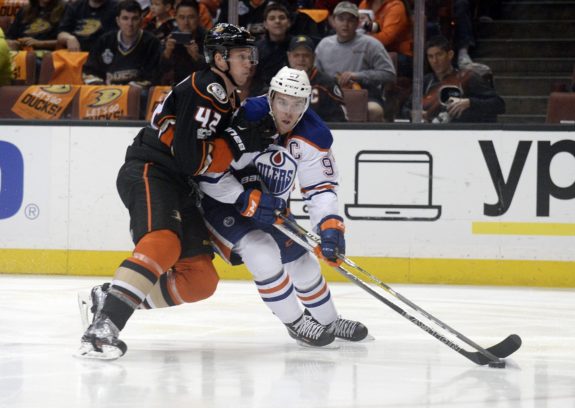 It's unlikely that Murray had Manson in mind when he traded for pick no. 159, but Mason's physical play is up Murray's alley. Thanks to Maple Leafs draft picks, the Ducks were able to acquire a top-line winger, a top-pairing defenseman, and an elite goalie all in one year.
2013: Anaheim's Holland & Staubitz for Toronto's Blacker & Picks
Not every pick or player acquired from Toronto has become an essential one. In addition to the three aforementioned star players, the Ducks have also used Maple Leafs picks to bolster their depth and add some spark. On Nov. 16, 2013, the Ducks sent forwards Peter Holland and Brad Staubitz to Toronto in exchange for defenseman Jesse Blacker and two picks: a 2014 third-round pick (the condition to make it a second-round pick was not completed) and a 2014 7th-round pick. Neither Staubitz nor Holland became impact players for the Leafs or their future teams, and Jesse Blacker only played one NHL game.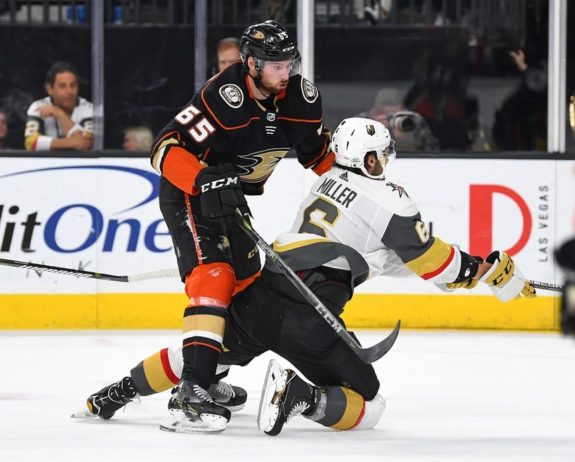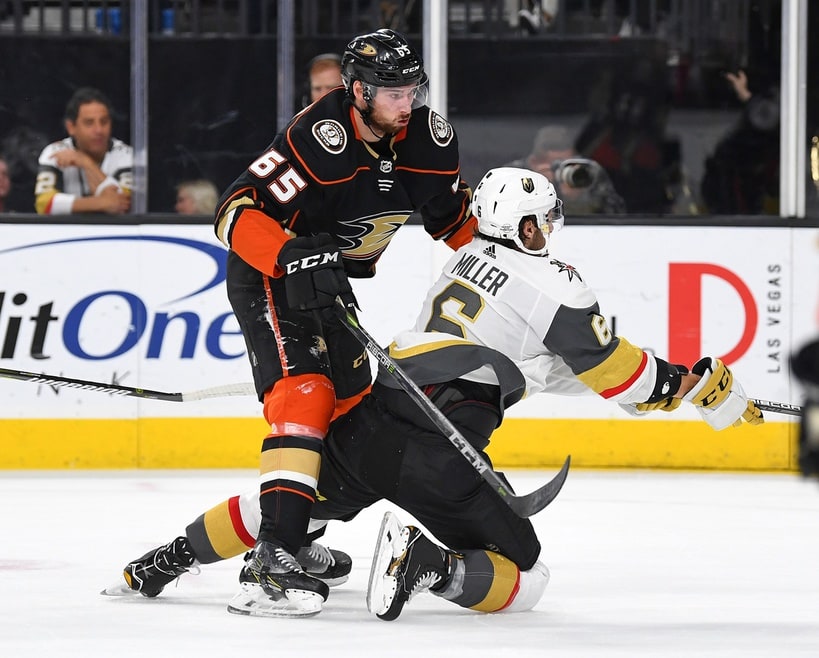 Once again, the draft picks made a difference. Anaheim used their 2014 third-round pick to select Marcus Pettersson and their seventh-round pick to select Ondrej Kase. Pettersson is still coming into his own, giving a solid performance in the second half of the 2017-18 season. He is now battling with Luke Schenn, Andrej Sustr, Jacob Larsson, and Josh Mahura for a bottom-pairing spot with the Ducks.
Kase, however, has become a staple on the team. An "Energizer bunny," Kase's speed and skill were on full display his breakout 2017-18 season when he scored 20 goals and had one of the best even-strength goals-per-60 minutes in the league. His chemistry with linemate Adam Henrique provided essential offense that helped push Anaheim to a playoff spot.
2016: Andersen for Leafs 2016 1st Round & 2017 2nd Round Picks
It's hard for any Leafs fan to imagine Frederik Andersen as anything but a Leaf. Ducks fans, however, will remember a glorious time when the team had two All-Star goalies sharing the net. It was clear at the end of the 2016 season, that Anaheim wouldn't be able to keep both Freddy and Gibson, and Murray made the decision to send Freddy to Toronto in exchange for two picks. The Leafs got the goaltender they needed and Anaheim used the two picks to select two forwards with potential to have a serious impact in the future.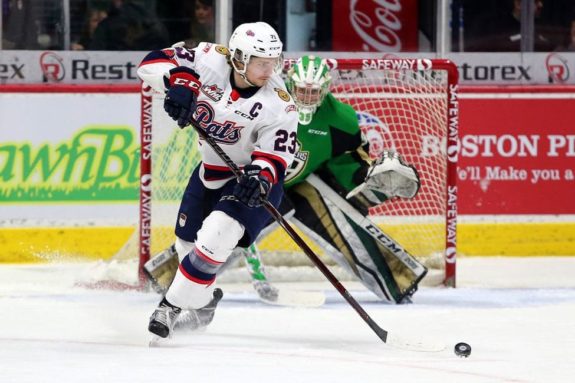 The first-round pick, 30th overall, became Sam Steel. Steel is the Ducks' top forward prospect after a 131-point season in the WHL in 2016-17. He scored 13 points in five games at the 2018 Memorial Cup and was named the MVP of the tournament despite not winning it. A smaller player, he relies on his fantastic hockey IQ and playmaking abilities and has a surprisingly strong two-way game. With a little more weight, experience, and an improvement in the face-off circle, Steel could become the top center Anaheim will soon need.
The 2017 second-round pick was used to select Maxime Comtois, a physical winger with a scoring touch who has surprised many and made a case for himself at the 2018 Ducks' Prospect Camp and in the preseason. With Nick Ritchie still unsigned, Comtois could make the team and slot in on the Ducks' third line.
Regardless of whether or not Steel or Comtois pan out, the Ducks have built a young core that will help the team get through the tail-end of their veteran contracts and that core wouldn't be possible without the help of the Toronto Maple Leafs.