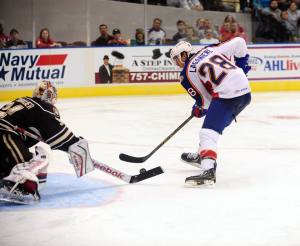 In our chosen professions, we always strive to get better year-after-year. Anaheim Ducks prospect Antoine Laganiere is currently striving to get better with every game he plays with the Norfolk Admirals, Anaheim's primary development team in the American Hockey League.
Last season the 1990 born centerman made the jump from college to the AHL where the game is faster and the players are older and smarter. Then he may have looked out of place from time to time, but not this season.  Laganiere seems right at home in his second pro season saying, "Hopefully over the course of this year I can get even more comfortable and I agree I feel confident out there for sure."
When a player makes the jump from college to the pros there is always an adjustment period. A veteran player who can mentor a rookie during their first season can ease the adjustment. Laganiere mentioned Admirals' Captain Dave Steckel, "I played with him last year and that's where I blossomed a little bit. Every shift he's guiding me, telling me things I can do better. He's always talking to me which is huge coming from a guy who has a lot of experience and he's proven himself time and time again."
While the Yale product is indeed getting better, the AHL is all about development and bettering your game. Laganiere shared what the coaching staff in Norfolk wants him to work on, "It's pretty much a continuation of what the coaching staff last year wanted out of me and that was use my speed, my body, get pucks low, forecheck, and use my assets to my advantage."
Norfolk's Head Coach Jarrod Skalde sees more confidence in the 24-year-old this season, "He's more confident with the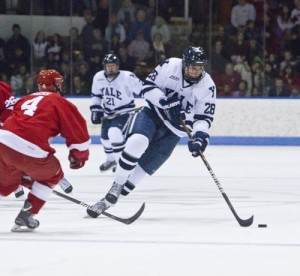 puck and he's understanding the pro game. Sometimes you have to chip up and sometimes you have to chip it in and go get'em. I think he's understanding that and he's not trying to play so much one-on-one and he's using his teammates more and I think he's come along way in those departments."
Skalde who is pleased with Laganiere growth compared his role from last season to present saying, "He's getting more ice time and a little bit more responsibility with being on the power play and in key situations. A lot of times last year we couldn't use him with a minute to go in a period or starts, but now I have a lot of confidence in Antoine. He understands clock management and time management. I think he's done a great job."
Laganiere also has a National Championship ring to go along with his Yale economics degree which came during his senior year. Laganiere reminisced on the title and his time at Yale saying, "It was a great moment especially it being my senior year and the first Championship in school history. You don't expect an Ivy League School to win especially in the ECAC. I think Union won it last year, but we were always seen as the underdogs and everyone aspires to win the whole thing so it's great for that and also for me. To win any championship, it doesn't always come, so you enjoy it while you can."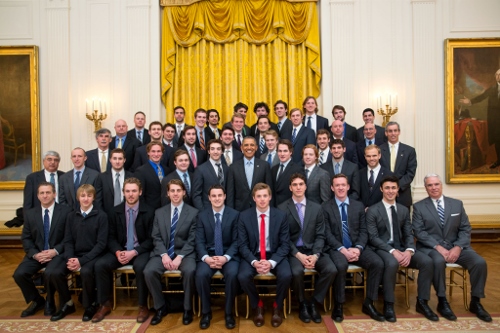 There's perks with winning a National Championship as Laganiere and his teammates got to meet President Obama and visit the White House. Laganiere who's a dual citizen of both the United States and Canada looked back on his visit to the nation's capital saying, "It's pretty much the epitome of everyone's life. To say you met the President and say you walked in those hallways and you saw the history there. It was a great time and to shake his hand and to be right next to him. It indescribable.
Most everyone needs an escape from his/her day-to-day jobs. Laganiere is no different as he enjoys playing classical pieces on the piano and uses music as a getaway from hockey, "I don't have my piano with me this year, but I have my guitar. It's something to go into a different mindset. I like to relax and do something completely different and be creative a little bit with that and learn and keep my brain going in different ways."
Even though Laganiere is not ready for the show if he continues to develop his skill set each year in the AHL, his day will come.